What The Queen's Been Doing Since Meghan And Harry's Tell-All Interview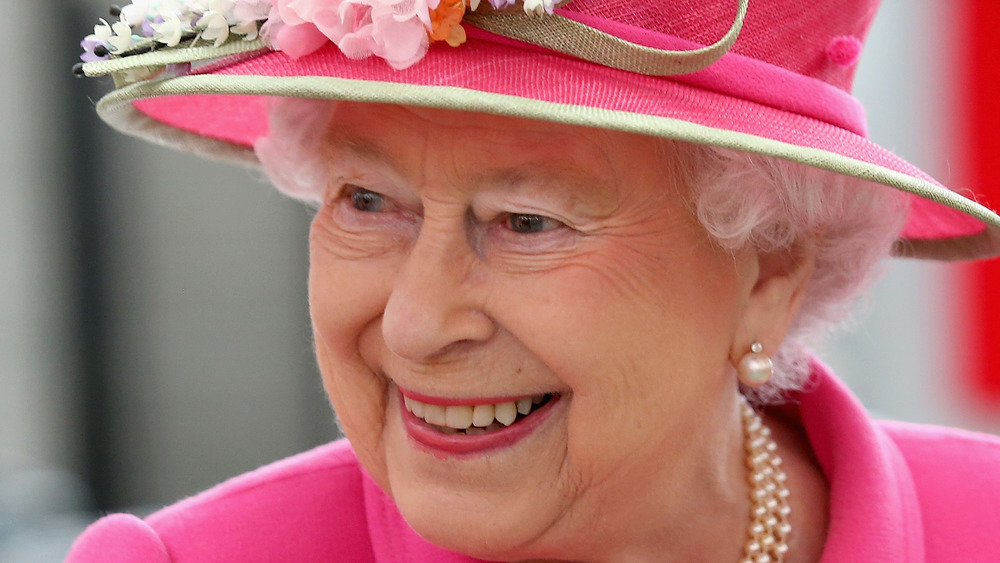 Chris Jackson/Getty Images
Prince Harry and Meghan Markle's Oprah interview shocked the airwaves on Sunday, sending all kinds of allegations straight to Buckingham Palace. Discussing racism experienced directly from the royal family, the pair revealed that an unnamed family member speculated about how "dark" son Archie's skin would be (via CNN). The couple also spoke about Meghan's suicidal thoughts with no support from the Palace, how Archie was refused a prince title and security, and how happy they are now in California after leaving the monarchy (via The New York Times).
Of course, not all is well and good after the bombshell interview — the palace is said to be "shocked and dismayed" by the claims, as they sift through crisis talks (via The Daily Mail). So, as figurehead of the Firm, what is the Queen doing through all of this?
According to The Daily Mail, the Queen is said to have refused to sign an official statement from the Palace regarding the interview. As Buckingham Palace is paralyzed with "horror," the Queen, Prince Charles, and Prince William are in deep crisis talks about the accusations, which reveal more about the family since Princess Diana's infamous 1995 interview with Martin Bashir (via Newsweek). The royals seem to be strategizing just how to respond to the incendiary comments — and do so in a way that "avoid[s] tensions mounting even further" (via The Daily Mail).
All about the Queen's reaction to the interview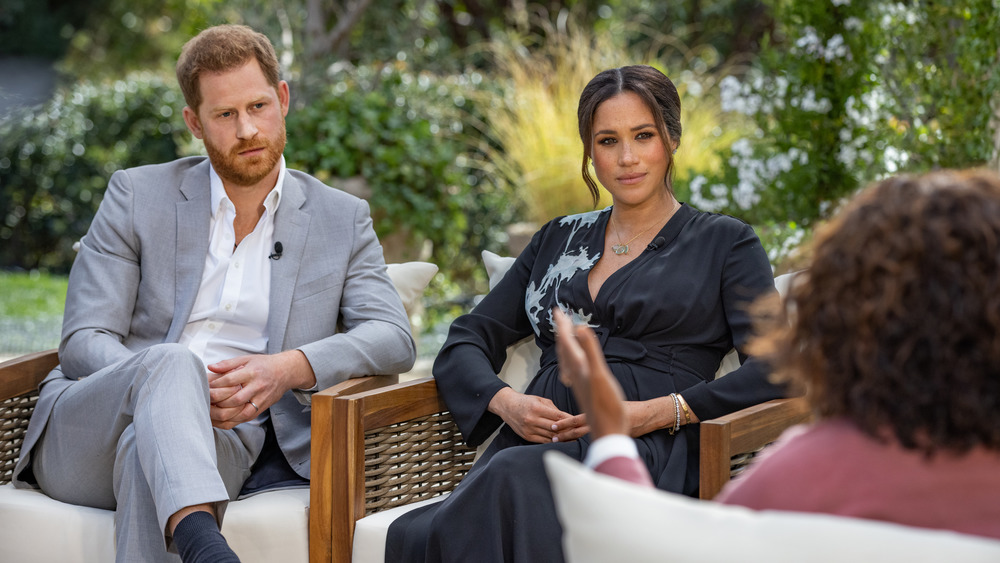 Handout/Getty Images
According to an insider who spoke to The Daily Mail about the interview's aftereffects, the royals are experiencing "shock and sadness" at Prince Harry pressing the "nuclear button" on his family. The monarchs are "reeling," with accusations ranging from deep-rooted racism to Meghan and Harry being cut off from their security team last year leaving them open to attacks (via Vanity Fair). The Prince even spoke about his strained relationship with father Prince Charles, saying the monarch stopped taking his calls (via Reuters).
The Sunday Times reported on Sunday that the Queen would not "watch the Harry and Meghan circus," with courtiers warning that the Palace would "retaliate" if attacked. In fact, a source told the Times that the Queen would ignore the interview and increase her engagements this week, stating, "I don't think anyone should expect Her Majesty to stay up and watch the interview." That being said, they made it clear that the Palace would "come out swinging" if the couple went after individual royals.
Now that the interview is said and done, the Queen seems to be singing another tune. According to The Daily Mail, a statement was prepared by Buckingham Palace that focused on the royal's love for the couple, but the Queen was "keen not to rush it out" and preferred to give it "careful consideration." With claims more damaging than Palace aides could have predicted, the entire world is waiting for the Queen's response.