Why Samantha Markle Feels Sorry For Prince Harry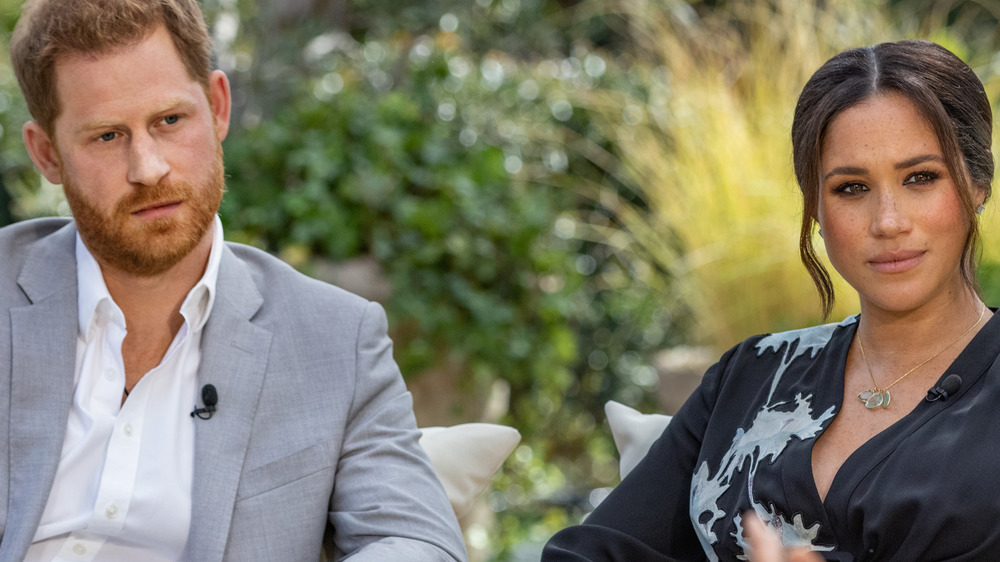 Joe Pugliese/Handout/Getty Images
On Sunday night, Meghan Markle and Prince Harry sat down with Oprah Winfrey for a 90-minute interview. Oprah With Meghan and Harry: A CBS Primetime Special discussed the individuals' and the couple's mental health, children, exit from royal life, future, and more.
Some of the interview touched upon Meghan Markle's family. Her parents, Thomas Markle Sr. and Doria Ragland, wed in 1979, and they got divorced after eight years of marriage. Meghan has two half-siblings and is said to be estranged from them: Samantha Markle, who has talked about her half-sister on social media, and Thomas Markle Jr., who tried to talk Harry out of the royal wedding (via The Guardian).
Meghan Markle's half-sister also wrote a memoir titled The Diary of Princess Pushy's Sister Part 1. Since Meghan claims they have not seen each other in quite some time and that she is basically an "an only child," she said to Oprah about the book, "I think it'd be very hard to 'tell all' when you don't know me" (via Marie Claire).
Samantha Markle thinks Meghan pulled Harry away
On Monday, Samantha Markle responded to the interview and spoke about her estranged half-sister on an Australian radio show called Fifi, Fev & Nick. She said that the Duchess of Sussex has a "narcissistic personality disorder." She went on to say that she believes Prince Harry has Stockholm syndrome and that she feels sorry for him.
"[Meghan] pulled him away from his family, all of his friends, the life that he knew," she stated, since, after marrying in 2018, the couple stepped down as senior members of the royal family and moved to California (via WWD). "He reminds me of one of those kidnap victims who eventually starts to believe that their life was so horrible and that they're in love with their captor."
On the radio show, Samantha Markle went on to say that she was not diagnosing the Duchess of Sussex, noting instead that, "she [Meghan] needs to see a counselor."