The Truth About Bruno Mars And Anderson .Paak's Silk Sonic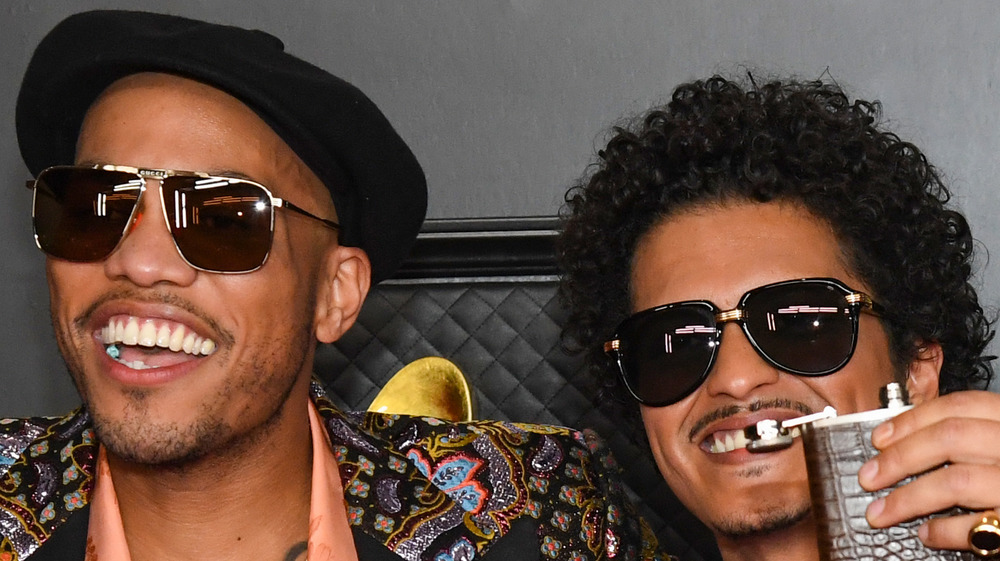 Kevin Mazur/Getty Images
Bruno Mars and Anderson .Paak drive the new group Silk Sonic, which just put on a Grammy's performance that everyone is talking about. Performing their new single "Leave the Door Open" off of yet-to-be-released album An Evening with Silk Sonic (via Pitchfork), this retro smooth-listening performance provided a significant contrast to many of the popular pop performances of the evening. Grammy-recognized artists in their own right, this performance was smooth as the singers crooned along with their brown-suited accompaniment in suits that fell off the style rack some time around 1975.
Viewers are divided, in a large part likely due to taste in vocals and tempo, as the performance itself was flawless. One viewer jokes, "Take my panties" while another shares, "Think we looking at future Record/Song Of the Year next year for this song tbh." Regardless of your musical preference, I think we can all agree with the commenter who writes, "Wow! That was smoooooth."
But this performance almost didn't happen.
A plea to perform
It's a well-known fact that the coronavirus pandemic has put a giant crimp in the music scene as live performances were cancelled across the globe. While we may have all been resting easy knowing most of our celebs were sitting pretty comfortable, it's easy to forget that performing is often about more than the money for these artists. That's the case with Bruno Mars and Anderson .Paak — they've desperately missed performing — so they wrote the Grammys a letter (via Twitter).
After finding out that Silk Sonic didn't have a performance invite, they asked the Grammy team if they could crash the party. Said Mars, "Dear Grammys, If you can see it in your hearts to allow two out of work musicians to perform at your show, we would really appreciate it." Mars goes on to say how the group has a lot riding on their next record, promises to be super good, is willing to follow any COVID rules, and more. He ends the letter noting, "I hope you'll consider this request and give us the opportunity to shine."
And shine they did — like sparkling 70's polyester in the sunshine. We look forward to learning more about their record to come.