Post Malone's Response To Megan Thee Stallion And Cardi B's WAP Is Causing A Stir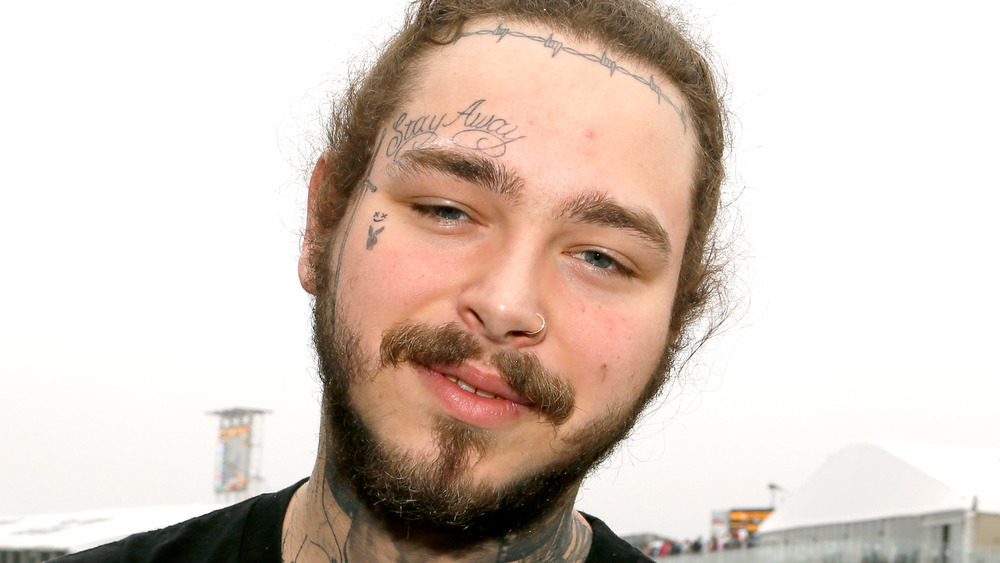 Paul Morigi/Getty Images
The 2021 Grammy Awards have been full of some memorable moments. One of the biggest of the night, hands down, was Megan Thee Stallion's performance. Megan opened with her single "Body," before moving onto her Grammy-winning hit "Savage (Remix)." After that, Megan was joined on stage by Cardi B. Cardi performed a brief snippet of her latest single "Up." Then, Megan joined her again to finish out with their hit "WAP." 
To say WAP has been provocative is a serious understatement. As a result, those watching at home were hoping to see some reaction shots from the limited Grammy audience. They were not disappointed when cameras panned to rapper Post Malone. Post performed "Hollywood's Bleeding" and "Die for Me" earlier in the night (via The LA Times). He's also nominated for three awards: Record of the Year and Song of the Year for "Circles," and Album of the Year for Hollywood's Bleeding (per Grammys). But just by being himself, Post temporarily stole the show.
Post Malone proved to have a relatable response
When the camera panned to Post Malone, he was totally living this moment. It's not every day you get to see Cardi B and Megan Thee Stallion on stage together, after all. He watched Cardi dance on the poll and threw his hands up and cheered, revealing he was sipping out of a red Solo cup. "we are ALL post malone #grammys," InStyle tweeted.
"This is also how I would react if I was seeing WAP performed live #GRAMMYs," a fan tweeted. As videos of Post's reaction began circulating, more people found themselves relating with that candid, feel-good moment. "Post Malone vibing to WAP on the side of the Grammy's stage with a red solo cup is a MOOD," another fan tweeted. It was the happiest the rapper has looked in a long time, and we can't blame him for taking it all in.