Why This Photo Of John Kerry Just Landed Him In Hot Water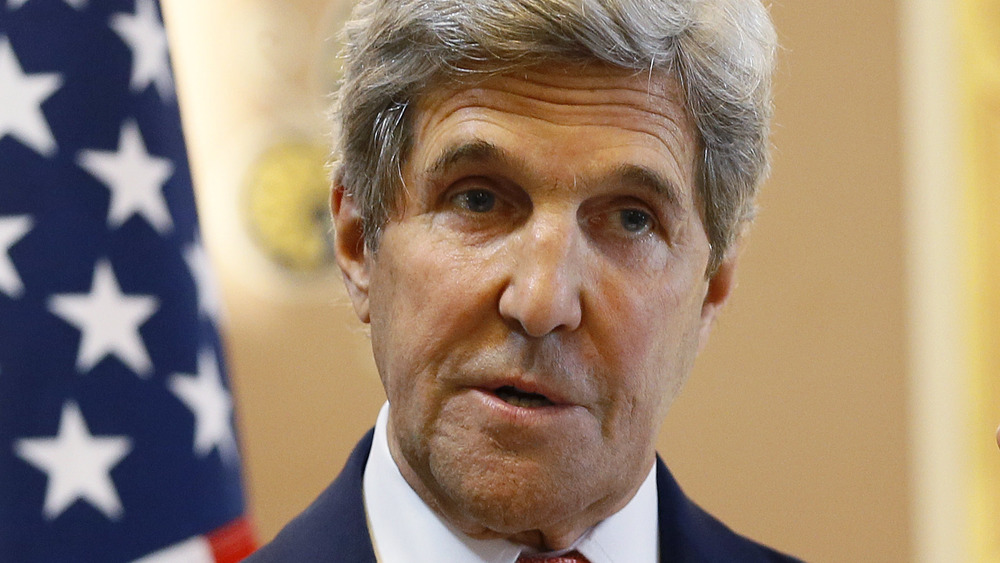 WPA Pool/Getty Images
President Biden's special envoy on climate change, John Kerry, is catching heat after a photo circulated online, purporting to show him foregoing the mandatory face covering while on board a recent domestic flight. According to Forbes, Kerry was sitting in first class on the short flight from Boston to Washington D.C. when the picture was taken. The Tennessee Star were the first to pick up the shot, noting the strict policy enforced on all American Airlines flights.
The photo shows Kerry reading a book while his mask dangles from one ear. Passengers are required by law to wear masks at all times on AA flights, in accordance with guidelines laid out by the CDC and TSA. In fact, just a couple months ago, President Biden issued an executive order requiring face coverings during interstate air travel. Travelers can, naturally, remove their masks while eating or drinking, but John Kerry appears to be reading in the photo in question.
John Kerry was photographed foregoing his mask
As Forbes notes, AA confirmed the mandatory mask policy themselves in a statement released in February, noting, "Consistent with U.S. government directives, individuals who refuse to wear a mask may be denied boarding, removed from the aircraft, or subject to penalties under federal law, in addition to being barred from future travel with American." The matter is reportedly under review, but Twitter has had a field day over John Kerry's slip-up, with Donald Trump Jr. enthusing, "SPOTTED: Liberal hypocrite & Biden Admin official @JohnKerry flouting @JoeBiden's Federal mask mandate." He added, "Will he be fined for breaking the law & banned from flying @AmericanAir like regular citizens would be?" 
One frequent flyer tweeted, "The preflight announcements repeatedly inform everyone on the plane that removing your mask in this way could result in a lifetime ban from the airline." Kerry himself responded on Twitter later in the day, blaming "St. Patrick's Day 'malarkey.'" The former secretary of state explained, "Let's be clear: If I dropped my mask to one ear on a flight, it was momentary. I wear my mask because it saves lives and stops the spread. It's what the science tells us to do." AA spokesperson Stacy Day assured USA Today that Kerry was not seen onboard without a mask, nor were cabin crew "alerted by other customers to a non-compliance issue." Day said the company would reiterate their position with John Kerry.