Here's What Julianna Rose Mauriello Has Been Doing Since LazyTown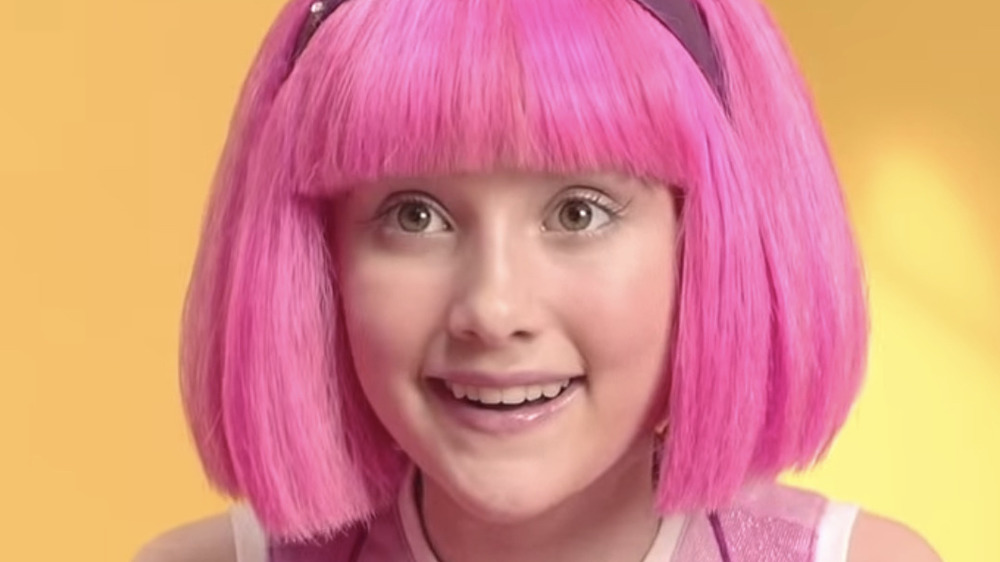 YouTube
Julianna Rose Mauriello played the energetic, pink-haired girl on LazyTown, a classic Nick Jr. show. The former child star was 8 years old when she portrayed Stephanie, a young girl who moved to LazyTown with her uncle (the mayor of the town). The residents of the city were extremely lazy and had terrible eating habits. When Stephanie noticed their idle state, she convinced them to start moving and change their old ways (via IMDb).
Magnus Scheving, LazyTown's director and the actor who played Sportacus, talked about the show in a phone interview with The New York Times. He mentioned that the series centered on motivating its young audience. "The show is going to inspire kids to go. Go fishing. Go dancing. Go live."
Mauriello, who hails from Irvington, New York, has always been fascinated with acting. She attended the Professional Performing Arts School in New York, where she excelled in school. While she nailed her performance as Stephanie on the hit Nickelodeon TV show, the producers had another girl in mind. To her luck, the first choice declined the role, and Mauriello got cast, then the rest is history.
Mauriello stayed on the series for two seasons and even relocated to Iceland, where they filmed LazyTown. When she outgrew the role, she had to quit the show (via IMDb). Since then, the actress left the entertainment industry and focused on something that secured her future.
Julianna Rose Mauriello finished college with a remarkable degree
Julianna Rose Mauriello, who is now 29 years old, had left showbiz to focus on her education. The actress is not only talented, but she's also intelligent as she attended an Ivy League school in New York City. Mauriello took her master's degree in occupational therapy at the prestigious Columbia University (via TVOvermind).
Apart from LazyTown, she has appeared on Disney's The Doc Files in 2014, a spin-off to the famous Doc McStuffins show. In 1999, Mauriello starred in a thriller movie entitled Bonne Nuit and acted in a short film called A Fix in 2008.
Mauriello's portrayal of Stephanie in LazyTown got outstanding reviews and commendations that she got nominated for Daytime Emmy Award for Outstanding Performer in a Children's Series in 2006. While she has not acted since 2014, Mauriello is still pretty rich. She currently has a net worth of $2 million (via Celebrity Net Worth).
Even away from the limelight, Mauriello uploaded photos that showed a glimpse of her personal life on Facebook. However, her social media page seemed to have vanished, and she also has no official Instagram account. The former actress now seems to immensely value her privacy. It has been a long time since Mauriello played Stephanie, but she will always be the kind-hearted, pink-haired girl to her avid fans.