Sofia Grace And Rosie From Ellen Are All Grown Up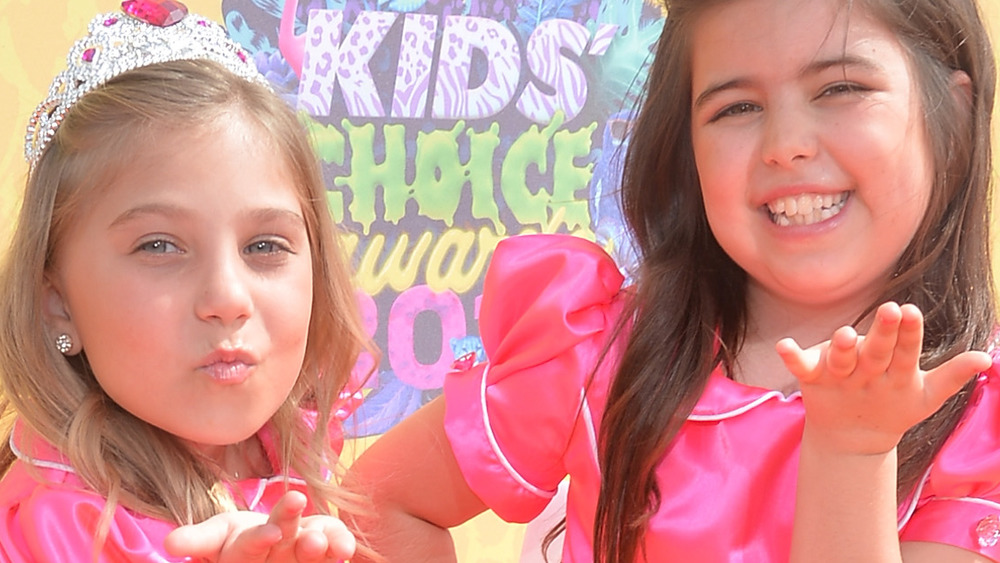 Alberto E. Rodriguez/Getty Images
In 2011, cousins Sophia Grace Brownlee and Rosie McClelland hit a level of viral fame we'd never seen before. The two girls from England were just toddlers when they became viral sensations with their spirited take on the Nicki Minaj single "Super Bass" (via Today). In the decade since, the video has amassed over 56 million views (via YouTube).
The little girls' stars rose as they got noticed by Ellen DeGeneres, who surprised them on her talk show by bringing out Nicki Minaj herself. They even got to perform "Super Bass" with the singer in an incredibly memorable moment (via Ellen). They then became regulars on Ellen's show — with their "Tea Time With Sophia Grace & Rosie" segments as well as their famous red carpet interviews (via Today).
The girls even starred in their own movie, Sophia Grace and Rosie's Royal Adventure, in 2014 (via IMDb).
Of course, a lot has changed since 2011. Now teenagers, Sophia Grace and Rosie are still close but have very much carved out their own paths as well. Both are grateful that they were able to parlay their viral fame into creative platforms where they each could shine on their own and, occasionally, still team up (via Today).
Sophia Grace has continued her journey as an influencer
Sophia Grace has kept the online content coming for her many fans. Her last single, "Can't Sleep," was posted in December 2018 (via YouTube). In a message at the beginning of the video, the teen talks about expectations of her. "People were saying they want me to be the same as I was before," the clip begins. "It annoys me because I'm not that person anymore and they always ask me to go back to how I was, but I'm different and that's not who I am, so I want to show people that I'm a different person now and I've changed, but that's okay because everyone changes."
She continued dabbling in music but also found herself a space in beauty. She has countless videos on her YouTube channel where she tries beauty trends and challenges.
Interestingly, Sophia Grace was perceived as the more outgoing of the two girls. As they've grown older, that appears not to be the case. Sophia Grace, now 17 years old, is a lot more selective about her content in recent years. She hasn't posted a new video to YouTube since November 2019. 
Rosie has also kept creating
Rosie McClelland is now 14 years old and busy at work as an influencer. She's still involved in music, having released her most recent single, "Girls" in October 2020 (via Today). "I'm still only 14 and I'm not focusing on boys just yet," she told E! News. "To me, my friends are way more important right now! I'm just enjoying being a teenager with all my girls! "
Rosie also updated fans on her relationship with her cousin. "We actually hung out last week and she gave me some clothes from her new clothing range!" Rosie revealed (via E! News). "We support each other in everything we do!"
As she grows up, Rosie's dreaming of relocating to the U.S. when she's done with school. "I spent so much time growing up there and I always told myself that one day I'd live there full time," she told the outlet. "There's no place like Hollywood!"