Here's When You Should Really Replace Your Pillows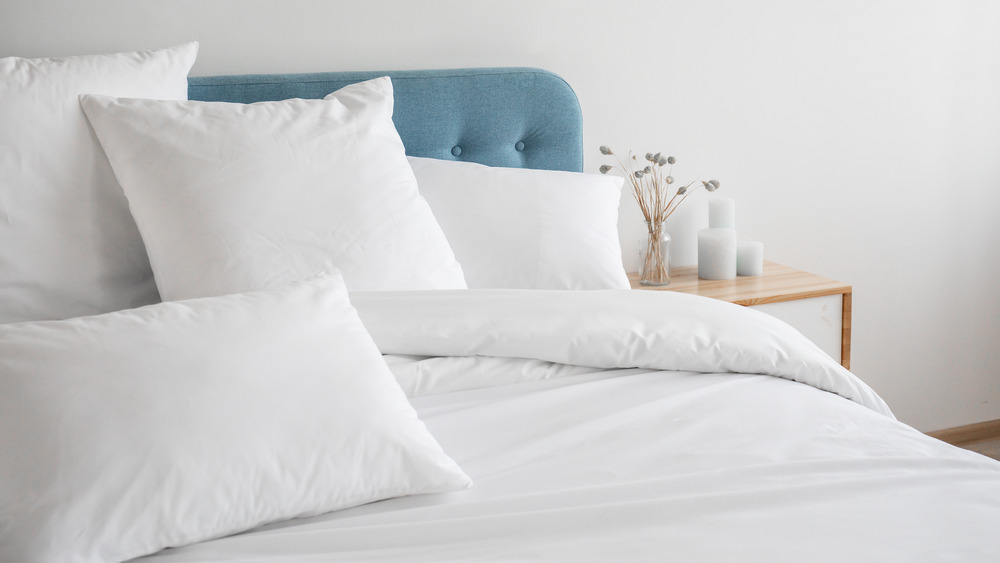 Shutterstock
While you likely don't need another thing to add to your to-do list, replacing your pillows may be a welcome addition after you learn a few things about their capacity to hold germs. All of us have a favorite pillow, but if it's been around for a long time, it's probably best to part ways. Of course, washing your pillowcase frequently can mitigate these issues, but your pillow itself can be a magnet to various forms of bacteria.
Here's the bad news: if you have a polyester pillow (these tend to be less expensive), it's best to replace them every six months. But, for the higher-quality versions that hold their shape, you can keep them for anywhere between 18 months and 26 months, The Greatist reports. The reason for the relatively quick turnaround time is due to a variety of factors — including the fact that your head spends around 10 hours a day resting on it. The structure of the pillow begins to break down underneath the weight and can quickly render it less-than-desirable for sleep. 
Even worse, Elite Daily reports, bacteria and mold from your pillowcase can quickly seep into your pillow — even if you were to put your pillowcase through the wash every day. Dead skin cells, oils and other particles from our bodies rub off on the fabric and make their way to the pillow itself. Trust us, you'll want to keep up with your pillow maintenance.
Wash your pillow frequently to extend its lifespan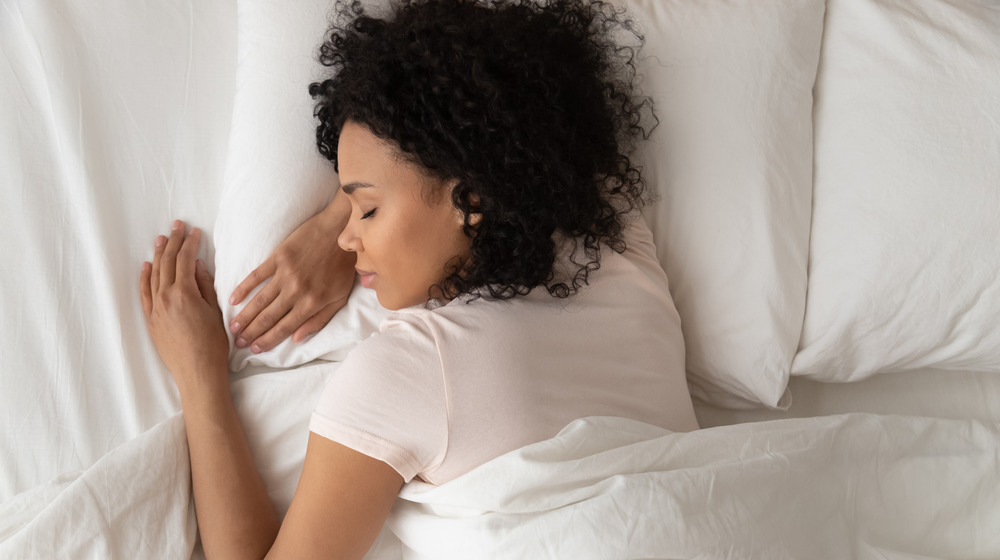 Shutterstock
In addition to germs, dead skin cells and debris, your pillows may even contain dust mites, Elite Daily reports. Luckily, an easy compromise helps minimize the amount of pillow swapping you have to do. The outlet cites recommendations from the Sleep Foundation that suggest you wash your actual pillow — not just the case — on a semi-regular basis. If you do this, you'll extend the longevity of your cushion to a full two years. That way, you'll be killing off any growth and removing debris that's been lingering for who knows how long.
Plus, you can also try a simple technique that may preserve the life of your pillow and offer your neck the best support possible. Michael Breus, Ph.D., a clinical psychologist and author of the book Good Night tells The Greatist that it's a good idea to swap your pillows out during the week. In fact, towards the beginning of the week, you can stick with a softer pillow, but as the days go on and your neck gets more stiff from staring at a screen, reach for a cushion with more support. These can be memory foam options or any type that holds its shape more readily than polyester. 
For a simple test, just grab your pillow and fold it in half. If it bounces back, it's still good, but if it just stays folded, it's time to go shopping for a new one, Elite Daily explains.