Here's How You Can Prevent Raccoon Eyes From Tanning With Sunglasses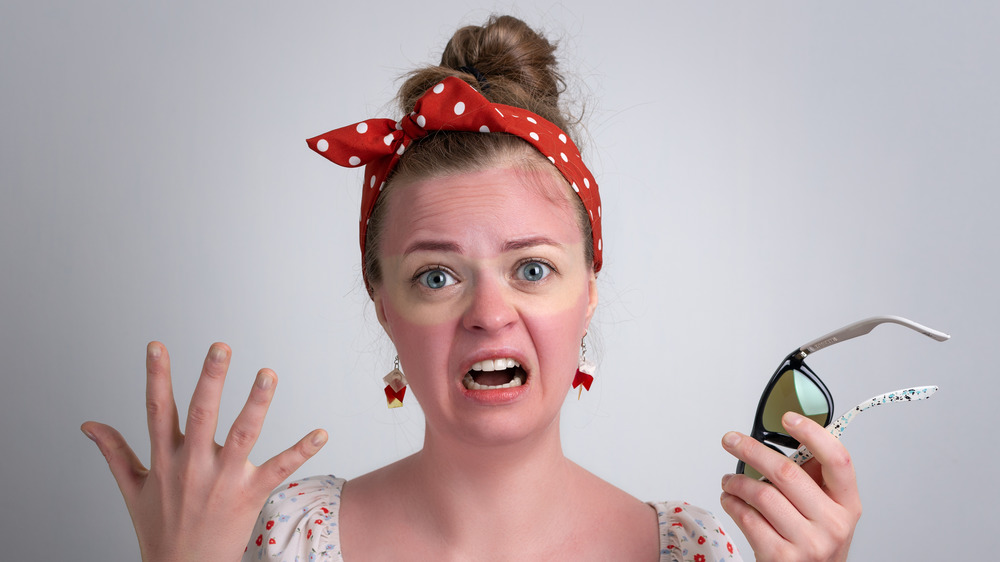 Shutterstock
If you love tanning while wearing sunglasses but hate the dreaded "raccoon eyes" that appear afterward, you're not alone. Whether sunning on a white sand beach or hitting a tanning bed, many of us are left with pale rings around our eyes once we remove our protective shades or goggles, realizing we've tanned everywhere else but around our eyes. Yeah, not the most flattering look! But shading eyes from UV rays is crucial for maximum sun protection, so luckily, there are some ways around the issue. From several tanning experts themselves, here are all the ways you can prevent raccoon eyes for the most even tan of your life.
If you're game for an unexpected tip to avoid raccoon eyes, Tommy's Tanning recommends something we had never thought of ourselves: tanning before you tan. According to the tanning salon chain, you should get a base tan over your whole face to keep your color uniform before heading off to your beach vacation. Whether at a tanning salon or just in your backyard, get your perfect base tan by wearing tanning-specific goggles that only cover just around your eyes. Once you head to the beach, your raccoon eyes won't be nearly as obvious.
Apart from getting a good base tan, applying sunscreen once at the beach is just as important. Make sure to use SPF 30 or higher, and apply it evenly over your whole face. That way, you can keep tan lines from your sunglasses at bay.
Preventing raccoon eyes when you tan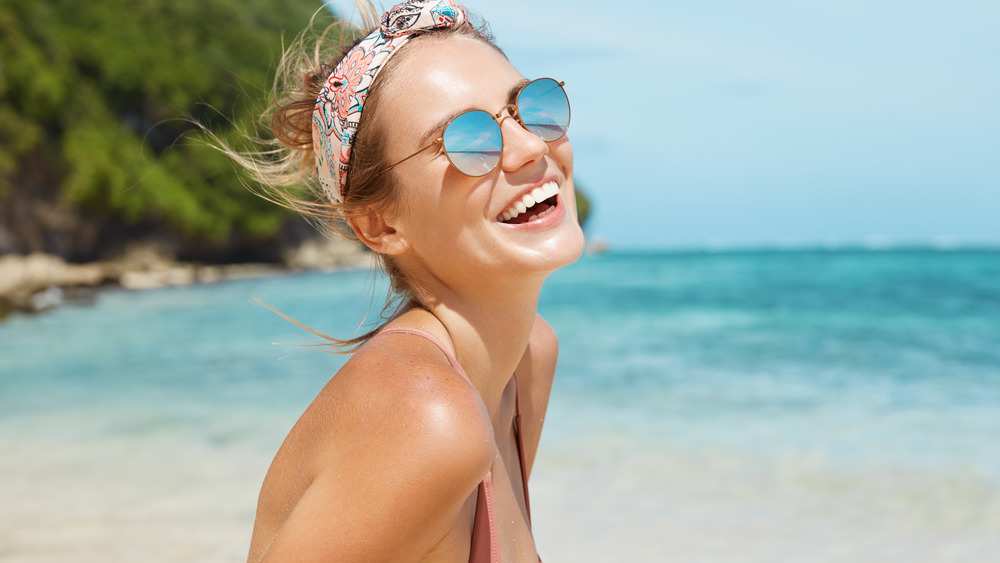 Shutterstock
According to Good Looking Tan, one of the best ways to prevent raccoon eyes is by constantly repositioning your goggles or sunglasses while you sun. While you should keep your eyes covered constantly, you can still move your sunglasses up or down so that different areas are exposed. That way, you avoid creating a stark tan line around your eyes.
Moreover, you should also consider grabbing some headwear to help avoid unwanted eye circles that can result from too much sun. As Tommy's Tanning explains, a simple baseball cap or sunhat may be just what you need to avoid tanning your face altogether. You'll still get some rays, but not such an intense tan, so raccoon eyes won't be as apparent. Another practiced trick is to apply a stronger SPF on the parts of your face not covered by your sunglasses, which will end up creating a consistent, uniform tan. 
If it's too late and you already have raccoon eyes from a fun beach day, don't sweat it. According to Leaf, all you need is some foundation the same color of your tan (a few shades darker than your regular skin tone) and some setting powder. Simply dot your darker-than-usual foundation around your eye area, covering the entire circle as you blend it in with your fingers. Repeat with the other side until your "raccoon eyes" are non-existent. Set with translucent powder and you're ready to go!