Is A KitchenAid Mixer Really Worth The Money?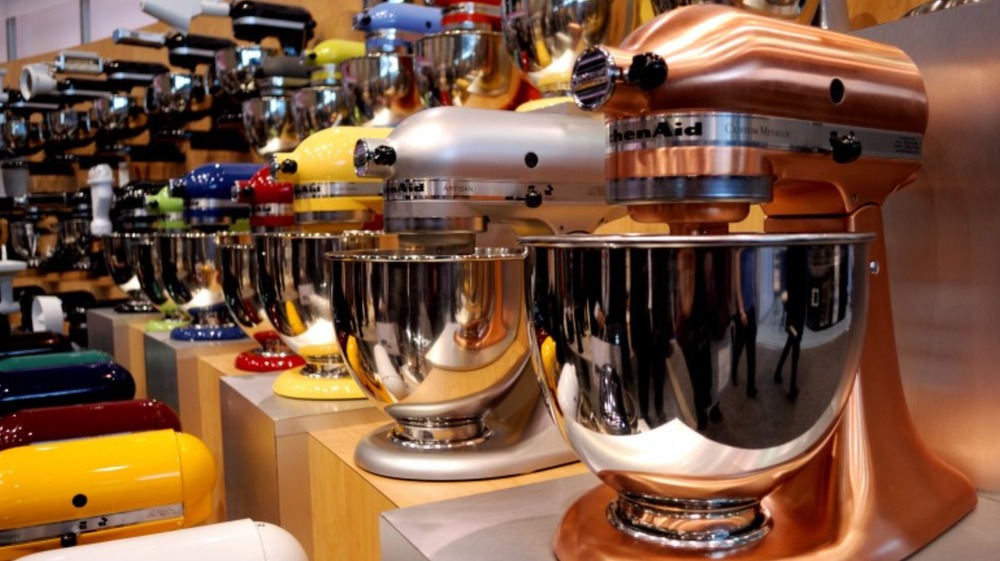 Getty Images
Investing in a KitchenAid stand mixer is just that. An investment. One will set you back anywhere between $200-$500 (via Basically). So before you decide to pull the trigger and make the purchase, there are a few considerations to chew on first. If you are a lover of creating baked goods, wear the top chef hat in your household, and are still on the fence of purchasing a KitchenAid or not, then let us help you sway harder one way.
We know that this appliance can be a baker's best friend with its automated dough kneading abilities. But what many aren't aware of is how versatile a KitchenAid can actually be. There are various attachments that can turn the KitchenAid into a pasta maker, ice-cream maker, and squash spaghetti-making wizard (via Serious Eats). Yes, these attachments come at an additional cost, but you could be saving money (and space) in the long run if you end up not having to buy all these appliances individually.
It will look great on the counter, but not gathered in dust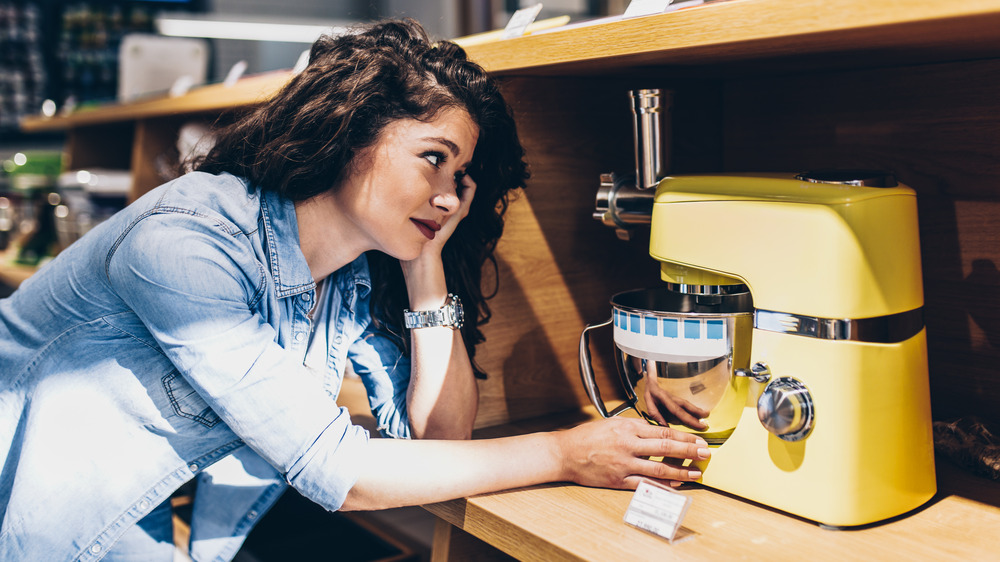 Shutterstock
Another question to consider, though, is if you actually need one. And if the answer is no, then is a KitchenAid mixer really worth the money? Sure, the machines look pretty chic and professional if they are a permanent fixture on your kitchen counter, but if you're more of the take-out dinner and allergic-to-baking type, then consider how much you'll actually use it.
A KitchenAid is motor-powered, and made to knead, churn, and blend a large amount of ingredients for a long amount of time (via the Chicago Tribune). But if your desire to bake bread or whip up a meringue only happens once a year, then the money spent might not be worth it.
A final question to consider before purchasing a KitchenAid is, how will it help me? If you are wanting to be the "hostess with the mostest" and host large dinner parties, then owning a KitchenAid will likely save you loads of time with food preparation for all of those guests. It will also act as a faithful servant if you suffer a sudden (or have a long-standing) injury that prevents you from whisking eggs or pounding down pizza dough. If this is the case, then owning this appliance might make your life a whole lot easier (via Basically).
Now that you have considered the price, why you need a KitchenAid machine (if at all), and how you'll use it, we'll leave it up to you to actually pull the trigger and bring one home to your kitchen counter (or not).