Here's How You're Really Supposed To Use An Ice Roller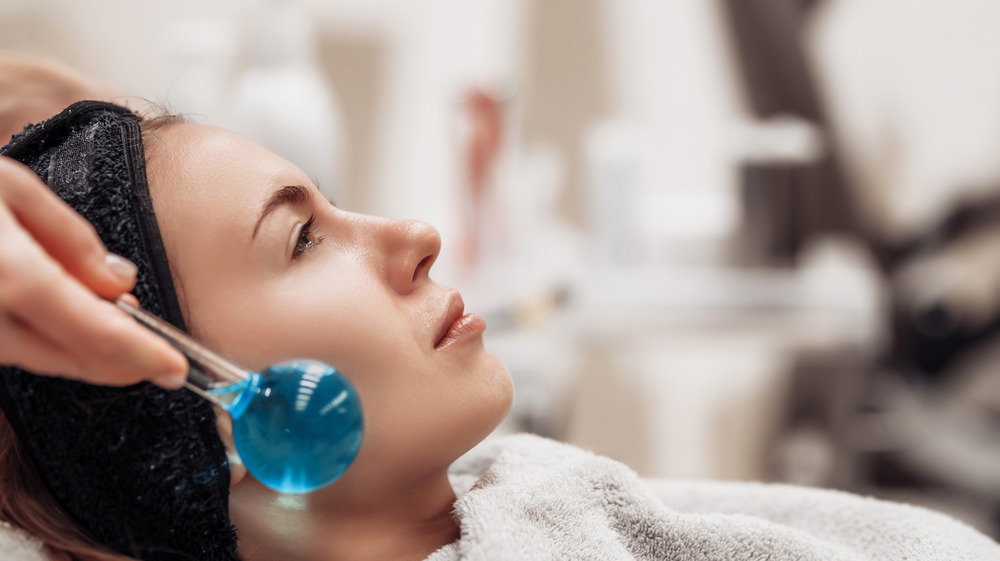 Shutterstock
There's a new skincare hack that'll shrink your pores, decrease your face puffiness, and exfoliate your skin. And, it's not a cream, moisturizer, or toner, but simply, ice. According to Byrdie, using ice, aka ice rollers, is a new and effective beauty hack that'll not only improve your skin but also alleviate muscle aches, migraine pains, and more.
Unlike other skincare products that take weeks to show results, ice rollers work instantly, per Stylecaster. The outlet revealed that the rollers are designed with a high-quality metal or encased gel surface, which keeps the roller cool and helps with de-puffing your skin.
Now, that you know the multiple benefits of an ice roller, the only question left is: how do you use one?
The process of using an ice roller is fairly simple. Skincare expert Ada Ooi told Glamour that it's best to use the ice roller in a zig-zag motion up and down your forehead and then left and right. Next, move the roller down your face, applying slight pressure. Lastly, move it outwards on the sides of your mouth, chin, and neck.
You should only use the ice roller for five to 15 minutes. "Ideally allow 15 minutes but 5 minutes is also great if that's all you have to spare, use daily – morning or evening – depending on what works best for your daily skin routine," Ooi told Glamour.
The best ice rollers that de-puff, smooth, and de-swell your skin.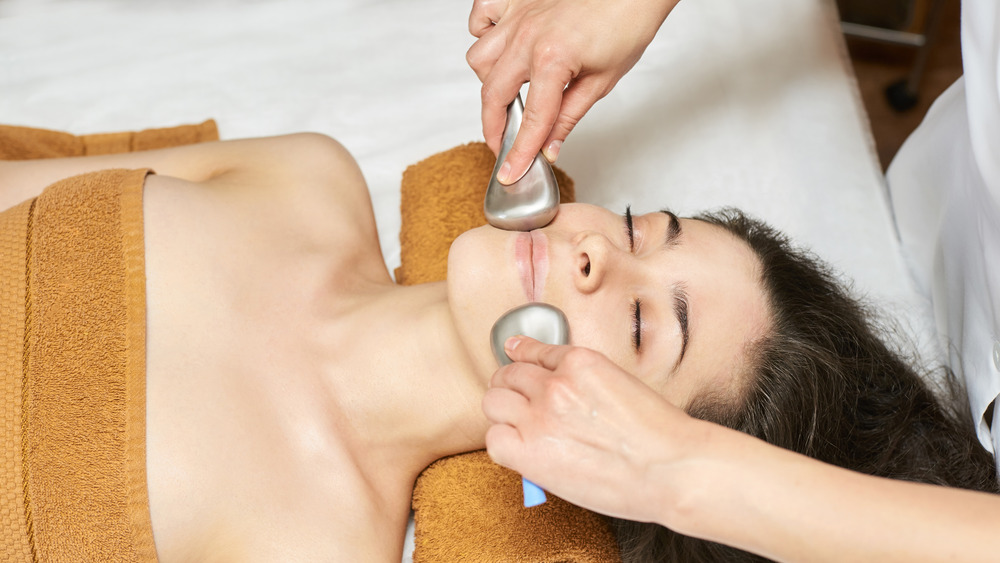 Shutterstock
Before buying an ice roller, consider your skin type, age, and personal preferences. Beauty Mag reported that material, shape, and time (how long it takes for the roller to freeze) determines the effectiveness of the roller on your skin. For instance, the outlet revealed that metal ice rollers are more durable than the plastic alternatives, but those with sensitive skin are more prone to frostbite with metal ice rollers.
Beauty Mag recommends the ESARORA ice roller because it not only treats puffiness but also offers pain relief for migraines. This product, which uses gel instead of water, freezes quickly, is easy-to-use, and is affordable, the outlet revealed. The only downside, however, is that this ice roller can make some noise, which can be bothersome to those who want a peaceful skincare session.
Byrdie recommends using the Vanity Plant Revive ice roller as the basic, go-to ice roller. This brand's product has a simple design—a metal roller and a white handle—that's small enough to fit into any traveling bag. Plus, its affordability and skincare benefits—alleviating redness and puffiness—make this the best ice roller for anyone trying this new skincare hack for the first time.
Ice rollers need to be the next addition to your skincare routine. A product that alleviates pain and clears your skin? What else could you ask for?