Who Is Ronda Rousey's Husband? Meet Travis Browne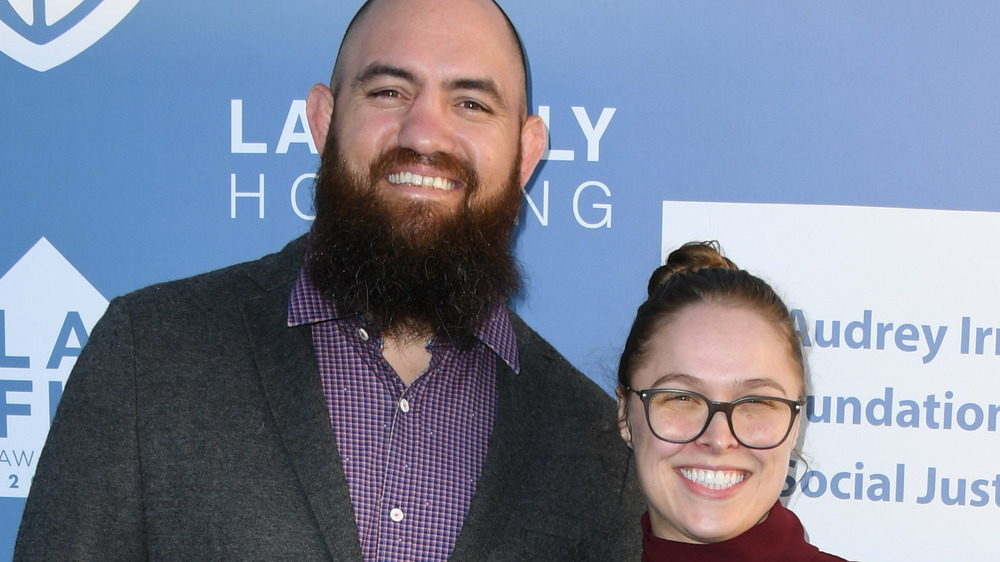 Jon Kopaloff/Getty Images
Most people know Ronda Rousey as the UFC's first female bantamweight champion and the first woman to be inducted into the UFC Hall of Fame (via ESPN), but what they might not know is that she is also the wife of former UFC fighter Travis Browne. The two athletes met in late 2015 when they were both training at the Glendale Fighting Club and Rousey was still actively being coached by Edmond Tarverdyan. Browne's own professional mixed martial arts career began in 2009 with lesser-known fight organizations such as Bellator and Victory, but his brute strength helped to produce an impressive nine-fight winning streak that earned him his first trip to the UFC in 2010 (via Sherdog). His last fight with the organization was in 2017, where he held a 9-7-1 win-loss-draw record (via Sherdog).
Browne was initially reluctant to share information about the nature of his relationship with Rousey due to allegations of domestic violence against his ex-wife Jenna Webb, for which the UFC conducted a third-party investigation that came back inconclusive (via MMA Fighting). Travis Browne, however, eventually confirmed to Luke Thomas, host of The MMA Hour, that he and Ronda Rousey had formed a partnership.
Ronda Rousey and Travis Browne had a short engagement
"Dating is for children. Dating is for kids," Travis Browne insisted. "Over the summer, through all the s*** that I had to shuffle through, that I had to sift through, Ronda and I started talking throughout the summer, and I'll say now that we are together. She's my woman, and I'm her man. There's no boyfriend, girlfriend stuff. There's no dating. We're together" (via MMA Fighting). Browne went on to propose to Rousey in April 2017 under a waterfall in New Zealand. "It felt like the right place to do it," he told TMZ when asked about the moment. 
Four months later, Ronda Rousey and Travis Browne got married in his native Hawaii. Rousey posted intimate photos of the event on her Instagram, noting it as the "happiest day of my life." As for motherhood, Rousey told E! News, "We're just putting it out in the universe and letting nature take its course and not trying to rush it or put any pressure on ourselves. Just kind of enjoy our time as a family together. Enjoying every day and accepting it whenever it happens."