Inside Cara Delevingne's Relationship With Ex St. Vincent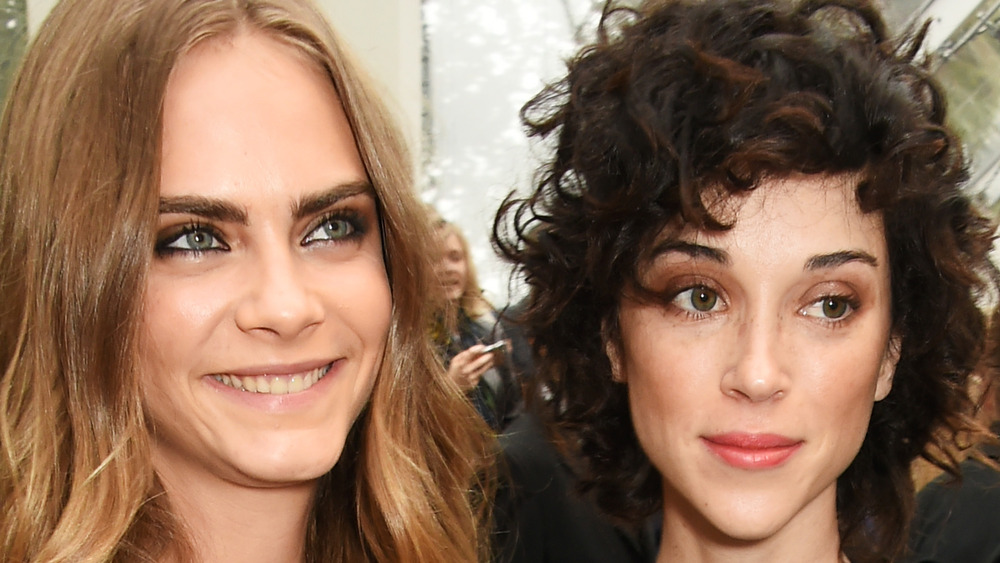 David M. Benett/Getty Images
It's been years since actor Cara Delevingne and musician St. Vincent dated, yet their romance still gets significant buzz. Delevingne and St. Vincent, whose real name is Annie Clark, were first photographed together in December 2014, according to Vanity Fair. Their relationship quickly skyrocketed into overexposure as they were hounded by paparazzi. Clark revealed just how scary the experience was in a 2018 cover story for The Telegraph's Stella Magazine. "It was just bananas," she said. "I remember being in a high-speed chase through London. I was thinking, 'This is a Princess Diana-style situation, somebody could get killed.'"
Why was Delevingne's relationship with Clark so highly publicized? Back in 2014, it was still somewhat novel for celebrities of the same sex to appear in public as couples. It was also novel for supermodels to identify as queer, as Delevingne did in 2015, per Vogue. The actor later identified as pansexual in a 2020 Variety feature. In addition to the potentially groundbreaking elements of their relationship, Delevingne and Clark's relationship was the subject of such heightened coverage for other reasons, too. 
Understanding the hype behind Cara Delevingne and St. Vincent's relationship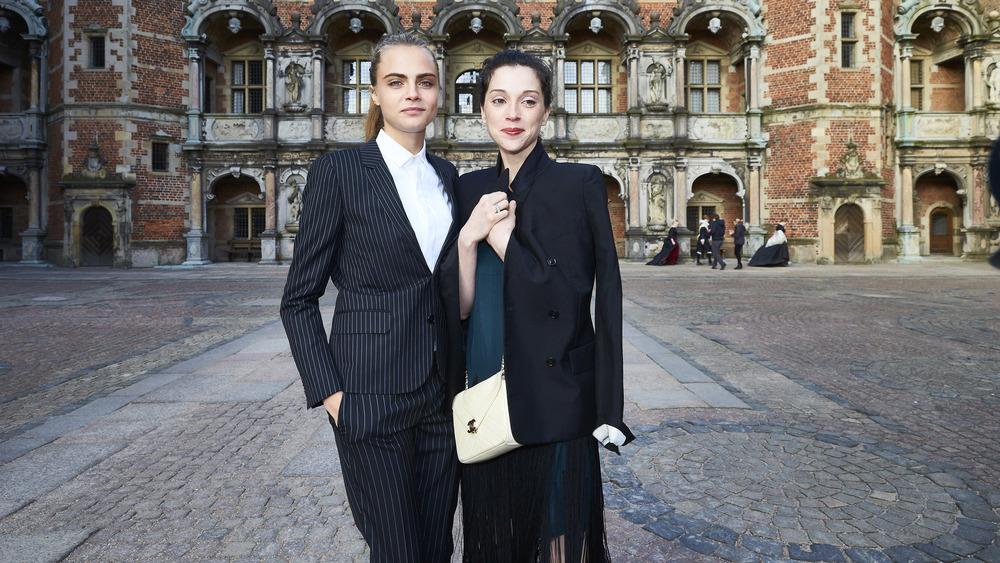 Schiller Graphics/Getty Images
Cara Delevingne and Annie Clark's relationship was likely over-publicized for another reason. Delevingne was at the center of a hyper-feminine world in 2012 and 2013, walking in two consecutive Victoria's Secret Fashion Shows. As Victoria Secret's own chief marketing officer Ed Razek once alluded to, the event was designed with a straight, cisgender male audience in mind. "Shouldn't you have transsexuals in the show? No. No, I don't think we should," Razek said in a controversial 2018 interview with Vogue. "Well, why not? Because the show is a fantasy."
In effect, Delevingne's relationships with Clark and other women broke a spell and challenged public perceptions of the modeling world. She inspired confidence in her fans when she and Clark were first photographed together. She tweeted in 2015 that she was "very much in love." The relationship ultimately helped to normalize all types of couples in Hollywood and beyond.
When Delevingne and Clark parted ways in 2016, they remained friends, per The Dallas Morning News. Delevingne even worked with Clark on her 2017 album, Masseduction, singing in the chorus of the song "Pills." To this day, the two are seemingly still on good terms. As Clark explained in her 2018 interview with Stella Magazine, she will always admire and respect Delevingne. "I'll love her for ever and ever," she said.