Here's Where You Know The Song From Peloton's New Bike+ Commercial From
Bloomberg/Getty Images
With the COVID-19 pandemic continuing to ravage all corners of the world, the possibility of getting back into the gym anytime soon keeps moving further and further away. Working out at home has become a necessity over the past year and change, and when it comes to equipment, luxury stationary bike brand Peloton has a corner on the market. As Slate notes, the first bikes went on sale in 2014, and the company's popularity has grown exponentially in the years since, with Peloton valued at a whopping $4 billion in 2018. However, what soon became known as the "Peloton wife ad" threatened to curtail the bike's rise. 
As BBC reported at the time, the commercial — released in November 2019 — showcases a woman receiving a Peloton bike from her husband as a Christmas present. A year later, she presents a vlog of her weight loss progress as a thank you for the thoughtful gift. Described as "sexist" and "dystopian," the ad was torn to shreds on social media, where users also pointed out how the company was only targeting the super-rich. Never ones to back down, Peloton has released a new advertisement for its Bike+ that utilizes a killer track from an exciting new artist, and with absolutely no weight loss guilt-tripping whatsoever.
Sofi Tukker's song is perfectly suited to the upbeat Peloton vibe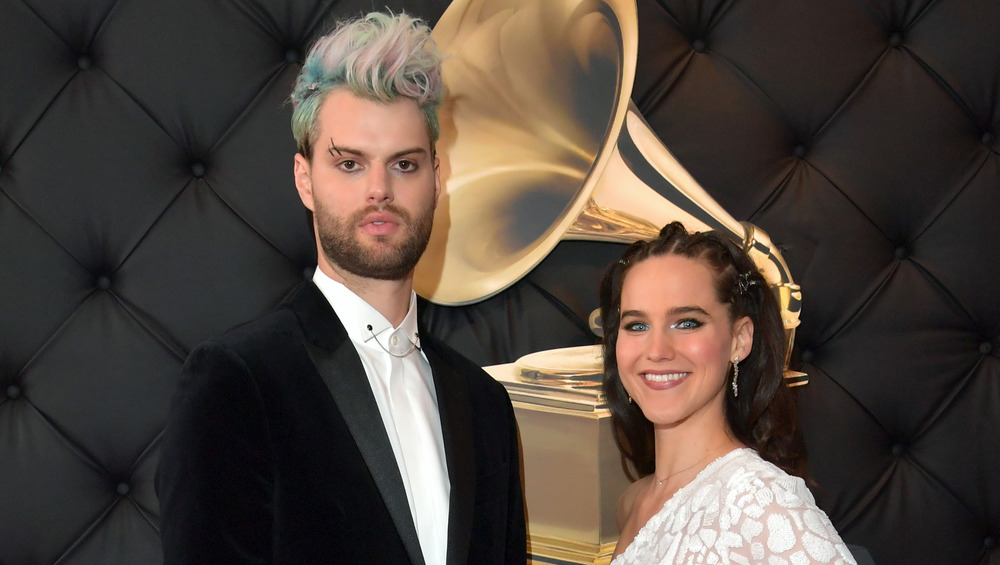 Lester Cohen/Getty Images
As per iSpot TV, the flashy new ad showcases several users getting the most out of their shiny new bikes within the confines of variously-sized homes. Happily sweating it out with big grins on their faces, each user is encouraged to push it to the limit by their peppy online instructors and finish their workout feeling great. The featured song, which suits the upbeat atmosphere, is "Purple Hat" by indie dance duo Sofi Tukker, AKA Sophie Hawley-Weld and Tucker Halpern. Speaking to Entertainment Voice, Halpern explained they were going for an old school vibe with the catchy track, "like the Studio 54 New York, kind of like weirdo, club kid kind of vibe." 
He acknowledged the duo is too young to have any experience of that time, so the sound is based off "what we've heard about it, and what we've sort of learned," explaining, "I just have some fascination with it." Although Sofi Tukker is a reasonably new group, this isn't their first brush with mainstream recognition. As Newsweek confirms, their song "Best Friend" featured in Apple's iPhone X Commercial. "THANK YOU @APPLE! SO GRATEFUL," they gushed on Twitter at the time. Halpern told Entertainment Voice the duo's aim is to spread a sense of excitement with their music and performances, which is perfectly suited to Peloton's buoyant, chirpy outlook.