The Easiest Way To Fix A Run In Your Tights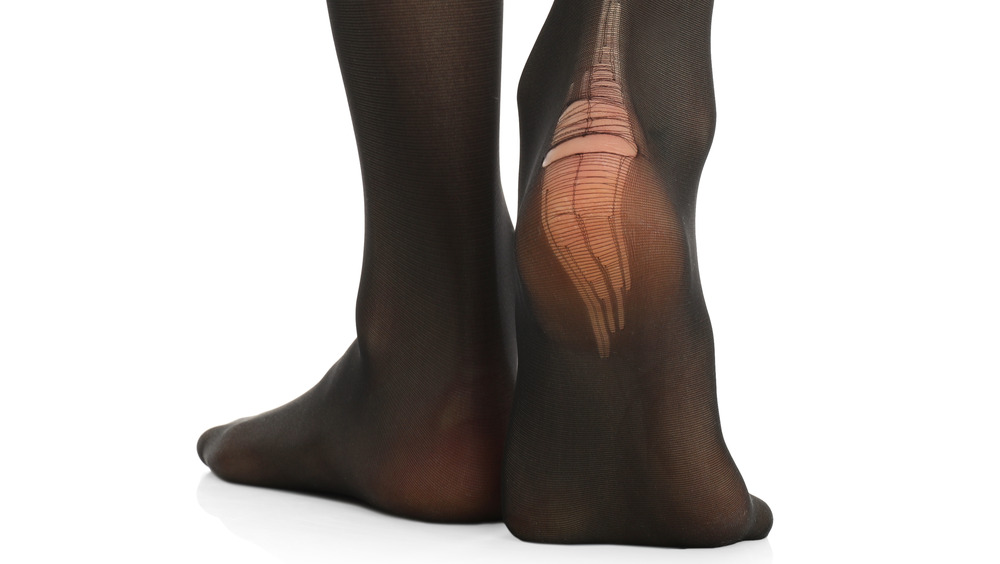 Shutterstock
There's nothing worse than getting a run in your tights, particularly a pair that you don't want to part with. But before you heave a heavy sigh and toss them into the trash, you should know that there is a way (there are several, in fact!) to fix a run in your tights, and it won't cost you much, either.
Who better to give tips on tights than the Radio City Music Hall Rockettes? Yes, the toe-tapping, high-kicking ladies who are known for wearing tights as they twirl have some insanely smart (and practical) advice for how to fix a run in your tights. For starters, clear nail polish is about to become your tights' BFF. While it won't undo a run, it can prevent it from getting a lot bigger — and potentially more noticeable (via Radio City Rockettes).
If you want to put a hold on the run in your tights, just whip out some hairspray ... seriously. Again, it won't repair the run, but it can definitely keep it from making its way down to your toes (via Fabulessly Frugal). Just spray the spot where the hole is and it'll prevent it from getting bigger. If you notice the run while you're already wearing your tights, you can always shoot some hairspray onto your finger and then dab it onto the hole with your finger. That way, you won't wind up with hairspray all over your thighs.
Here's another way to fix that hole in your tights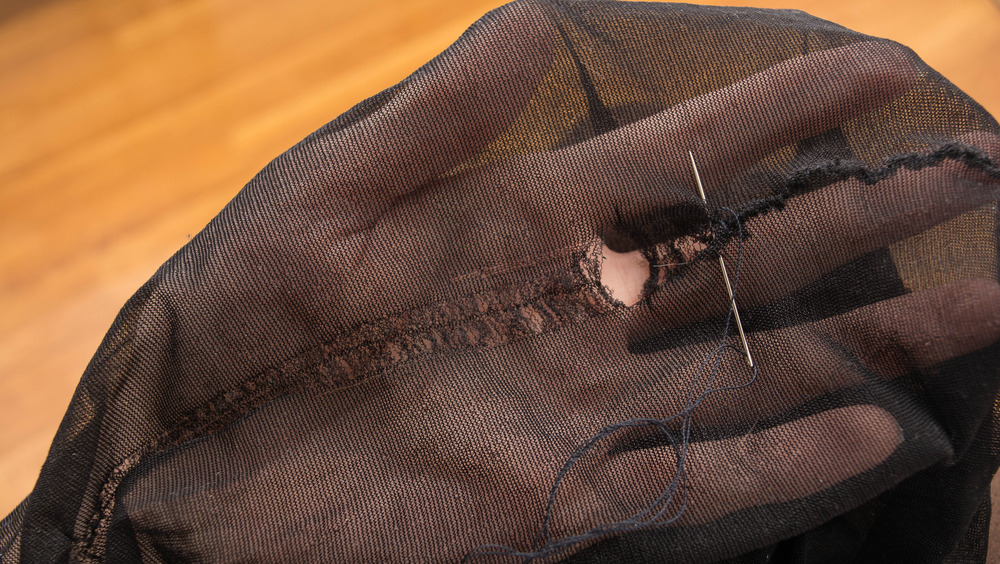 Shutterstock
But let's say that you don't just want to stop a hole from getting bigger — you want to hide it completely. It is possible to sew your tights (via AllFreeSewing). The site recommends sewing tights that are made from mesh, Lycra, or nylon, althhttps://www.healthdigest.com/3...ough fishnets and wool tights can be sewn, too. (Per Sciencing, it's not advised to sew Supplex, which is a nylon that is softer and more water-repellent than traditional nylon, since it can actually make the holes larger.) To patch a hole, you just need to match your thread to your tights, and stitch until the hole is closed.
Another option is to layer your tights. For example, if you have more than one pair of the exact same tights (and womp womp, both have runs in them), you can always don both pairs, since the probability that both have holes in the exact same spot is slim (via Radio City Rockettes).
Having a run in your tights shouldn't ruin your day. By being a bit creative, you can come up with solutions that allow you to still wear your tights, despite any hole they might have. And that way, you can rock that frock with no one being any the wiser.