The Truth About Alan Jackson's Marriage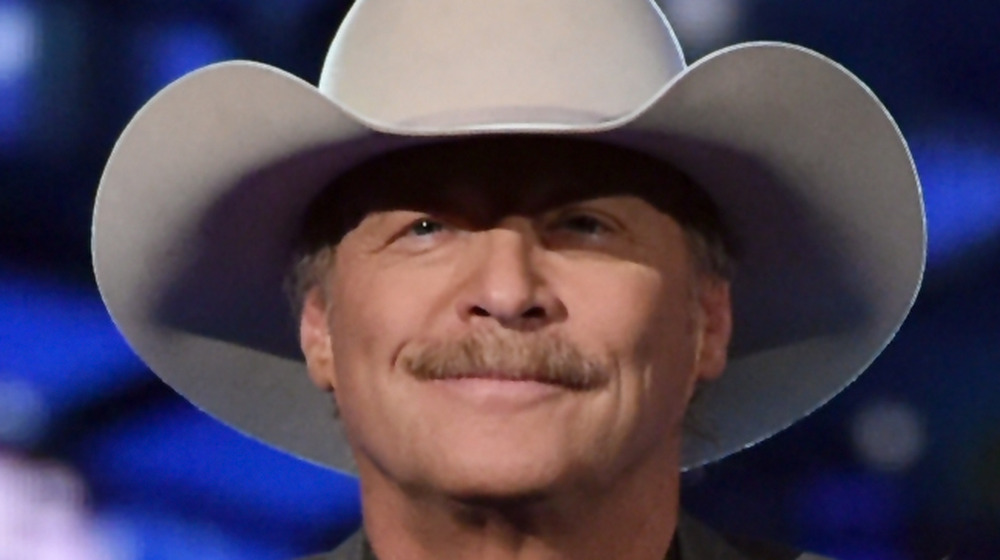 John Shearer/Getty Images
Country music star Alan Jackson has announced May 14, 2021 will mark the release of his first album in six years, titled Where Have You Gone. The upcoming project is also the star's 16th studio album, according to ET Canada. 
Taste of Country has revealed Alan's new songs take inspiration from his personal relationships, including two songs he wrote for his daughter's weddings and one he wrote for his mother's funeral. While family might be at the heart of his newest music, there's one family member who has always provided inspiration for the country music icon: his wife, Denise Jackson.
The Grammy Award-winning singer met his wife, whose maiden name was also Jackson, when they were both teens in their hometown of Newnan, Georgia, according to Country Fancast. The couple married in 1979 and moved to Nashville to pursue Jackson's singing career; it was Denise who helped Alan land his first recording contract. As a flight attendant, Denise, met country music star Glenn Campbell during a flight and convinced him to hear her husband sing. Afterward, the Rhinestone Cowboy became a mentor to Alan , helping the younger man become the superstar he is today.
Alan and Denise Jackson are still together and committed
On December 15, 2020, Alan and Denise Jackson celebrated their 41st wedding anniversary by sharing a photo of them smiling together on Instagram. 
While the couple seems happy together now, it hasn't always been a fairytale marriage. In 2007, Denise wrote a book titled It's All About Him: Finding the Love of My Life with co-author Ellen Vaughn, in which she spoke about Jackson's infidelities and the couple's separation in 1997. She told People, "One of the main messages of the book is about forgiveness and how healing can come when we work through problems and infidelities. Probably half the marriages out there experience what we do but there's only a very, very small percentage that really survives."
When Denise was diagnosed with colorectal cancer in 2010, their marriage was tested again, but Alan was there to support his wife. He told Coping Magazine, "It was the first time I felt like I was living out the phrase in our wedding vows 'for better or for worse.'" After two months of treatment, Denise was declared cancer-free, and Jackson wrote one of his most heartfelt ballads about his experiences as a caregiver, "When I Saw You Leaving," which was on his 2012 album Thirty Miles West.
The country music couple shares three adult daughters: Mattie, Alexandra, and Dani, according to Country Fancast.