How To Do The DIY Glass Painting That's Going Viral On TikTok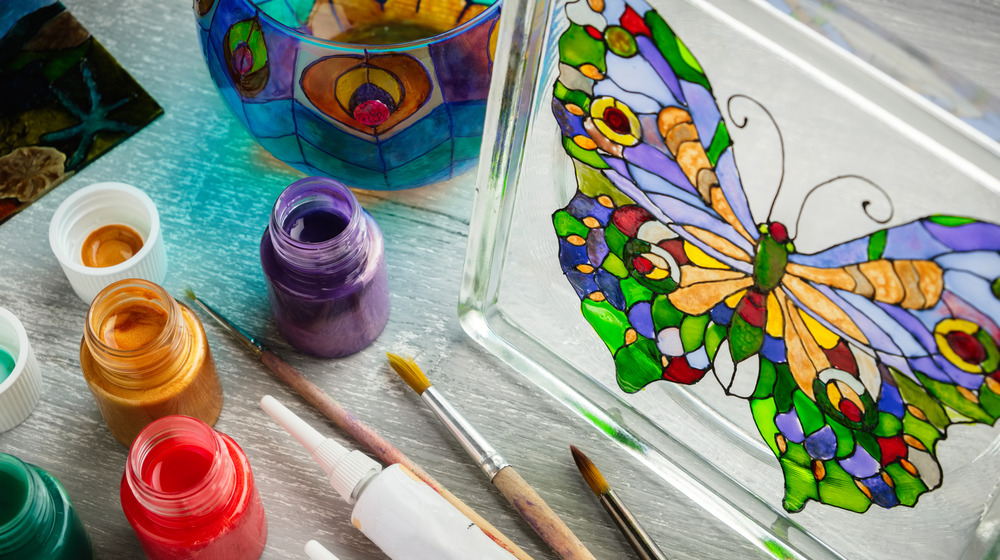 Shutterstock
If you're on DIY TikTok you've probably seen an ongoing trend to create beautiful glass paintings in just a few simple steps. In only 30 seconds, the videos show how some messy splashes of paint on one side of the glass can look like masterpieces when looked at from the other side. As we spend more time at home and the list of activities to do gets shorter by the day, glass painting is the perfect hobby to take on. 
To start making your own glass paintings, you'll need acrylic paints of the colors of your choice, a glass photo fame, paint brushes, and a black permanent marker. You'll also need to choose the image you want to paint. It could be anything from animals to anime, but we recommend you stick to a simple design for your first try. Now that you have all the materials at hand, here's the step-by-step guide to achieving your dream DIY glass painting (via SoJo Videos).
Creating a glass painting masterpiece is easier than you think
First, print out the image you want to paint. Make sure to print the image the size you want it to look, because you'll be tracing on the glass as it is. Detach the glass from the photo frame and tape your image to the back of the glass. Once your image is secured, start tracing it on the glass using a black permanent marker. You can use a cotton swab with nail polish remover to clean any mistakes without leaving trace on the glass. 
After tracing, take off the image and turn the glass around. The side of the glass that you didn't draw on should be facing you now. You'll be painting with acrylics on this side. Start by painting the details first, which could include eyes, shadows, highlights, jewelry, etc. You'll want to let it dry for a day or so until it's completely dry. Put the glass against the light to see if the paint looks transparent and you need to add another layer. Once you're satisfied with the details, it's time for the second layer of paint. Paint the larger areas of the design with generous amounts of paint, covering the details you already painted (via Young Hollywood). Let it dry for a day, turn it around, and unveil your masterpiece.