What Dick Van Dyke's Relationship With Mary Tyler Moore Was Really Like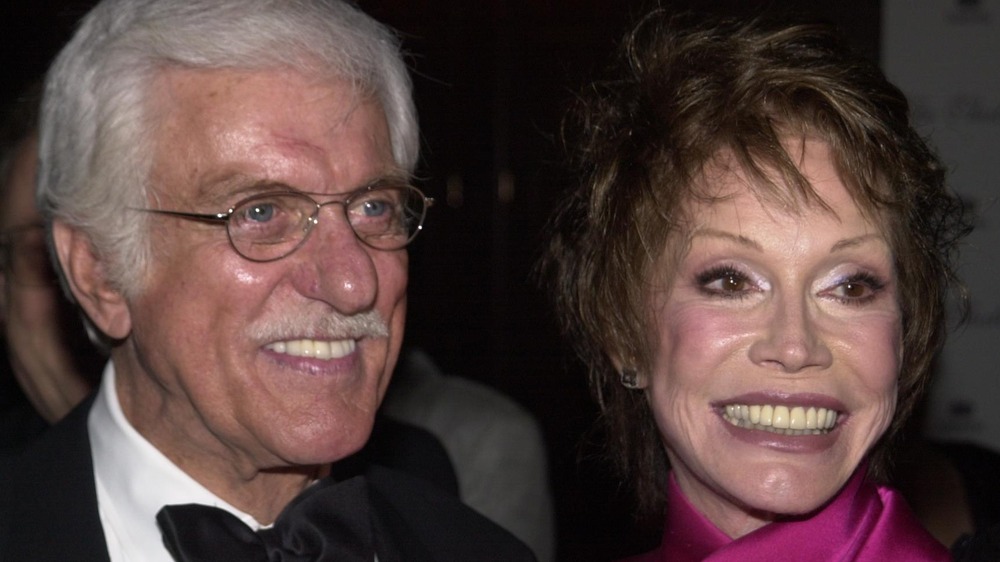 Steve W. Grayson/Getty Images
Dick Van Dyke and Mary Tyler Moore might be legends in their own right, but together they were an unstoppable force as the lovable Rob and Laura Petrie on The Dick Van Dyke Show. Running from October 1961 to June 1966, the CBS sitcom is often cited as one of the greatest television shows of all time (via the Houston Chronicle). But what was Dick Van Dyke's relationship with Mary Tyler Moore really like?
The actors met in 1961 in Carl Reiner's office. Reiner was the creator of The Dick Van Dyke Show (via YouTube). Van Dyke had already been cast, and they were seeing whether Moore was a fit for the role of Laura. "She walked into the room," Reiner recalled (via ABC News), "[and] I looked at those eyes, the smile and those legs and I said, 'I found her.'"
Moore immediately hit it off with Van Dyke, telling Larry King in 2003 (via YouTube) that they "clicked as real people" right away. Her co-star reciprocated those feelings, describing how they "bounced off each other immediately" on and off-screen. Despite admitting to having crushes on each other, Van Dyke likened their connection to "more of a sibling relationship than anything."
Dick Van Dyke is very proud of what Mary Tyler Moore accomplished in her career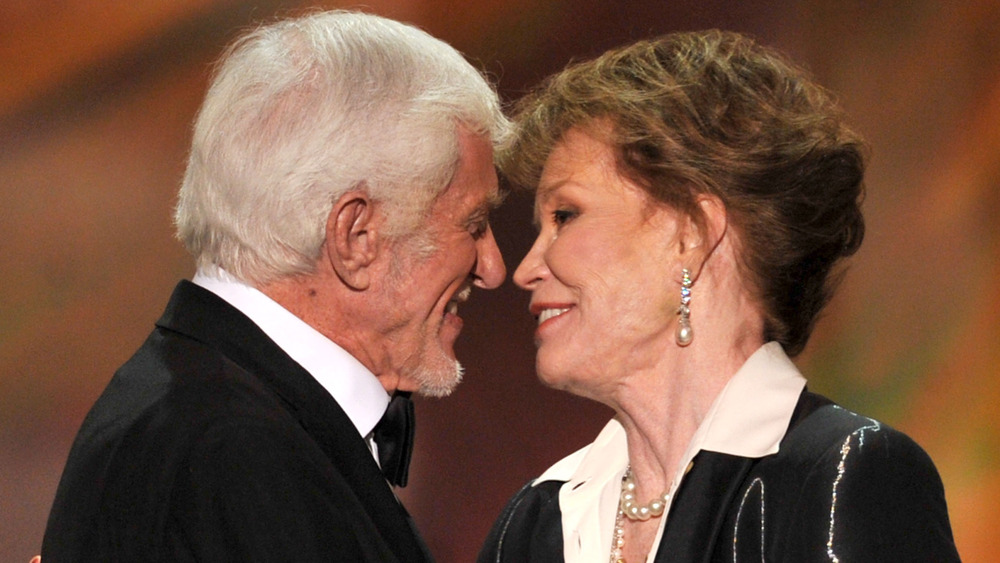 Kevin Winter/Getty Images
Van Dyke refers to the time as "the best five years of my life" (via The Hollywood Reporter), a sentiment that Moore seemed to agree with, mainly because of Van Dyke himself. "[He] was the most generous person to work with. He delighted in my success," she said in a 1999 interview with King (via YouTube). She expanded upon this in the 2003 interview, describing what she adored most about the actor. "I loved him. I loved his kindness. I loved his humor and his dance. Everything about him I loved and connected to" (via YouTube).
Sadly, Moore passed away in 2017 at the age of 80 (via BBC News). Van Dyke wrote a touching obituary for his co-star in the Hollywood Reporter, where he touched upon memories of their time filming together, as well as the honor he had in presenting Moore with the SAG Lifetime Achievement Award in 2012.
"Outside of her family, I don't think there was anyone more proud of her than I was. Just to watch her grow was such a thrill for me. She left an imprint on television comedy," Van Dyke wrote, via The Hollywood Reporter. "I got to be on hand and watch her grow into the talent she became. She was just the best."