New Poll Reveals Bad News For Prince Charles
Shutterstock
Prince Charles may be next in line for the British throne — but it looks like most Brits prefer his son Prince William as the next monarch, according to a new poll.
The recent survey, conducted by Deltapoll for the Daily Mirror, revealed that almost half of nearly 1,600 British adults preferred Prince William, the Duke of Cambridge, to become king upon the end of Queen Elizabeth's reign. Compared to the 42 percent who favored Prince William, only 27 percent wanted his father Prince Charles, the Prince of Wales, to take the Crown — while 18 percent said that Britain should no longer have a monarchy.
As Queen Elizabeth's eldest child, Prince Charles is first in line for the British throne (per BBC News). But the revealing poll suggests that most of the British public would actually prefer that the Crown bypass the 72-year-old Prince of Wales and instead be handed to his son William, indicating a huge blow to the heir's popularity — especially as the royal family continues to reel from the shocking revelations made during Prince Harry and Meghan Markle's tell-all interview with Oprah Winfrey.
What the results of the poll mean for the British monarchy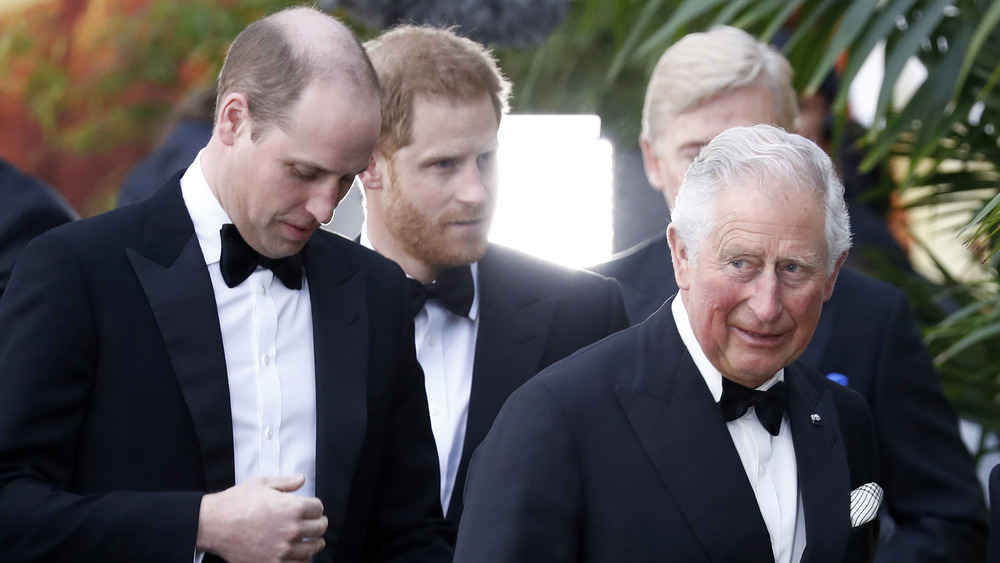 John Phillips/Getty Images
Interestingly, as reported by the Daily Mirror, the results of the poll suggests a deep generational divide in attitudes toward the monarchy. When given the choice for which royal to succeed Queen Elizabeth, only ten percent of millennials (aged 25 to 40) preferred Prince Charles to become the next king. In fact, nearly twice as many millennials favored Prince Harry taking over the throne compared to Prince Charles, despite the younger Duke of Sussex only being sixth in line to the throne.
Speaking about the recent poll, Deltapoll co-founder Joe Twyman suggested that the results showed a potential crisis for the monarchy. "Deltapoll's latest results should strike fear into the heart of the Royal Family," he said (via Yahoo!). "Prince Charles is set to inherit the throne, but it is Prince William who is the far more popular option among the British people and among younger respondents it is Prince Harry who comes out on top. That is a potential public opinion problem facing the palace that may not be easy to solve."
Despite public opinion, the line of succession dictates that Prince Charles will indeed become king upon Queen Elizabeth's death. And although about 20 percent of respondents in the survey said that they think the Queen should choose to abdicate the throne at some point in the future while still in good health, the long-reigning monarch is also unlikely to step down from the throne (via People).