Princess Diana's Most Memorable Outfits All Included This Bold Color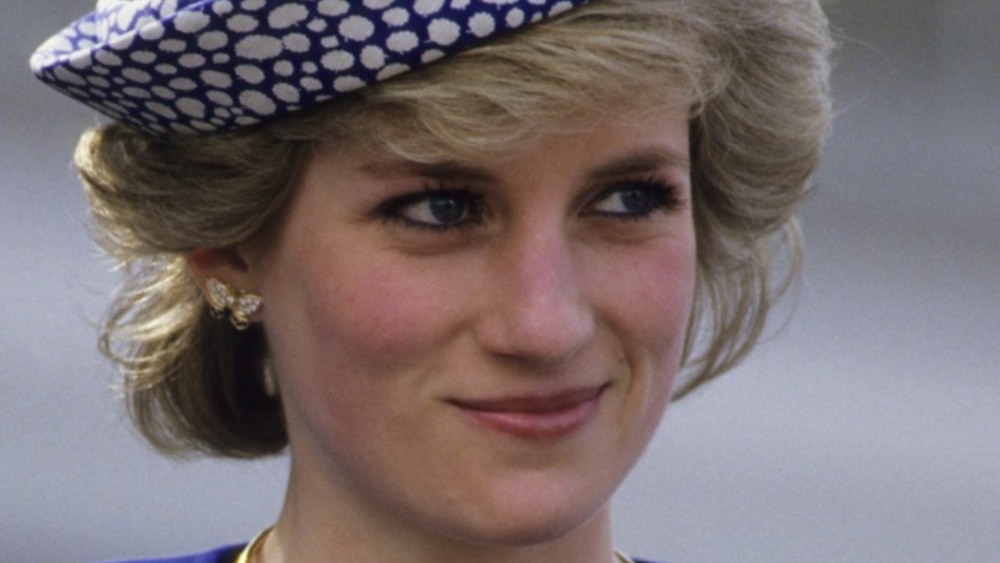 Georges De Keerle/Getty Images
Princess Diana's iconic style continues to inspire a new generation of fashion lovers, long after her passing. She boldly experimented with different colors, cuts, materials, and trends, and made wave after wave with each daring look — including the infamous black, off-the-shoulder Christina Stambolian dress dubbed the "revenge dress", per Marie Claire UK.
In February 2017, a highly anticipated exhibit dedicated to Princess Diana's most celebrated fashion looks — titled Diana: Her Fashion Story — opened up at Kensington Palace (via Vanity Fair). Eleri Lynn, who curated the exhibit, shared with Vanity Fair what makes Princess Diana's style still so impactful today. "It is very surprising how little footage there exists of the Princess actually speaking. We all have a sense of what we think she was like, and yet so much of it comes from still photographs, and a large part of that [idea] is communicated through the different clothes that she wore," she explained.
As much as Princess Diana played around with different looks, some of her greatest fashion moments incorporated this bold color.
Princess Diana exuded confidence and charm in the color red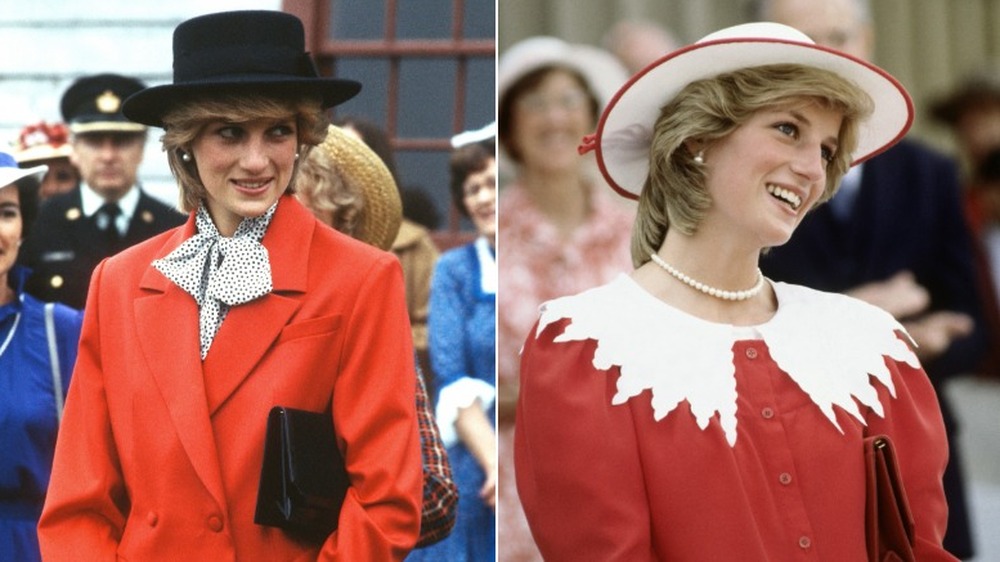 Anwar Hussein/Getty Images, David Levenson/Getty Images
From her dramatic hats to show-stopping coats, Princess Diana managed to sneak bold, vibrant red into a lot of her outfits, as noted by InStyle. She seemed to have a variety of stylish pieces in this power color on rotation, no matter the occasion. Today, Kate Middleton channels her late mother-in-law's love of red in designer gowns, trendy suits, and statement bags (via Hello!). On October 20, 2020, the duchess wore a stunning trench coat dupe to an event honoring the Hold Still campaign, which featured photos taken in the UK during the coronavirus pandemic. Her long and flowy red coat looked similar to one worn by Princess Diana at the Zurich airport in 1994 (via Glamour).
Though Princess Diana's influence on the fashion industry can't be argued, she still faced her share of controversy for some of her outfit choices. In 1981, she wore a gorgeous, shimmery gown by Bellville Sassoon to an event (via Insider). The spaghetti-strap dress is breathtaking, but probably didn't get the royal seal of approval since it wasn't the most conservative pick. Princess Diana never shied away from making daring choices, and that's what makes her style still so influential all over the world.