Camilla Parker Bowles Just Made A Rather Unusual Fashion Statement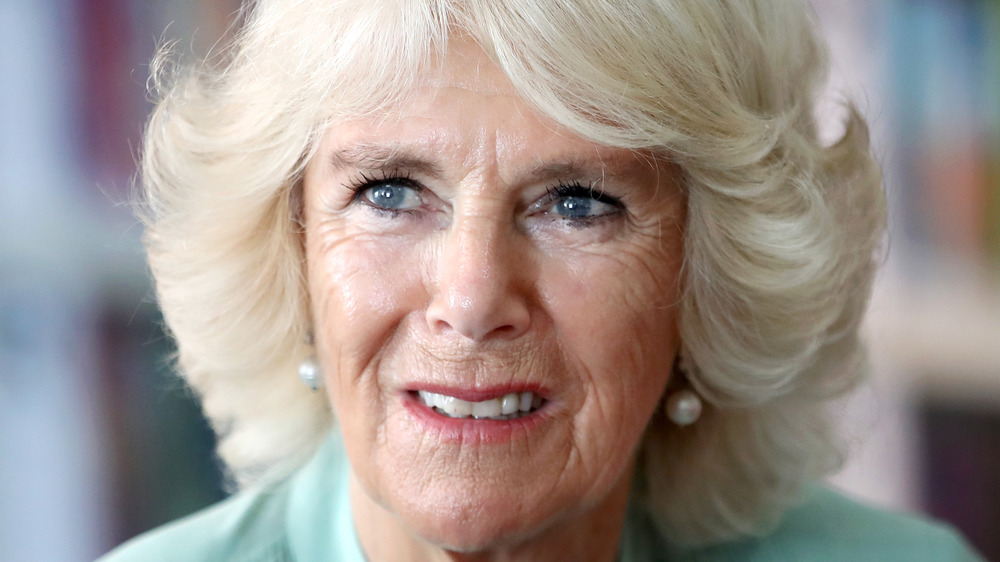 Chris Jackson/Getty Images
Camilla Parker Bowles was at the Wightman Road Mosque in Haringey, London, on April 7, 2021. According to a post on the Clarence House official Instagram page, Camilla learned that members of the mosque have helped distribute "food hampers as well as providing counseling and advice to those struggling." She also learned about the mosque's pop-up vaccine center that helped "encourage those reluctant to be vaccinated to come forward." She met with "staff, volunteers and patients receiving the COVID-19 vaccine at Tottenham Vaccination Center," and even got to see the "vaccine preparation process."
For the visit, Camilla wore a white shirt with a black skirt, a pair of black tights and a cape-style jacket. Camilla's blond hair peeked out from a white headscarf, and she wore a cheetah-print face mask, covering her nose and mouth. However, the duchess, who received the COVID-19 vaccine along with her husband Prince Charles back in early February 2021, according to The Sun, swapped her shoes during the visit. And while Camilla's footwear is making waves on the internet, it turns out that she was simply complying with the rules inside the mosque. "It is appropriate to remove one's shoes before entering the prayer area at a mosque, so that the floors and carpets aren't covered with dirt — after all, that is where people pray," according to the Reno Gazette Journal.
Camilla Parker Bowles was given a pair of fuzzy slippers to change into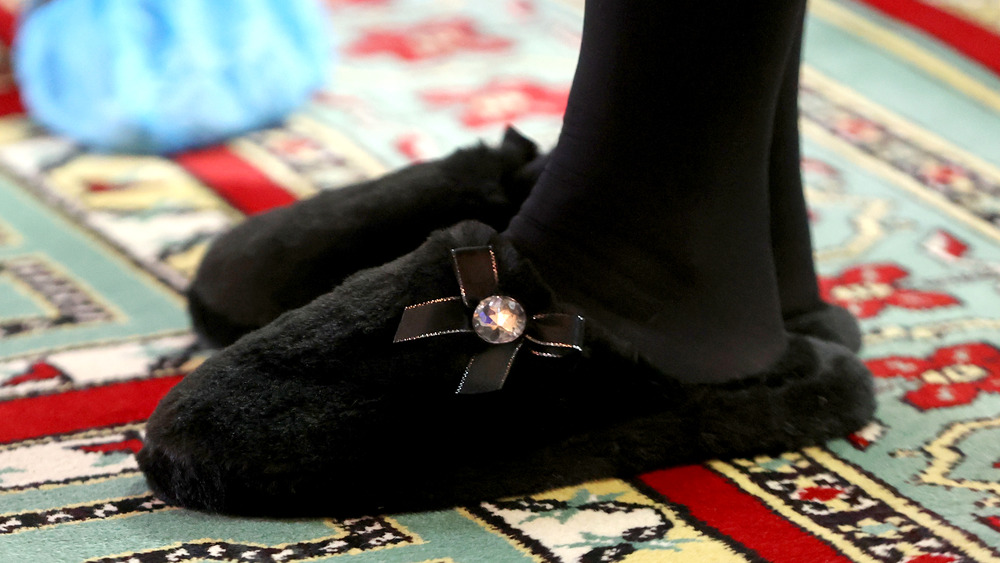 Chris Jackson/Getty Images
Upon her arrival at the Wightman Road Mosque, Camilla Parker Bowles was wearing a pair of heeled boots. However, once she entered the prayer area of the mosque, she was given a pair of black fuzzy slippers to change into, according to Hello! magazine. The Duchess of Cornwall's comfy footwear featured a small bow and a clear gemstone on each side. And while the slippers weren't meant to be fashionable, many people seem to be interested in them. According to Hello!, the slip-on style slippers are from Pour Moi and only cost about $26. 
Camilla received a great amount of praise for being so respectful during her visit to the mosque. Several people took to the comments section of a photo of Camilla at the mosque that was uploaded to the Clarence House Instagram page to applaud the duchess on her outfit — and the shoe change. "Glamorous and respectful," one social media user wrote. "Very thoughtful and graceful of the Duchess to cover her head in respect of the community she was meeting," another person commented. "Well done ma'am leading by example, thank you for the work you do, always in a kind and respectful way," echoed a third.