What You Didn't Know About William And Kate's Wedding Cake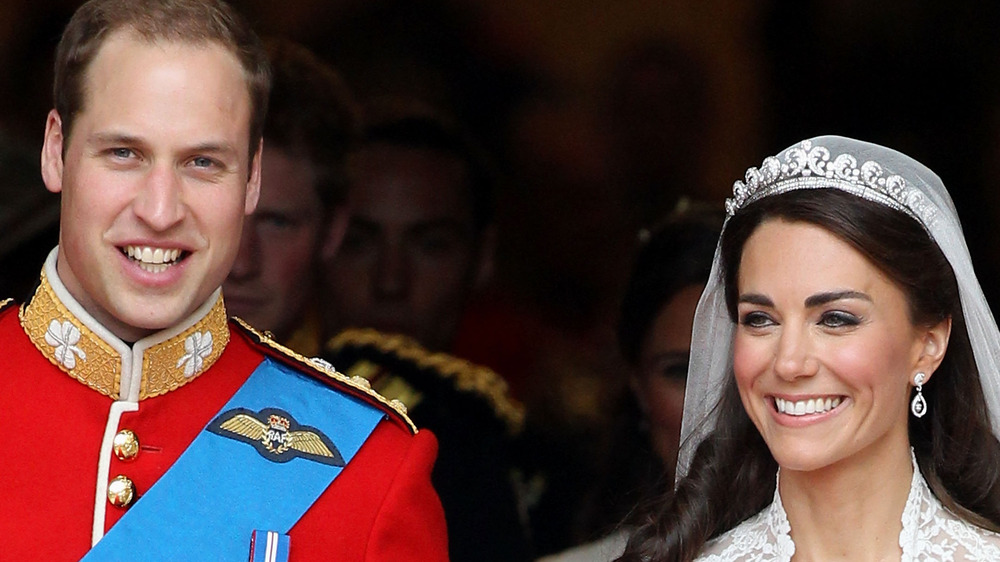 Chris Jackson/Getty Images
Ten years have passed since Prince William and Kate Middleton tied the knot in a lavish wedding ceremony watched by millions around the world. Some memorable highlights from the royal nuptials include the Duchess of Cambridge's stunning Alexander McQueen gown and Princess Beatrice's divisive Philip Treacy headpiece (via Harpers Bazaar).  
However, one lesser-known detail of the couple's big day was the presumably delicious wedding cake enjoyed by the ceremony's distinguished guests. As People reports, the eight-tiered and three-foot-tall fruit cake was created by renowned cake designer Fiona Cairns, and speaking in the ITV documentary The Day Will and Kate Got Married, Cairns recalled the difficulty of transporting the dessert into the Picture Gallery in Buckingham Palace. 
When moving the cake into Queen Elizabeth II's royal residence, Cairns' team were forced to remove one of the palace doors, and Her Majesty arrived just in time to witness the adding of the cake's finishing touches. "I can remember her saying, 'I hear that you've been dismantling my house'," Cairns said in the documentary. "And I said to her, 'Well, we had to take a door down from the room below for the trolley to go through with the cake.' But it was all put back so in the end, it was fine."
Prince Harry and Meghan's wedding cake wasn't quite so traditional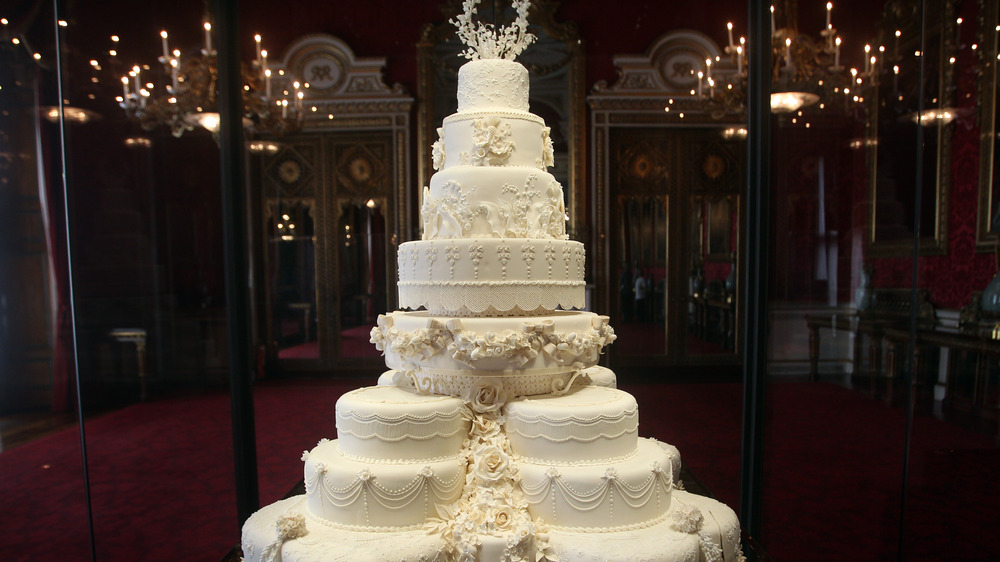 Wpa Pool/Getty Images
As Glamour reports, the Duke and Duchess of Cambridge's wedding cake was made up of 17 individual fruitcakes that were expertly decorated with a staggering 900 white icing flowers and leaves. The cake in question has also been served at the christenings of Kate Middleton and Prince William's three children, Prince George, Princess Charlotte, and Prince Louis. 
Per Showbiz Cheat Sheet, Prince Harry and Meghan Markle's wedding cake wasn't quite so traditional. Created by the Violet Bakery Cafe's Claire Ptak, the dessert broke away from the standard royal fruitcake flavor, and the couple instead opted for an unusual elderflower and lemon-tinged cake. 
Elsewhere, the construction of the Sussex's wedding cake was also out of the ordinary. In the past, royal cakes have typically been made up of multiple tiers. However, Prince Harry and Meghan's presentation saw the dessert placed on separate stands and decorated with flowers.