Did Prince Philip Share His True Thoughts On Meghan And Harry's Tell-All Before His Death?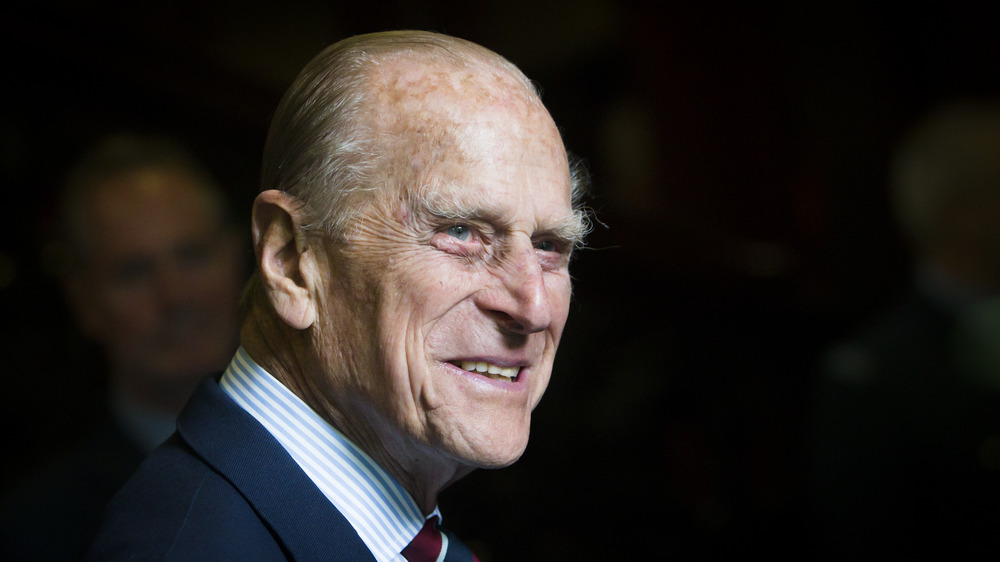 Wpa Pool/Getty Images
The patriarch of the British royal family, Prince Philip's recent passing has sent waves of sadness and grief throughout his family and the world. The 99-year-old left behind his eight grandchildren, Town and Country reports, many of whom have paid tribute to his life of service on social media. Most notably, however, Prince Harry and Meghan Markle had recently stood at odds with their family on the other side of the Atlantic — especially following their tell-all interview with Oprah.
The Daily Mail reports that Prince Philip had expressed his dismay over his grandson's CBS special, with his biographer, Gyles Brandreth, telling the outlet that the Queen's husband thought the whole thing was "madness" and that "no good would come of it."
Beyond the explosive interview, Prince Philip also had his concerns over his grandson's transition out of the royal family. Brandreth also noted that the couple's plans to start anew in the United States with their own, independent stream of income while still working on behalf of the crown seemed "naive" to the 99-year-old prince. Of course, Prince Philip was saddened that his grandson had decided to step back as a senior working royal and the interview proved to add insult to injury within the relationship that was once extremely close.
Due to the pandemic, Prince Harry's travel plans between the United States and the UK have changed quite frequently, with the prince staying in his new home of Santa Barbara, California. Prince Phillip went to the hospital in February as a precautionary measure and stayed in their care until the time of his death in April.
Prince Harry and Meghan Markle's interview aired while Prince Phillip was in the hospital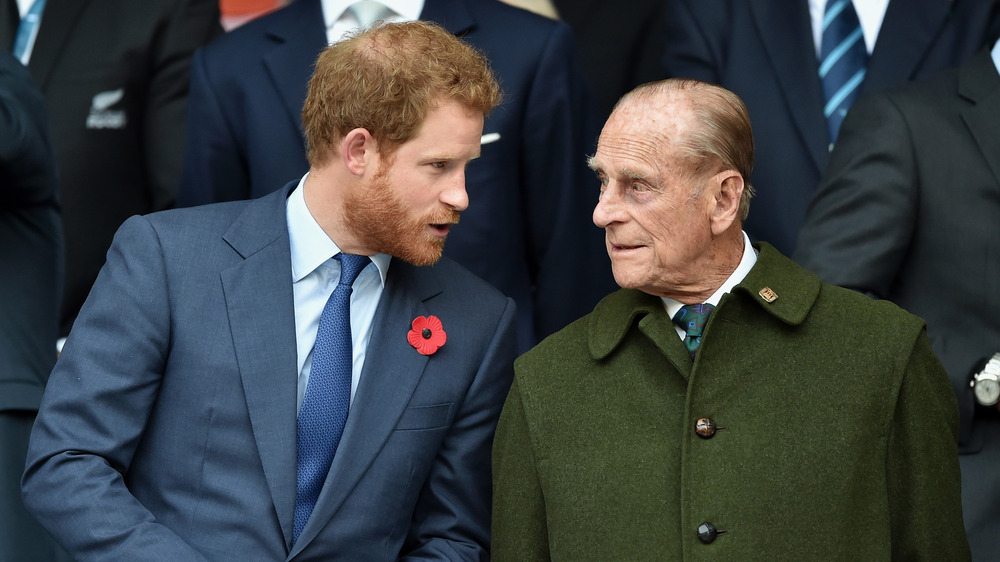 Max Mumby/indigo/Getty Images
During his grandfather's hospital stay, Prince Harry and Meghan Markle's interview aired around the world, PageSix notes. His response to their public explanation of their situation was similar to his opinions about Princess Diana and Prince Charles' public sparing in decades past. Indeed, Brandreth told The Daily Mail that his irritated response made sense, saying "I was not surprised because that is exactly how he described to me the personal TV interviews given by Prince Charles and Diana, Princess of Wales, back in the 1990s."
Of course, putting your family on blast while your grandfather fights for his life certainly doesn't bode well for public sympathy. But, it appears that it didn't bother Prince Philip in the same way. "The fact that the Meghan and Harry interview was aired while Philip was in [the] hospital did not trouble him," his biographer noted. "What did worry him was the couple's preoccupation with their own problems and their willingness to talk about them in public. 'Give TV interviews by all means,' he said, 'but don't talk about yourself.'"
But, despite all of the back and forth, Brandreth attests that Philip still saw Harry as a good man who had served his country well. As his grandson lands back in the UK for the funeral arrangements, it appears that the two had made amends and stayed close until the final hours.
Prince Harry returned to the UK for his grandfather's funeral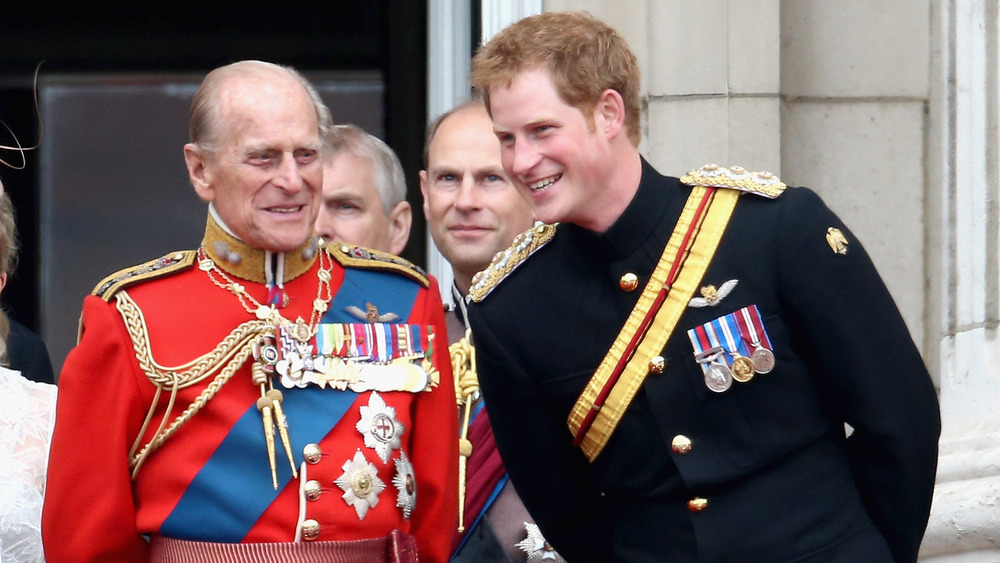 Chris Jackson/Getty Images
A year after Prince Harry and Meghan Markle stepped back from their roles as senior working royals, the Duke of Sussex has made his way back to the UK for Prince Philip's funeral. The 36-year-old prince paid tribute to his grandfather with a statement saying, "He was authentically himself, with a seriously sharp wit, and could hold the attention of any room due to his charm — and also because you never knew what he might say next," according to CNN. "He will be remembered as the longest reigning consort to the Monarch, a decorated serviceman, a Prince and a Duke. But to me, like many of you who have lost a loved one or grandparent over the pain of this past year, he was my grandpa: master of the barbecue, legend of banter, and cheeky right 'til the end."
Currently, the outlet reports, Prince Harry is quarantining at his former home of Frogmore Cottage in the UK while Meghan Markle stays behind in California on account of her second pregnancy. It will be the first reunion for Prince Harry, his father and his brother, Prince William since the Sussexes moved to the other side of the Atlantic in March of 2020. 
Since he was particularly close to his grandfather earlier in his life, Prince Harry finished his statement by saying, "So, on that note, Grandpa, thank you for your service, your dedication to Granny, and for always being yourself. You will be sorely missed, but always remembered — by the nation and the world. Meghan, Archie, and I (as well as your future great-granddaughter) will always hold a special place for you in our hearts."