The Heartbreaking Reason Prince Philip Walked With Harry And William At Diana's Funeral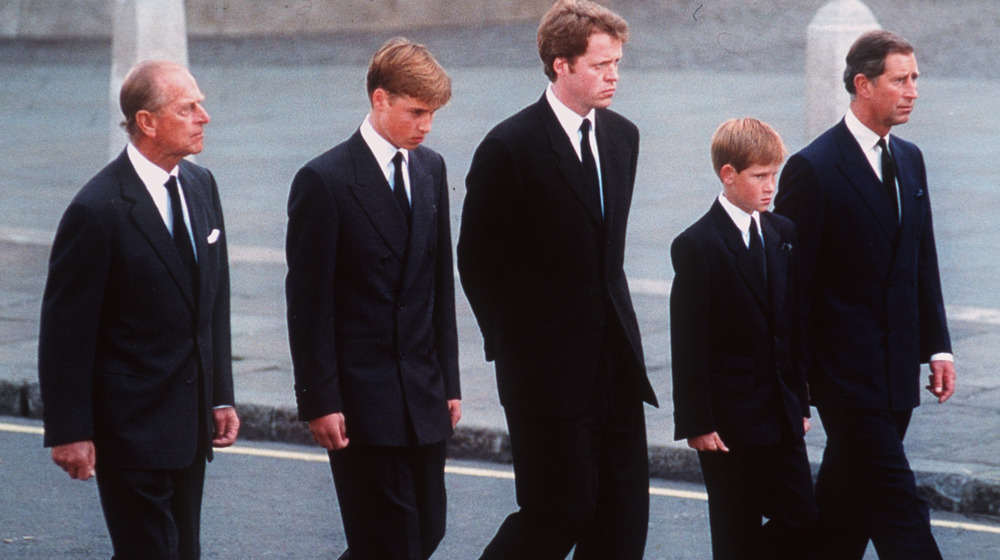 Anwar Hussein/Getty Images
Despite dying at the young age of just 36, Princess Diana touched the hearts of millions across the world. Diana became part of the British royal family at age 19 when she married Prince Charles, first in line to succeed the throne. After a 15-year marriage clouded by infidelity allegations, the couple divorced, but Diana remained a beloved royal (via Oprah Daily). No one could foresee that the princess would die a year later in a car accident in Paris with boyfriend Dodi Fayed, per Biography.
Her funeral was a heartbreaking affair, full of flowers and tears from her relatives and fans who appreciated her for her charity work and loving character. "My mother had just died, and I had to walk a long way behind her coffin, surrounded by thousands of people watching me while millions more did on television," Prince Harry said in a 2017 interview with Newsweek. "I don't think any child should be asked to do that, under any circumstances." The prince was only 12 years old at the time, and losing his mother wrecked him for years. Family is the best support, so at the funeral, Prince Philip chose to walk behind the casket alongside Diana's sons.
Prince Philip was concerned about Harry and William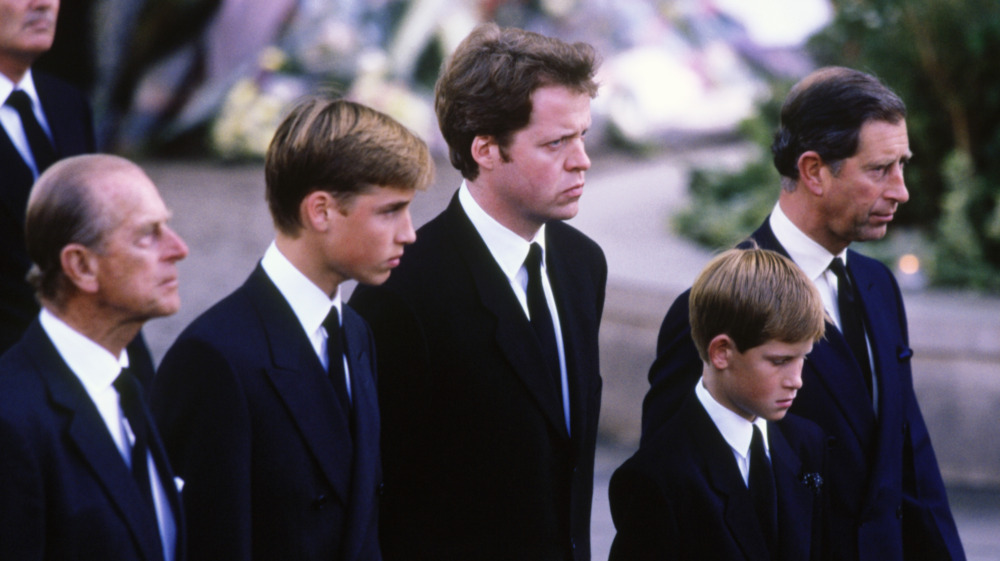 David Levenson/Getty Images
After Princess Diana's death, Prince Philip was really worried about the well-being of his grandsons and wanted to support them in any way possible. "We were all talking about how William and Harry should be involved [in the funeral] and suddenly came Prince Philip's voice. We hadn't heard from him before, but he was really anguished," a former government official told the Evening Standard, referring to a conference call with Philip about Diana's funeral. "'It's about the boys,' he cried, 'They've lost their mother.'" According to the outlet, the night before the funeral, Prince Philip offered to walk with William and Harry if they decided to do so.
Princess Anne echoed this in a recent interview with ITV. "I seem to remember them saying that, in fact, it was a question of, 'If you'll do it, I'll do it,'" she said, remembering her father's gesture to Harry and William at Diana's funeral. "That was him as a grandfather. 'If that's what you want to do and if you want me to be there, I will be there.'"