The Truth About Tony Bennett's Art Career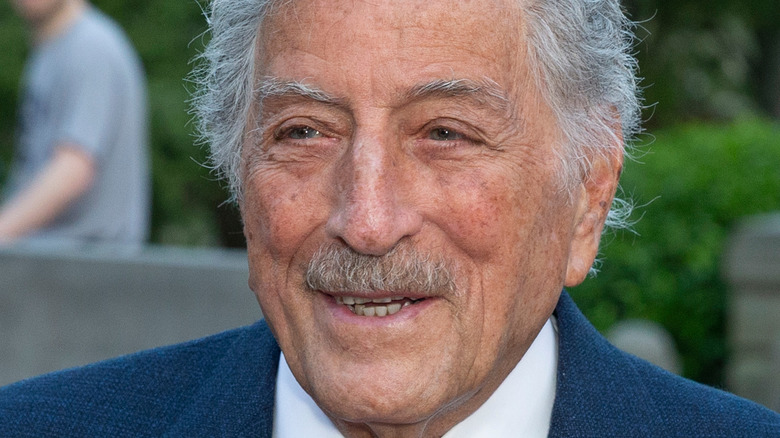 Shutterstock
Best known for a stellar, virtually life-long music career that began with his performance at age ten, marking the opening of New York's Triborough Bridge and extending to his final live performance in March 2020 (before Covid ended most live concerts), few artists have endured as long and as successfully as Tony Bennett. Along the way, he racked up 36 Grammy nominations and 18 wins, and had chart-topping hits in the 1950s, '60s, '70s, '80s, '90s, and 2000s (via Grammy.com, and PBS).
But in spite of his stunning musical success, or maybe because of it, there is a lesser-known, but important flip side to Tony Bennett. He has also made a name for himself as an accomplished visual artist, working mostly in oil and watercolors. His official website describes the painter as the 'alter ego' to the performer. While Tony Bennett the performer is outgoing, vivacious, and remarkable in tune with his audience, Anthony Benedetto (his family name, with which he signs his paintings), is introspective and sensitive (via tonybennett.com).
Tony Bennett has found success as a painter, too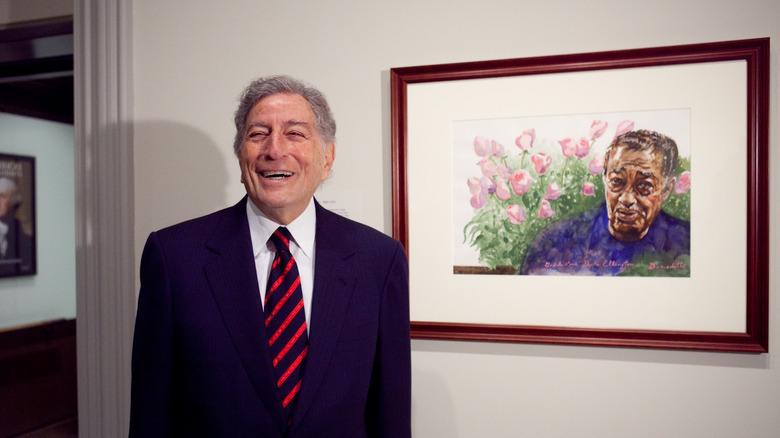 Brendan Hoffman/Getty Images
Bennett's love for visual beauty began to manifest itself early in life when, as a five-year-old boy, he drew chalk paintings on the sidewalk in his hometown of Astoria, NY. He attended the School of Industrial Arts (now known as the School of Art and Design) in Manhattan, and continued his art education through private studios and teachers throughout the years.
He finds time to paint every day, even if it's just a sketch of the view outside his hotel window, and nourishes his love with regular visits to museums and art galleries.
Bennett's success as an artist has been notable. His paintings have been featured in numerous art publications, they've been purchased by various celebrities for their personal collections, and he has had three pieces accepted as part of the permanent collection at the Smithsonian Institute. Also, in 1996, Rizzoli International published a collection of Bennett's paintings in a bound volume titled What My Heart Has Seen, followed by the 2007 publication of Tony Bennett in the Studio: A Life of Art and Music by Sterling Publications.
Whether through music or art, Bennett's passion has been the same — to communicate with his audience. He has succeeded brilliantly.