The Queen's Outfit At Prince Philip's Funeral Has A Deeper Meaning Than You Think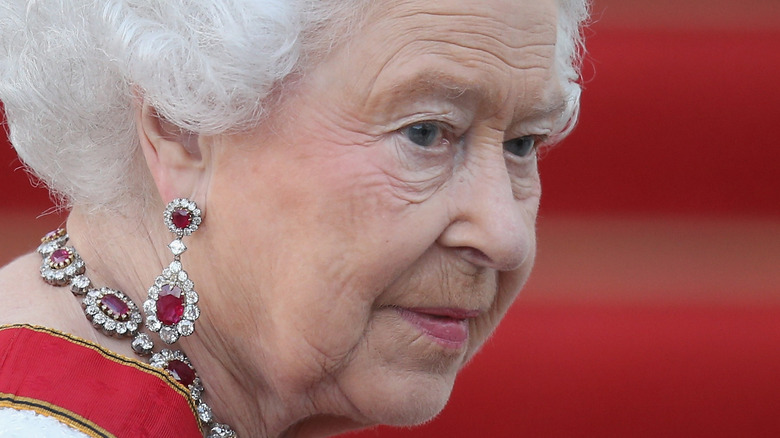 Sean Gallup/Getty Images
When it comes to royal ceremonies, nothing is left to chance. Even the smallest touches in decor and dress send a special symbolic message, even if we commoners don't always notice them. Prince Philip's funeral on April 17 was no exception. Everything about it was planned and chosen with care in keeping both with palace protocol and with the Duke of Edinburgh's own wishes. His casket was carried on a Land Rover – a vehicle he loved all his life – and the wreath on his casket was made of white flowers chosen by the queen which represent their loving marriage and her husband's June birthday (via Hello!). 
The clothing worn by the royals to the funeral was equally significant. The men of the family wore identical morning coats so as to present a united front; normally, they would wear their dress military uniforms, but Princes Andrew and Harry gave up their right to wear that attire when they stepped back from their royal duties (via People). Katherine, Duchess of Cambridge, wore a pearl necklace belonging to the queen, which had also been worn at one time by Princess Diana (via Today). Then, of course, there was the queen herself. The grieving widow was the picture of stoicism and dignity as she witnessed the heartbreaking ceremony. She was also the picture of fashion perfection, with an accessory that was especially meaningful.
Queen Elizabeth's brooch was meaningful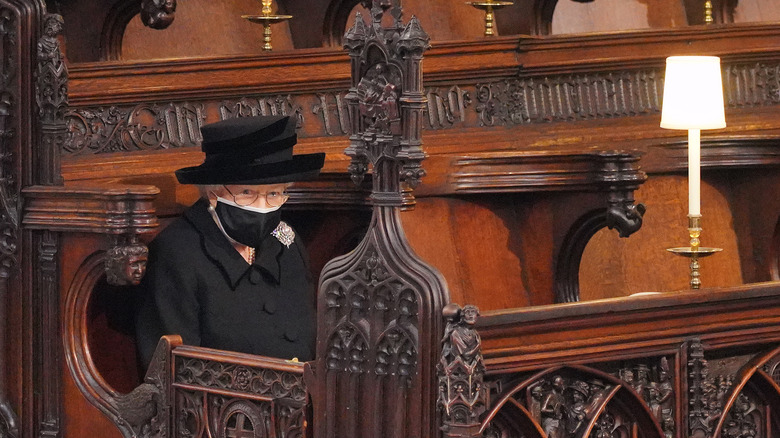 Wpa Pool/Getty Images
Like the other women in the family, Queen Elizabeth was dressed completely in dark black – right down to the face mask she wore throughout the procession and church service. Her preference for long dress coats was reflected in her outfit, which was topped off by a wide-brimmed hat with a veil netting. Like her daughter-in-law, she wore pearl earrings and a double-strand pearl necklace.
The queen's four children – Princes Charles, Andrew, and Edward and Princess Anne – and grandsons all wore their military medals, a nod to their service to the country. The monarch herself could have done the same; she joined the Armed Services during World War II (via the royal website). However, she chose to don the Queen Mary's Richmond Brooch, a gorgeous chrysanthemum-shaped diamond pin she inherited from her grandmother. It honored her seven-decade marriage to Prince Philip, since she wore it on their honeymoon and on their 73rd anniversary last fall (via Now to Love). 
The image of the queen sitting in her church pew – keenly feeling the loss of the man who was always by her side  – was an unforgettable moment. Seeing the brooch that represented their loving union made it even more heartbreaking.