Jeremy Vuolo Addresses Rumors Of A Split From Jinger Duggar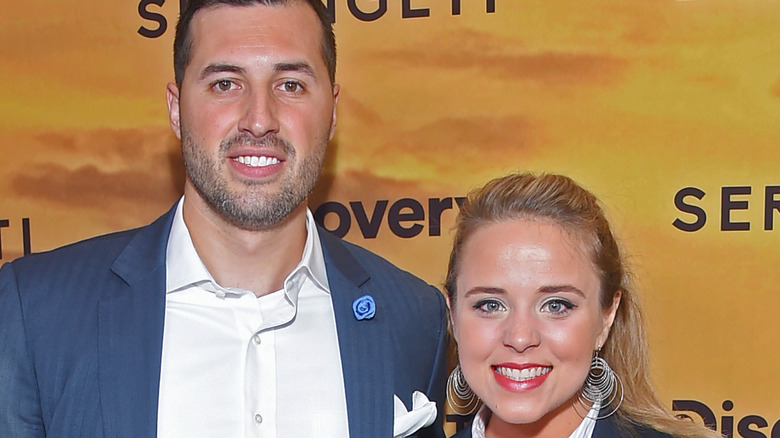 Shutterstock
Not happening. Jeremy Vuolo finally addressed the rumors that have been circulating about his marriage to his wife Jinger, née Duggar. Like many of her siblings, the Counting On star married relatively young and devoted herself to her marriage and two daughters. But in recent months, fans have been concerned that things might not be so rosy in the Vuolo household. They've pointed to clues in Jinger's expressions, in her reluctance to post photos of their children, and in the couple's abrupt break from their Christian podcast and online store. 
In recent days, however, the Vuolos seem to have returned to life as usual. They're back to posting cheerful photos and positive affirmations. Then on April 16, Jeremy posted an Instagram photo of himself and Jinger visiting two friends. A follower commented, "I wish people will stop saying you guys are splitting! Hope it is not true!" 
Jeremy responded, "100 percent not true! Tabloids are like professional water cooler gossips." He added a laugh emoji for emphasis.
The Vuolos have also been busy promoting their upcoming new book, The Hope We Hold: Finding Peace in the Promises of God. The hardcover delves into their courtship and marriage, their lives as parents, and their reliance on their faith to guide them through the bumps in the road. Jinger has also said that the memoir will delve into some of the insecurities she had growing up, including her struggle with her weight as a teen.
Jinger and Jeremy are showing their love on social media
Critics might be forgiven for being skeptical about the Vuolos' relationship. Only half of all marriages in America last through the long term (per the American Psychological Association), so it seems statistically impossible that all 10 of the married Duggar children would be blissfully happy. The Duggars' beliefs about relationships only add to the skepticism. Their conservative Christian faith establishes men as the head of the household and women as their submissive partners. While it may be a stretch to say that divorce is "forbidden," it's certainly discouraged. Instead, couples turn to faith-based marriage counseling to work out their issues, as Josh Duggar and his wife, Anna, did following his infidelity (via Celebrity Cheat Sheet). This may have been the case for Jinger and Jeremy; a source told a tabloid that the Vuolos had been feeling stressed recently over their responsibilities and the new baby, and took a short break from their social media activity to focus on their marriage.
Still, Jinger and Jeremy seem determined to prove the critics wrong. Their most recent Instagram photos show the couple exploring new neighborhoods near their L.A. home, and Jinger delighting in flowers Jeremy bought for her "because he knows how much I love them." Jinger also recently posted a quote from their book that seems to hint at their current marital status: "The storms of life might drag us underwater, but, like a buoy in an ocean, our hope in Christ brings us back to the surface."