Martina McBride's Bold Outfit At The ACM Awards Has People Talking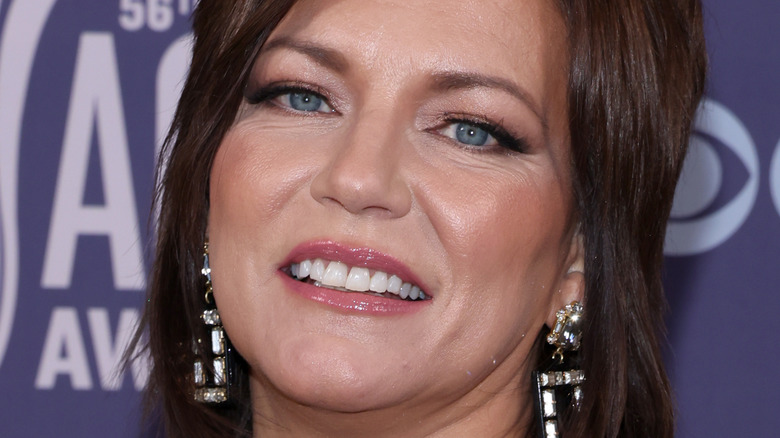 John Shearer/acma2021/Getty Images
Did you ever have one of those dreams that you showed up at a really, really important event — say, one where you were going to accept an award or something — and you looked down in horror to find that you'd forgotten to wear your pants? Perhaps you woke up in a sweat, relieved to realize, whew, it was only a dream ... Yeah, that's not an issue for Martina McBride.
McBride, evidently, has no fear whatsoever about going pants-free in public, as witness the outfit she wore to this year's ACM Awards. In case you missed it on TV, her dress (via E!) started out very nice on top: a sparkly silver-and-black number with a windowpane check pattern, lacy sleeves, and a plunging neckline backed by some sheer netting to keep everything in its proper place. All quite tasteful, as far as it went ... which was about as far as the top of her thighs.
This isn't the first time McBride has opted for a pantless look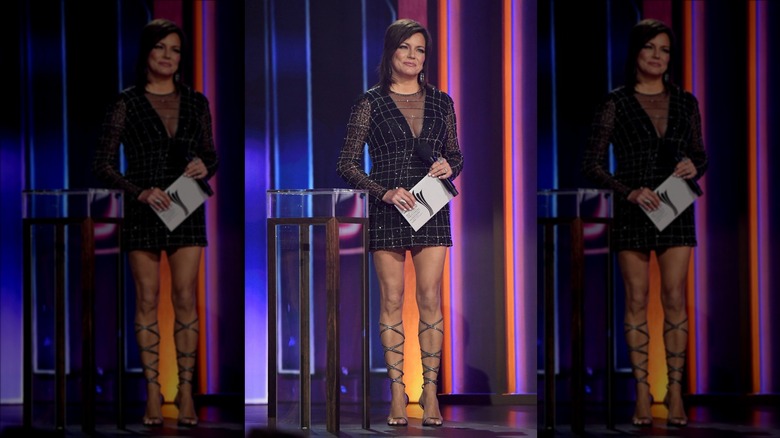 Kevin Mazur/Getty Images
As one Twitter user remarked upon seeing this bold fashion statement, "Where's Martina's pants?" Others also noticed her dress's length, or lack thereof (not like anyone with eyeballs couldn't), and commented with tweets such as "Martina McBride was showing off some leg tonight" and "Legs. For. Days." One person, though, did bring up the fact that McBride is ... well, a little bit older than most people not named Cher who habitually show off that amount of skin: "For being 54 yrs old mercy those or some legs."
It seems the short-short look may well be Martina McBride's signature style, at least for the ACMs. This photo of her from the 2019 ACM awards show (via Hawt Celebs) shows her wearing what appears to be a shorts suit, or perhaps a very abbreviated dress that seems to end in some type of culottes/split skirt type of deal. As a fashion statement ... well, we're not sure that trend ever extended much further than McBride's wardrobe. As a way of showing off her lower limbs, though, it was evidently effective enough that she intends to keep repeating the look. Well, more power to you and your legs, Martina, and long may you fend off the horror of varicose veins!