What We Know About The New Downton Abbey Movie
Good news for Downton Abbey fans! Viewers of the hit period drama were devastated when it ended its run in 2015, but a 2019 Downton film filled the void, at least for a while. Now, another movie is in the works, and it will be here sooner than you think.
Production company announced the new film on Twitter, writing, "We're thrilled to announce that Julian Fellowes and the entire Downton cast are back for #DowntonAbbey2, with Hugh Dancy, Laura Haddock, Nathalie Baye and Dominic West joining! See the film in theaters this Christmas."
That's right, in just eight months we will be able to catch up with the Crawley family and all of the people who keep their estate running. While we don't know much about the sequel yet, it seems likely that the film will take place in the late 1920s or the 1930s, as the first film was set in 1927.
There have been hints that a second Downton Abbey movie was coming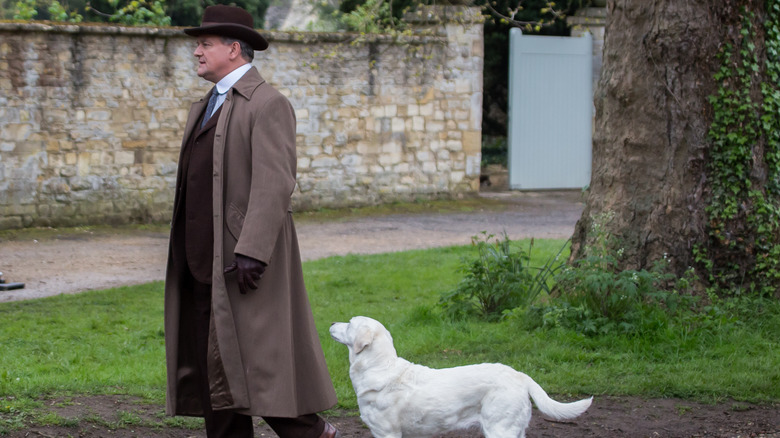 Shutterstock
A sequel film has been hinted at for a while. "I'll do me best, guv," said Downton Abbey creator Julian Fellowes in a 2019 interview when asked about a film sequel (via the Radio Times). The following year, he confirmed that a sequel movie would definitely happen, but gave no timeline for it. "Give us a break, gov," he said on a press tour when asked when he'd start drafting the script (via Deadline).
Hugh Bonneville, who plays the Earl of Grantham, revealed in February that a script had been written, but didn't provide many details. "We will make a movie," he said on The Zoe Ball Breakfast Show (via EW). "It's the usual thing, the planets are circling, they're beginning to get into alignment, but there's this thing called coronavirus knocking around. Until that is under control in a sensible way, we're not going to be able to get all those ducks in a row."
After the announcement, Bonneville expressed his excitement that the film is finally happening, tweeting, "Good to be back. #DowntonAbbey2."