Queen Elizabeth Will Not Follow This Royal Mourning Tradition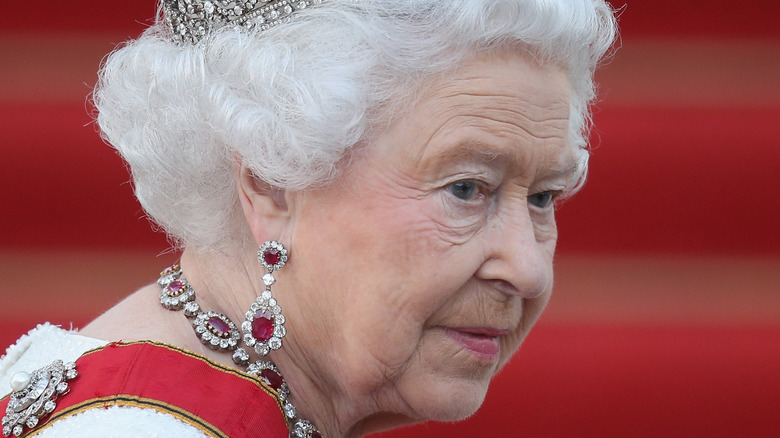 Sean Gallup/Getty Images
Following Prince Philip's death on April 9, his wife, Queen Elizabeth entered the standard eight-day period of mourning, as per the The Evening Standard. The Duke of Edinburgh died just a few months shy of his 100th birthday, at home in Windsor Castle. His funeral took place on April 17, but the dearly departed royal was not expected to lie in state due to the ongoing COVID-19 pandemic. An aide noted the prince didn't consider himself "important enough" for it.
The Queen, who's been pulling back on her public duties in the wake of the global pandemic anyway, was expected not to do anything official for the eight days following her husband's death, as is tradition. A further 30-day official royal mourning period typically follows immediately after. The Duke of Edinburgh was the longest-reigning consort in history. Now, Queen Elizabeth is breaking with tradition in the manner in which she's paying tribute to her beloved husband. 
The Queen is putting her own spin on her stationery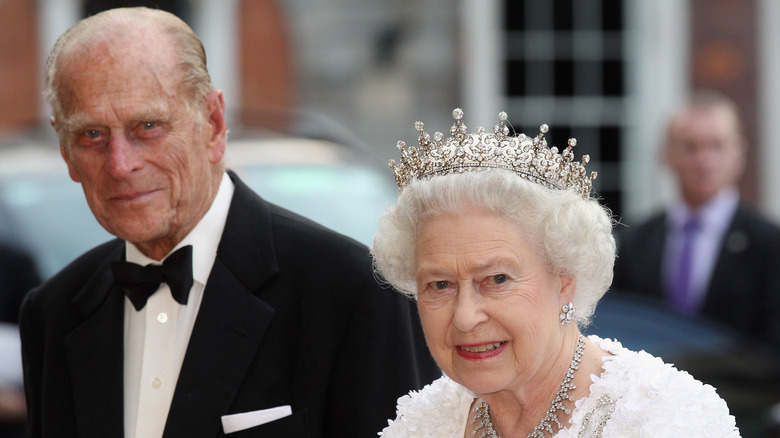 Oli Scarff/Getty Images
As People notes, Queen Elizabeth is breaking with tradition in a minor, but impactful, way by opting not to use black-edged stationery during the official mourning period. Instead, Her Majesty is using personalized stationery, with her crest presented in black instead of the customary red. The move chimes with Prince Philip's laidback attitude, which extended to what should happen in the event of his death. It's worth noting the Duke of Edinburgh's coffin was placed in the back of a Land Rover for transportation, and his ceremony did not include a eulogy. Using black-tinged stationery while in mourning has been popular since the 19th century, when Queen Victoria started a trend with her black-bordered paper and matching envelopes following the death of Prince Albert. 
Prince Charles also used the traditional stationery following the death of his grandmother, the Queen Mother, in 2002. The Queen did use black-edged stationery for her final note to the Duke of Edinburgh, however, which sat neatly in a bouquet of white flowers atop his coffin. Queen Elizabeth's personalized design, meanwhile, will be used to respond to the considerable number of condolence cards she's received, from the public and family and friends alike, since her beloved husband's death. Although the monarch retained her British stiff upper lip at the funeral, she was snapped wiping away a tear in the car afterward (via Twitter). Senior royals are reportedly rallying around her for support during this difficult time.