Who Is Becky G's Boyfriend, Sebastian Lletget?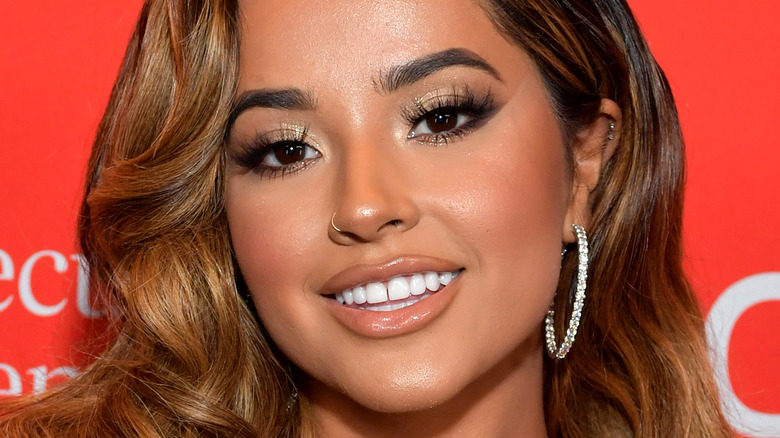 Emma Mcintyre /ama2020/Getty Images
While some celebrities sing their partners praises in interviews and shout about their relationships from the rooftops, other prefer to keep things a bit more low key. In 2020, singer-songwriter Becky G told the Los Angeles Times, that the two had been together for four years, but just who is this beau?
Well, for starters, his name is Sebastian Lletget, and he's an American soccer player who's been a LA Galaxy midfielder since 2015. In 2017, he was "diagnosed with a Lisfrac injury to his foot," per U.S. Soccer, which put him out of commission for nearly 18 months. During that time, Lletget was met with support not only from his teammates, but also from girlfriend Becky G. 
Having gone public with their relationship in 2016, Becky G penned a supportive letter to Lletget on social media, writing (via Hola)," I know without a doubt that he will recover with his head held high just like many of the other hard working athletes in this industry that have had to after overcoming the tests and trails of this not easy career." She added, "Sebastian, we got your back my love."
Keep reading to find out what else you need to know about the guy who's stolen the singer's heart.
Becky G and her man are seemingly inseperable
Both Becky G and Sebastian Lletget hail from California, but the two didn't meet by running into each other on the street. Actor Naomi Scott, whose husband played soccer with Lletget, introduced Becky G to the midfielder. During a radio interview, Becky G shared, "He came out of nowhere," explaining that, at the time, she didn't want to date anymore – that is, until Lletget came into the picture and she ultimately made the first move.
Since then, the couple has had no lack of cute moments on record. When asked if he gets jealous about the attention Becky G receives from fans, Lletget told the Los Angeles Times, "If I were to do that I'd be really disappointed with myself. That's kind of super egotistical and superficial. And everything we try not to be." Moreover, Becky G has complimented Lletget's supportive nature and called him her "partner in life," per Entertainment Tonight.
Together, they seemingly form a couple rooted in unabashed support, with both claiming that their innate friendship is what deepens their relationship. This support transcends onto the screen as well, with Lletget appearing in Becky G's 2020 music video for her song "My Man."
Is Becky G taking a step into the world of soccer?
Because they've been together for a handful of years now, Becky G and Sebastian Lletget, who she lovingly calls "Seba," have experienced their fair share of struggles. "We started off with a long-distance relationship," Becky G told the Los Angeles Times in 2020. However, amid lockdown during the coronavirus pandemic, the couple was able to spend more time together. She revealed, "Even though we've been together four years, this is the longest non-interrupted time we've been able to spend even in our own apartment together"
The couple's time together has created more than just a stronger bond between them, though. Becky G has bought into the ownership group of Angel City FC, a women's soccer team slated to begin competing in 2022. However, her decision wasn't solely based on her partner's career. Of her owner status, she told the Los Angeles Times, "I will definitely take his advice into account. But me getting involved with Angel City was so much bigger than just making a power move," she said, before citing her Mexican- American heritage and hope for a future in which women — and a potential future daughter — have easier access to the sport.
Talk about a power couple!