What Maya Rudolph Thinks Of A Potential Bridesmaids Sequel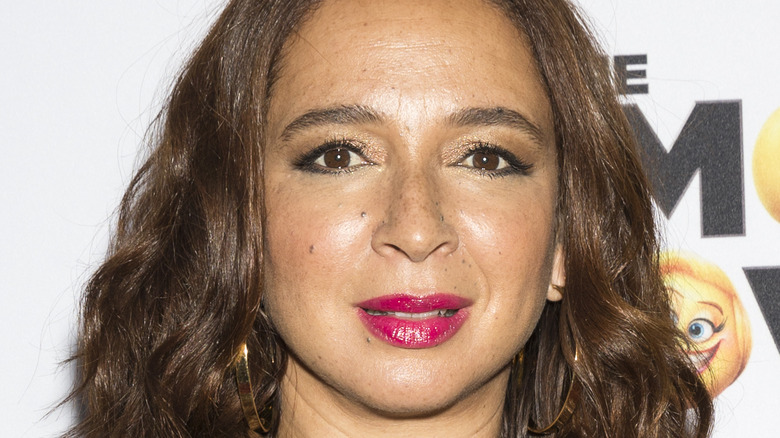 Shutterstock
It's hard to believe it's been a decade since "Bridesmaids" was released on the big screen. The 2011 comedy, written by Kristen Wiig and Annie Mumolo, was nominated for two Oscars and earned more than $288 million at the worldwide box office (via IMDb). And some of the film's success can be attributed to Wiig's former "Saturday Night Live" costar – and real life BFF – Maya Rudolph.
According to Vogue, the duo met 10 years before the making of "Bridesmaids" at a wedding shower hosted by Melissa McCarthy. In addition to SNL, Wiig and Rudolph also worked together in 2010's "MacGruber" and 2011's "Friends With Kids." "I really believe you can sense a lot about a person when you see them perform, what kind of person they are," Wiig told Entertainment Weekly about Rudoph. "I think what makes her so beloved is that people see that light in her. She is that amazing person, she's supportive and collaborative and just a good human. I think people can sense that. And I also believe people wanna see performers having fun, being silly and loving what they do. That's Maya."
In fact, Rudolph's chemistry with Wiig was the main reason she was cast in "Bridesmaids," with the film's director, Paul Feig, noting that he "wanted to cast someone who was actually Kristen's best friend. There's hardly any exposition in [the script] about how long [Annie and Lillian] have been friends. It's like, clearly, they've been friends forever," according to Entertainment Weekly.
Maya Rudolph is open to a Bridesmaids sequel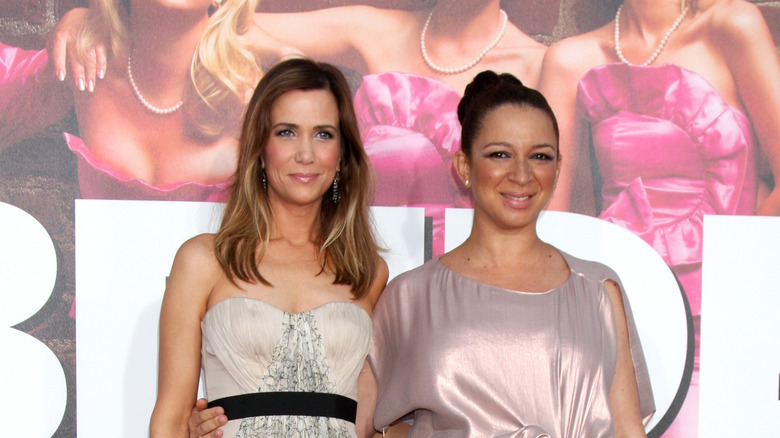 Shutterstock
The chance to reunite with best friend Kristen Wiig in a "Bridesmaids" sequel is appealing for Maya Rudolph, although she thinks some changes would have to be made. "I guess it wouldn't be called 'Bridesmaids' — it would be called 'Old Ladies' or something," she joked to Entertainment Tonight.
She also shared her favorite scene from the movie. "Favorite, well we were all at the place with the bridal shower with the cookie and the puppies, we were there for like a week," Rudolph explained. "And having puppies for a week that are not yours is really fun. I remember that just being sort of a place of goofiness."
Unfortunately, it doesn't look like there will be a "Bridesmaids" sequel anytime soon. In fact, Wiig has stated many times she has no interest in writing or starring in a follow-up to her box office hit. "It wasn't a hard decision. We knew during the first one, this was it. We would have made a lot of money if there was a second one, but that's not my goal in my creative life," she said, according to Harper's Bazaar.