Inside Bill Hader's Relationship With Ex-Wife Maggie Carey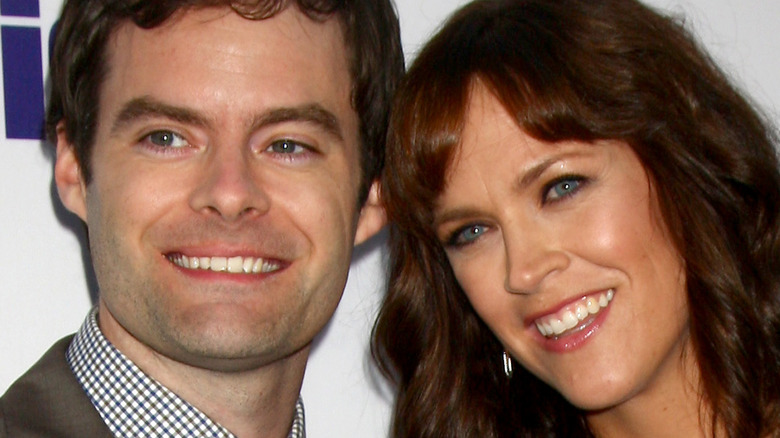 Shutterstock
Bill Hader is one of the most eligible bachelors in Hollywood. The "Saturday Night Live" alum, star and co-creator of Emmy-winning series "Barry," and scene-stealer in the likes of "Superbad," "Forgetting Sarah Marshall," and plenty more besides has been hugely successful in his career but less so when it comes to finding The One. In July 2020, People reported that his fledgling romance with fellow actor and "The O.C." alum Rachel Bilson had fizzled out after just a few months. 
Hader keeps a low profile, so it may surprise you to learn he was happily married for over a decade. As Your Tango reports, the comedy star met ex-wife Maggie Carey through a mutual friend, with the couple tying the knot in 2006 and filing for divorce in 2017. In a 2015 interview with Elle, Hader joked, "A crazy night for us is drinking margaritas and going to the Strand bookstore and being kind of drunk." He also said he knew Carey was the one after a first date involving getting drunk on the steps of the high school where "Grease" was shot.
They share three daughters: Hannah, Harper, and Hayley. Hader is a very committed father, telling Variety he quit "SNL" to spend more time with his kids. Following their split, the former couple remains dedicated to their family. 
The two remain on good terms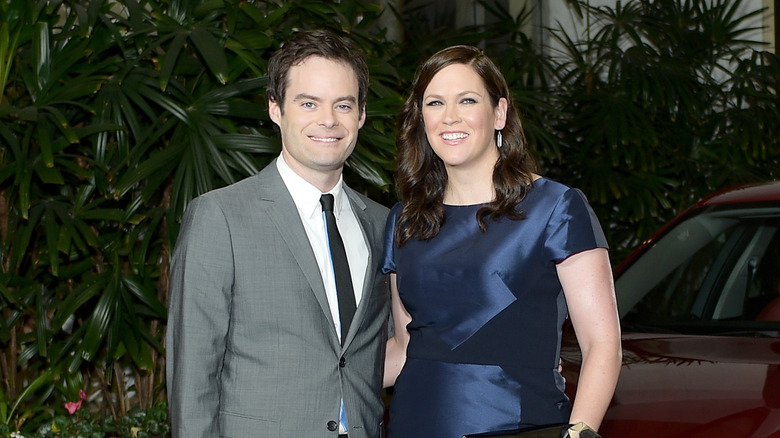 Stefanie Keenan/Getty Images
As The Blast reported in 2018, Bill Hader and Maggie Carey reached an amicable divorce settlement just a few months after he initially filed, citing irreconcilable differences. Speaking to Variety the following year, the "Barry" star confirmed simply, "I'm friends with my ex-wife." Hader also teared up over the lack of time he had spent with his three daughters, admitting, "I think I saw my kids a total of five days all summer. It was terrible. So I'm going, 'Next summer I'm taking off. And I'm going to spend every day with them.'" 
Hader's blossoming career may have taken a toll on the couple during their lengthy marriage, with the "Forgetting Sarah Marshall" star telling USA Today in 2013 the family was moving to California because he and Carey were "tired of being apart all the time." He also described "SNL," on which he appeared from 2005 to 2013, as "a huge time commitment." 
The comedic actor admitted to being "a very neurotic person," when speaking to Elle, so prospective paramours should keep that in mind if they wish to pursue him.