The Truth About Dolly Parton And Carrie Underwood's Friendship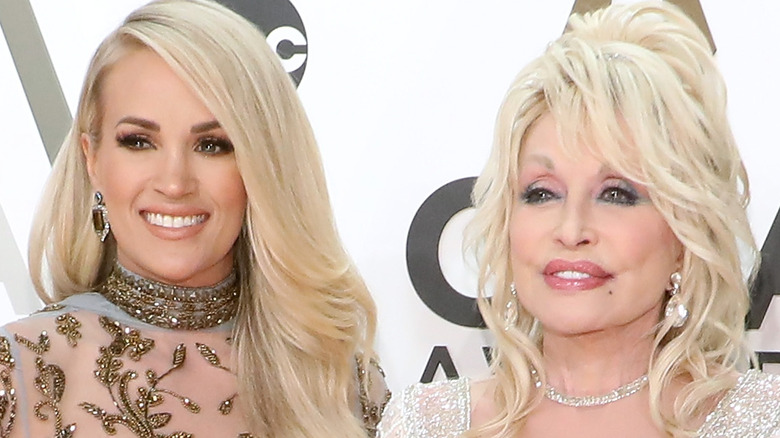 Taylor Hill/Getty Images
It's no secret that Carrie Underwood is a huge fan of Dolly Parton, and it looks like the legendary country musician feels the same way about Underwood. During the annual Academy of Country Music Awards (ACM) on April 18, 2021, Parton was given the virtual honor of introducing Underwood ahead of her performance (via Outsider). Calling her a "dear friend" and saying that she's always "admired Carrie's incredible talent," Parton went on to tell the audience how impressed she was by Underwood's personal qualities, like "her compassion, kindness, generosity, and, most of all, [her] powerful faith." 
It seems the admiration between the two has come full circle, as Underwood paid tribute to Parton in a performance at last year's ACM ceremony, along with "queens of country" that have shaped the singer's life. "These strong voices mean so much to me and to all the other female artists who stand on their shoulders," Underwood said, as noted by Entertainment Tonight. "They are some of my heroes, and I am so honored to stand alongside them." 
So are Parton and Underwood actually as close as they seem in real life? 
Carrie Underwood is one of Dolly Parton's favorite singers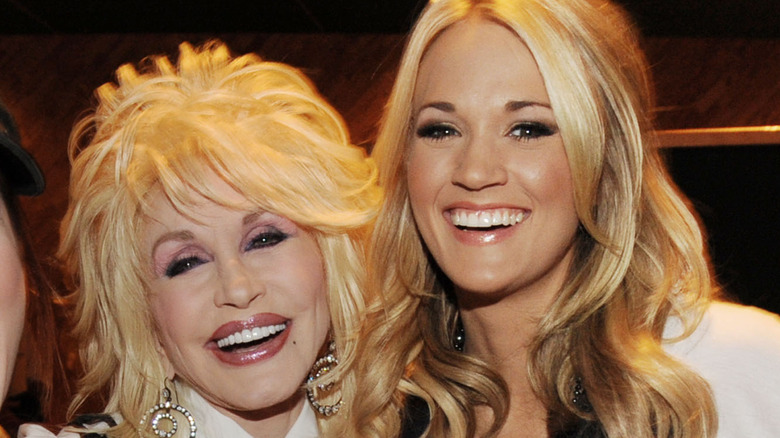 Rick Diamond/Getty Images
While the two haven't publicly shared the ins and outs of their friendship, Dolly Parton and Carrie Underwood are certainly close whenever they hit the stage. In 2009, Parton was a special guest on Underwood's All-Holiday special (via YouTube), where they performed a beautiful rendition of the hit song "I Will Always Love You." Prior to the duet, Parton told a visibly starstruck Underwood that she was "one of her favorites" and that she admired her so much.
That wasn't the first time Underwood had performed one of Parton's songs, as she also sang with Kenny Rogers at the 2006 Kennedy Center Honors, where Parton was a recipient. They performed the song "Island's in a Stream," while blowing kisses to Parton "who was clearly overwhelmed with happiness," Country Rebel noted. 
Underwood has been very vocal about her admiration for the country icon. As she discussed on her Apple Music radio show "XO," Parton "blazed such a trail for all of us women who are in country music right now. She's done everything, she has just set the bar and she has done it with grace and class and humility" (via Music Mayhem Magazine). Hopefully there will be plenty of chances to see the two together in the future, more so as BFFs than just fellow performers.