The Truth About Queen Latifah's Rumored Partner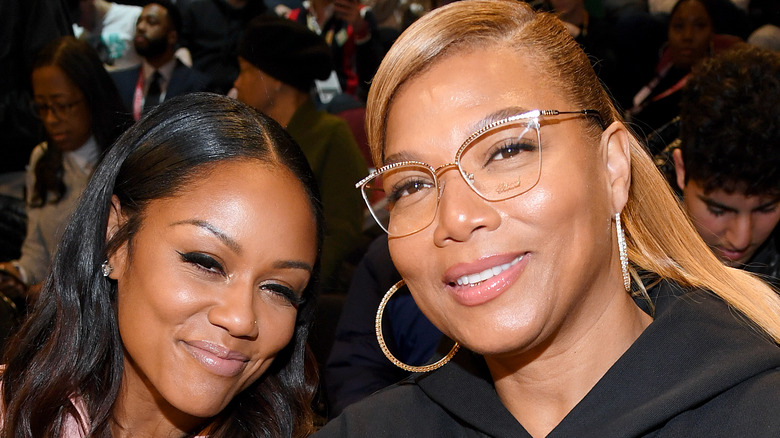 Kevin Mazur/Getty Images
Queen Latifah told People in 2007, in no uncertain terms, that her "private life" was just that, private. "Whomever I might be with, I don't feel the need to share it. I don't think I ever will," she said. The successful actor, rapper, and entrepreneur — who is worth a lot more than you might think — has been dodging rumors about her sexuality for a while, but she's refused to budge. "I feel more comfortable with myself — my sexuality, my mentality and my viewpoint," she told People, and that was that, she didn't elaborate. 
Latifah doubled down in 2013, telling The Hollywood Reporter that she would not talk about her sexuality or private life on her show, "The Queen Latifah Show" or "any other show," for that matter. But as an actress, she's played a lesbian on more than one occasion and was rumored to be involved with trainer Jeanette Jenkins (via New York Daily News). But still, when it comes to her private life, Latifah has kept a tight lid on the details. Likewise, her rumored partner Eboni Nichols. 
Eboni Nichols and Queen Latifah keep things strictly under wraps
According to Eboni Nichols' IMDb page, she's a highly sought-after choreographer who's worked on hit shows "Jane the Virgin" and "American Idol," among others. In 2019, Radar Online reported the couple, who met back in 2009 on "Dancing with the Stars" and made it official in 2013, had just welcomed their first child together. "Latifah has never been so full of life!" an inside source said, before sharing that "Eboni and the baby have given Latifah something very special to live for." LoveBScott confirmed the baby was a boy named Rebel. In 2017, Latifah admitted that she was finally ready to have a family, sharing that she "had to get a lot of partying out of [her] system early in life" (via the Daily Mail). 
But it's clear that Latifah is sticking to her convictions about keeping her personal life private. Speaking to The New York Times in 2008, the rap superstar – who's had a stunning weight-loss transformation — said, "I don't feel like I need to share my personal life, and I don't care if people think I'm gay or not. Assume whatever you want."
CheatSheet reported that Latifah and Nichols have been photographed together over the years and were even rumored to be engaged, with the "Girls Trip" star shouting out Nichols during her acceptance speech at the 2016 VH1 Hip Hop Honors. Together or not, Latifah seems to be living her best life, which is the most important thing.