The Real Reason Neutrogena Products Are So Cheap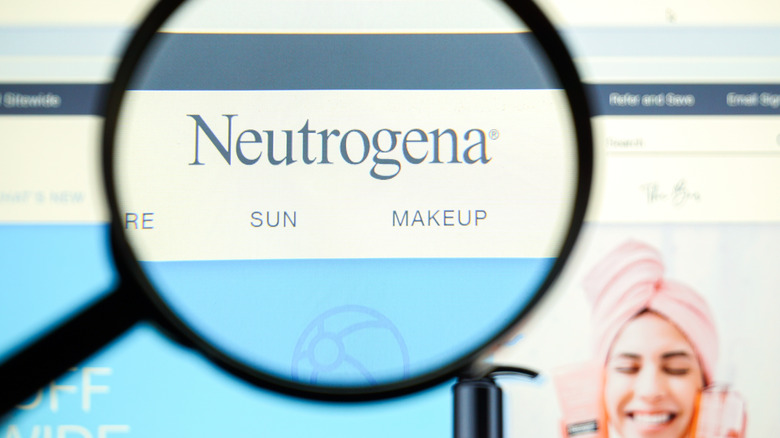 Shutterstock
From retinol to niacinamide, the anti-aging process can be pretty expensive. But there's one dermatologist-recommended brand that won't put a dent on your wallet — Neutrogena. Listed as one of 12 budget-friendly skincare brands that work better than higher-end brands by Real Simple, Neutrogena was highly recommended by New York board-certified dermatologist Diane Madfes for "technology, powerful ingredients, and innovative formulations."
And Madfes is not alone. Byrdie beauty editor, Lindsay Metrus, found that most dermatologists she would speak to for stories or even chat with off-the-record also raved about Neutrogena products. Metrus polled several dermatologists on their opinions regarding Neutrogena and why the reasonably-priced brand comes with rave reviews. Dr. Joshua Zeichner, director of cosmetic and clinical research in dermatology at Mount Sinai Hospital, told Byrdie, "Neutrogena products generally provide a great balance between quality results and a luxury experience."
Dermatologist Rachel Nazarian of the New York City-based Schweiger Dermatology group was also interviewed by Byrdie and wrote of Neutrogena on her company's website, "I love that they use science-backed ingredients, have reliable products, are well formulated to not cause acne, and are most often incredibly affordable." Unlike Zeichner, who acknowledged being a consultant for the company, Nazarian mentioned that she had no conflict of interest. Neutrogena is owned by Johnson & Johnson, and invests heavily in research and development of their products. Zeichner added, "Being owned by a pharmaceutical company the products need to go through rigorous testing for stability, skin delivery, and clinical efficacy, which makes the products reliable."
Neutrogena's focus on consumers' needs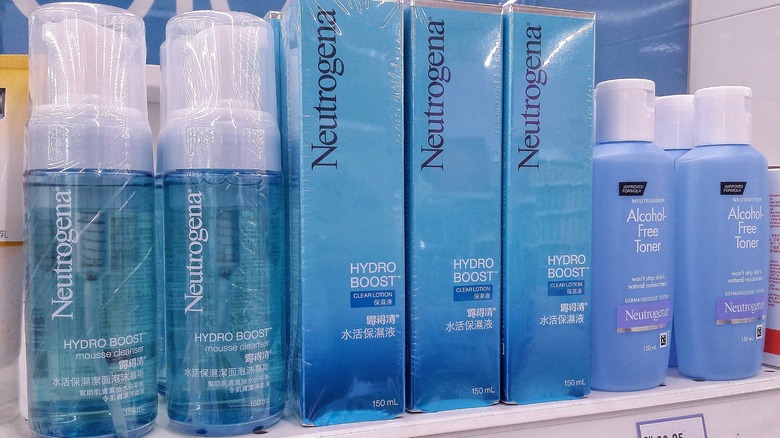 Shutterstock
Beauty Packaging listed Johnson & Johnson as one of their top 20 companies in 2009, mentioning the company's goal of affordability and accessibility. They target their R&D to find ways to bring affordable products to the specific demographic and their cultural needs. An example they cited was J&J's research into the Chinese market. The company researched Chinese moms and how often they put creams on their babies' faces. They found that moms generally only like to apply cream on their babies once in the morning. With that in mind, J&J created and promoted Johnson's Baby Long Protecting Cream to the Chinese market.
Similarly, Neutrogena has developed a retinol-infused line that addresses the growing demand for anti-aging skincare, which, according to GlobeNewswire, is expected to be worth roughly $83 million in six years. Their Rapid Wrinkle Repair line, with the proprietary Retinol SA, is in the $20 range (via Neutrogena). Nazarian suggested this line to Byrdie because of Retinol SA. This ingredient is different because it fights wrinkles without irritating the skin, by blending retinol with humectants like hyaluronic acid (via NeutrogenaMD). Nazarian said, "[Neutrogena's] retinol is superior to some because it's oil-free and I don't worry about the comedogenicity." Another popular Neutrogena product with retinol is their Rapid Wrinkle Repair Eye Cream (via NBC News). According to NBC News, this was listed as one of their "most purchased skincare products" in 2020 and has a 4.4 star average rating on Amazon.