Here's How A No-Pigment Foundation Actually Works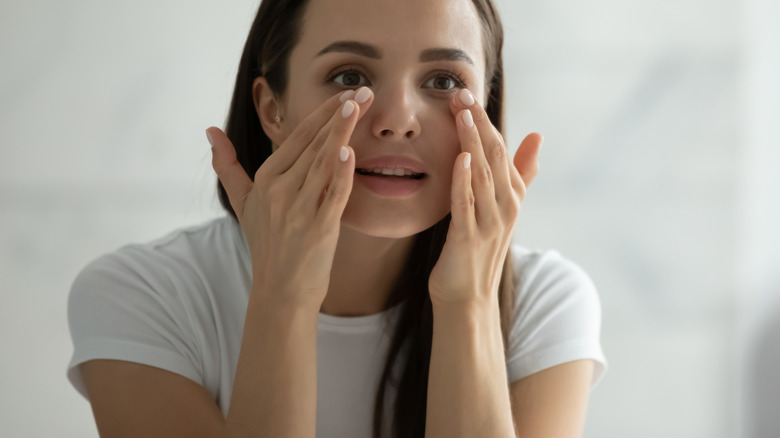 Shutterstock
Imagine if there was a foundation product that blurs out your pores, hydrates your skin, and works out for every skin tone? Enter: Becca's Cosmetics Zero No Pigment Foundation.
According to Byrdie, Becca's foundation is a skincare and makeup hybrid, the first of its kind, that promises to blur blemishes and reduce redness. The Daily Mail added that Becca released this no-pigment foundation as a part of the company's genderless collection. The outlet also said that the foundation uses Clear Light Blue technology to manipulate light, effectively eradicating blemishes, wrinkles, and redness without changing the skin. "The skin smoothing benefits of a foundation without the pigment to let your skin shine through," Becca Cosmetics said in a statement as quoted by the Daily Mail.
Other than clearing up any imperfections, this foundation is also vegan and cruelty-free, via Sephora. It doesn't have any sulfates or parabens, according to the retailer, which also adds that the product contains less than 1% of synthetic fragrances.
The only question left is: does it actually work?
The no-pigment foundation has gotten a lot of praise
According to Byrdie, yes, this product does work. The outlet revealed that it blurs effectively and minimizes redness, visible pores, and skin texture. Plus, it also keeps your skin hydrated, which is perfect for the winter seasons.
Tiarra Monet, a spokesperson for Becca Cosmetics said at a digital launch event, as reported by the Daily Mail, that this product is perfect while wearing a face mask. "Wearing a mask outside all the time, it's something that will make me reach for [this foundation]," Monet said. "It gives you that confidence that you may not be getting if you're not wearing anything but this is literally a filter in a bottle."
The only downside to this product is that it's not full coverage since it doesn't have pigment, as Byrdie explains. As a result, it doesn't cover breakouts or large amounts of acne. So if you're looking for a product to cover everything, Byrdie recommends Charlotte Tilbury Airbrush Foundation and Ilia True Skin Serum Foundation, two dupes for the no-pigment foundation that'll give you a matte and a full-coverage finish. 
Despite it not being full coverage, though, Becca's Cosmetics Zero No Pigment Foundation is still a good product that uses makeup and skincare to enhance natural beauty. And, for a skincare-makeup hybrid alternative (that works just as good as a no-pigment foundation), try a CC cream (via Elle).