Inside Sean Hannity's New Home Near Donald Trump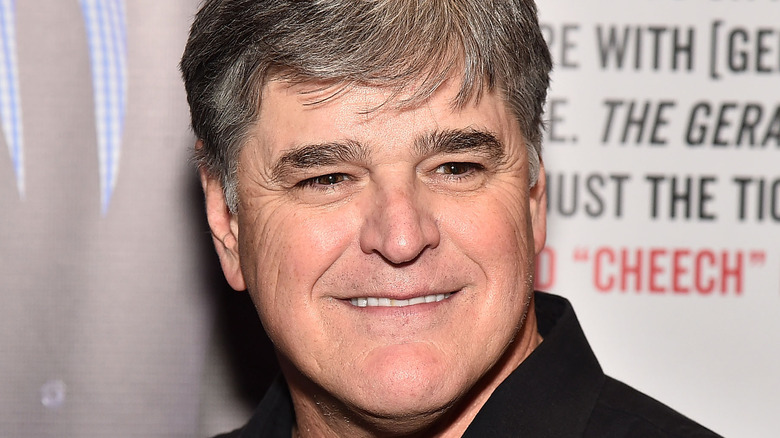 Theo Wargo/Getty Images
Donald Trump officially has a new Palm Beach neighbor: None other than pal and Fox News personality, Sean Hannity (via the New York Post). The "Hannity" host purchased a sprawling three-bedroom, five-bathroom property located just over two miles from Trump's Mar-a-Lago, where the former president currently lives. The two friends became close during Trump's campaign and presidency, with Hannity regularly inviting him on his show (via the New York Daily News).
Apart from being walking distance from Trump, the Fox host's new beachfront townhouse is just a step away from the whitesand beach — and its steep price is all about its location. Hannity purchased the seaside condo for a whopping $5.3 million in an off-market deal. According to the New York Post, the 5,086-square-foot property is smack in the middle of "Billionaire's Row," a Palm Beach street known for its outrageously-wealthy homeowners. But the true winner seems to be the seller: The home had been purchased by the past owner just two months prior for just over $4 million, making more than $1 million in the blink of an eye.
The Fox News host's latest purchase comes after a talk on Monday with the former President, who told him he is "very seriously" considering running for re-election in 2024 (via Mass Live). As Hannity and Trump maintain both their ties between work and play, the TV presenter's latest move makes sense.
The $5.3 million Palm Beach mansion is lavish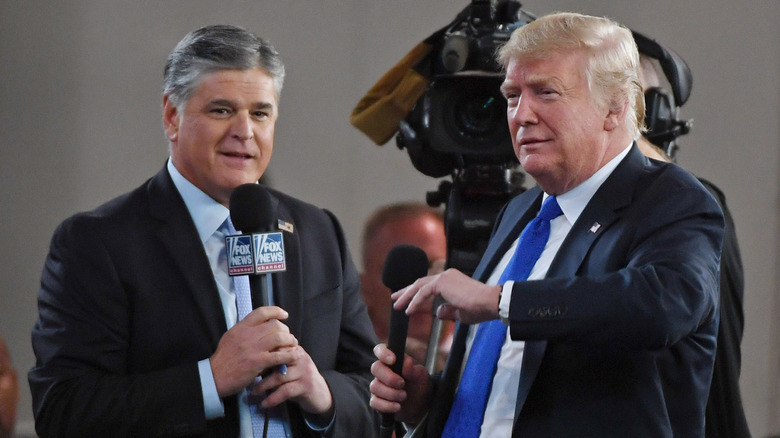 Ethan Miller/Getty Images
Hannity's new oceanfront townhome is gorgeous, but as the New York Post reports, it wasn't always that way. While it always had jaw-dropping sea views, the property was once decorated to look straight out of the 1970s. Although it seems to have been flipped now, the home once featured shaggy green and brown carpets, floral wallpaper, and vintage wood kitchen cabinets. Far from modern or sleek, the listing's old photos show a flower-print sofa, groovy bathroom tiles, and a bedroom filled with frilly blue decor.
That being said, the home has a stunning structure, and the recent renovation surely takes advantage of its "good bones." Each room is flooded by natural light from the ocean views, while the home features a private staircase to the beach, a pool and patio, a fireplace, balcony, his and hers bathrooms, and proximity to friend and billionaire, Steve Wynn.
The "Hannity" host's new property is stunning, and puts him in the thick of famous conservatives who call Palm Beach home. From Trump to former NYC mayor Rudy Giuliani, to Ann Coulter, to late right-wing radio host Rush Limbaugh, right-wingers have flocked to "Billionaire's Row," and now Hannity is one of them (via the New York Daily News).