Inside Eddie Vedder's Relationship With Model Jill McCormick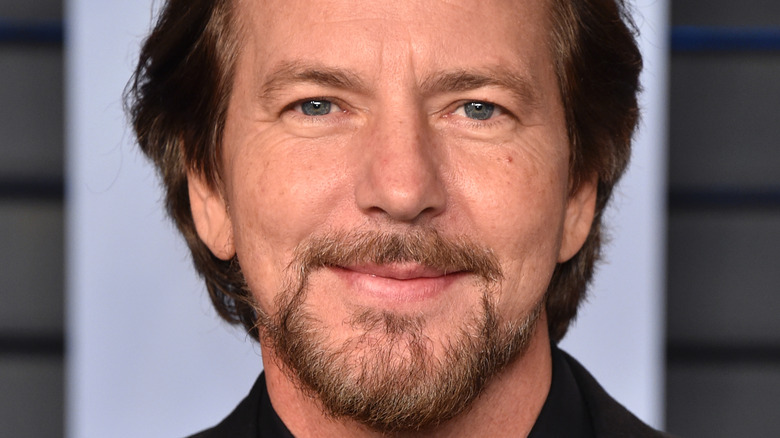 John Shearer/Getty Images
Eddie Vedder will certainly go down in rock and roll history. His career already spans over three decades and doesn't appear to be slowing down anytime soon. While he's best known as the frontman for legendary rock band Pearl Jam, Vedder has worked on other music projects, such as contributing to soundtracks and releasing solo albums (via Biography). In 2018, Bradley Cooper revealed that Vedder was a huge source of inspiration for his character in his Oscar-winning film, A Star is Born.
However, 56-year-old Vedder is not just an iconic musician, he's also a dedicated husband and father. He's famously quiet about his split from his first wife, fellow musician Beth Liebling, but Vedder went on to marry former fashion model Jill McCormick, with whom he has two daughters. It may have seemed like a strange match at first, especially considering that Vedder had some not-so-nice words about models in his song, "Satan's Bed." When confronted about these lyrics and his relationship with McCormick in a 2006 Rolling Stone interview, Vedder laughed it off, saying, "Look, the person I fell in love with, that happened to be her job. There were a couple days where it was like, 'Wow, this seems contradictory.' It had to pass a harder test than falling in love with just anyone. And it did."
Eddie Vedder and Jill McCormick married after 10 years of dating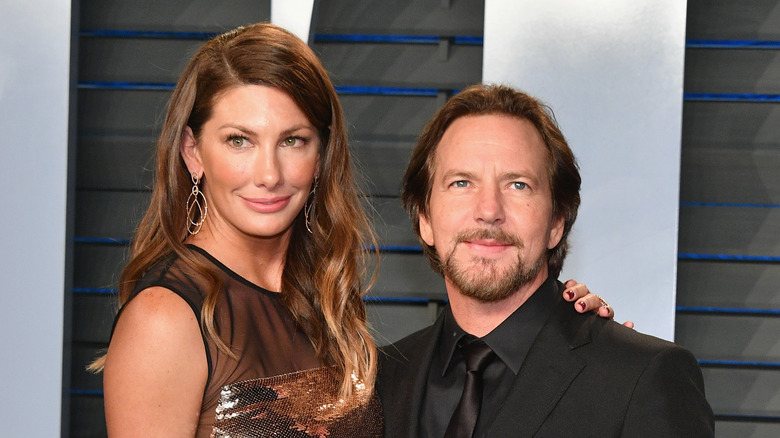 Dia Dipasupil/Getty Images
Though Eddie Vedder met and began dating Jill McCormick shortly after his divorce from Liebling in 2000, the pair didn't get married until 2010. According to US Weekly, Vedder proposed to McCormick the year prior in Washington, D.C., where he was performing for the Kennedy Center Honors gala. They held an intimate wedding ceremony in Hawaii, where famous guests included actor Sean Penn and musician Jack Johnson.
While their marriage was certainly an important step, Vedder and McCormick already shared two daughters, Olivia and Harper, who are now 16 and 12, respectively. In McCormick's sweet tribute for Olivia's 16th birthday in 2020, it's evident how close-knit their family is. "I'm so excited to see all the great things you are going to do in this world," the 43-year-old wrote in an Instagram post. "Your accomplishments thus far have shown daddy and I that the world better watch out! This kid is going to change the universe ❤️ thank you for being you, Olivia."
More recently, McCormick shared on Instagram what appears to be a vacation snap of her and Vedder, who are all smiles as they pose next to the water at sunset. "Now this is living my #bestlife," she wrote. Clearly, these two are as happy as can be.