You're Going To Fall In Love With These Protective Styles For Your Textured Curly Hair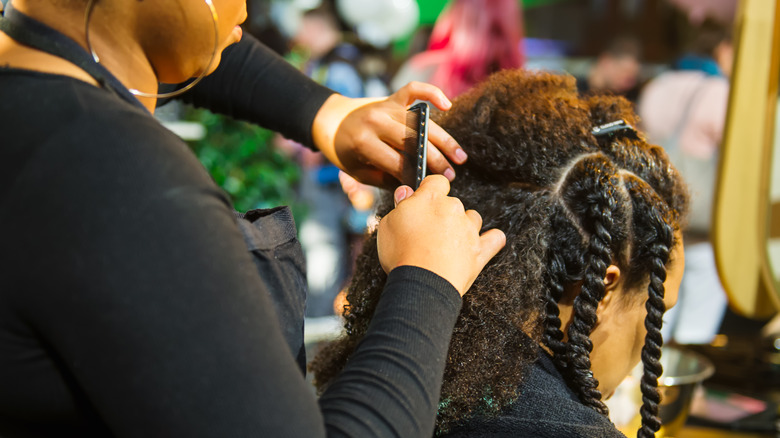 Shutterstock
The best thing about having curly hair is its versatility. There are so many styles you can try to protect your hair. Whether it's winter — when breakage occurs the most because of the dry, cold air — or the summer, there's always a protective style for you to try.
According to Glamour, protective styles serve to protect your curly hair — hence, the name. These styles — braids, Senegalese twist, or faux locks — protect you from exposure to the sun, heat damage, the cold, or over-manipulation, the outlet reported. However, before getting braids or twists, it's important to check in with the state of your natural hair, per Glamour. "It's better to get a good cut or trim before braiding so your hair can withstand having any tension," Christiana Cassell, a hairstylist, told the outlet.
Protective styles should only be worn for up to two months (via Glamour). While it sounds tempting to wear the style for a longer, extended period, you can risk drying out your hair and preventing its growth, according to the outlet. Plus, once you take down your protective style, your hair needs some time to breathe, so it can be rehydrated. "I find it best to try a style like box braids, using extensions, and then switching to a more simple style like plaiting or twisting your natural hair," Helena Koudou, the founder of a haircare brand, said to Glamour. "While both will protect your natural hair, they put 'different strains' on it."
The best protective styles for curly hair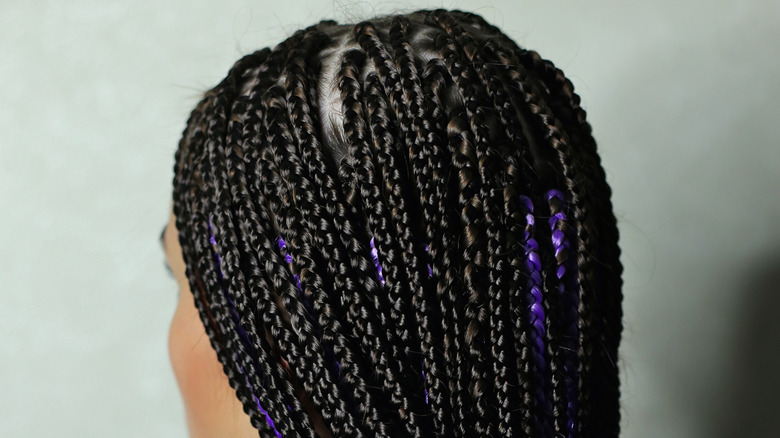 Shutterstock
Now that you know the dos and don'ts of protective styles, you can choose which one works best for you.
According to Cosmopolitan, there are countless variations of protective styles to choose from. One style, the outlet recommended, is knotless braids! Not only does this style look more natural, but it's also easier on your edges, which is every natural girl's dream (via Cosmopolitan).
Another style to try is cornrows, the go-to protective style. As Cosmopolitan explains, cornrows are often worn under hair extensions, but they can also be a hair statement on their own. Just remember to tie the braids up with a satin scarf to preserve their longevity.
Lastly, per Glamour, you should try faux locs. If you ever wanted to rock the loc look without loving your hair, then this style is for you. Not only is it low-maintenance, but it's also versatile — you can get the locs in any color and length, the outlet revealed. As Glamour explains, this style is a great way for you to switch it up!
There are so many options for curly hair. Have fun trying them all.