Here's How Aldi Keeps Your Grocery Trip So Short
Shutterstock
If you've ever shopped at Aldi, then you know that you can score solid pantry staples along with some unique finds (Deutsche Kuche soup, anyone?). And, if you've ever paid a quarter to rent a shopping cart from Aldi, then you've also likely come to realize that an expedition to Aldi is a lot faster than it would be in a standard supermarket. So if you've been wondering why, here's how Aldi keeps your grocery trip so short.
When it comes to food shopping, there are two camps of thought. Either you enjoy strolling through each aisle, admiring the eggplants and perusing the produce, or — if you're like many people — you want to be in and out in under 15 minutes. And realistically, the latter is the clientele that Aldi caters to. The German family-owned company has over 2,000 stores in 36 states (via Aldi). And while its focus is, of course, offering fresh food at deeply discounted prices, its second objective is almost equally as important: to expedite your shopping experience.
For starters, forget about aisles upon aisles of groceries to choose from. Nope, at any Aldi, you're only going to find about five aisles to shop from (via CNN). Now, if that seems kind of small, well, it's because it is. Aldi stores share a very small footprint, with most measuring about 16,400 square feet — and with just 10,000 square feet of sales floor space (via Aldi).
Here are more reasons why shopping at Aldi is often quicker than other retailers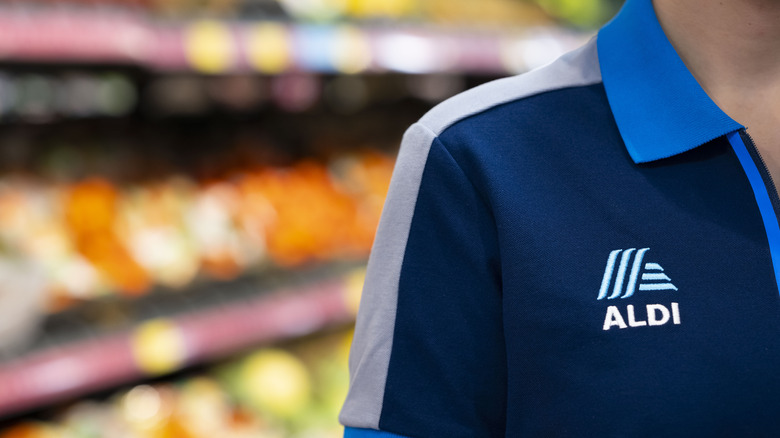 Matthew Horwood/Getty Images
Another timesaver is that no matter what Aldi you're in, the layout is always the same, so you can go directly to grab the groceries you need. And since you can't get lost cruising the aisles, it makes for a much quicker grocery trip (via The New Daily).
Then, once you've picked out your purchases, it's time to head to the checkout. Lines might appear to be long, but they move pretty quickly. The trick: while the cashier is checking you out, you'll somehow find yourself in the bagging area, putting your own groceries into the reusable bags you (hopefully) remembered to bring. While it might be a little extra work for you, bagging up your own bread means that you'll have a speedier supermarket trip (via HuffPost).
But there's also another reason why checkout goes lightning fast. Instead of having cashiers search for the price, each product comes with multiple barcodes, so that scanning goes super fast (via Forbes). That might explain why the scanning process at Aldi's goes 40% faster than in other retail stores.
For all the reasons above, Aldi is positioning itself to become a major mover and shaker in the supermarket industry. In fact, Aldi is on track to becoming the third largest supermarket chain in America, with an estimated 2,500 stores in operation by 2022 (via CNN). It seems that Aldi has truly brought a new meaning to the phrase "fast food."