Meatless Monday Recipes That Will Satisfy Even The Biggest Meat Lovers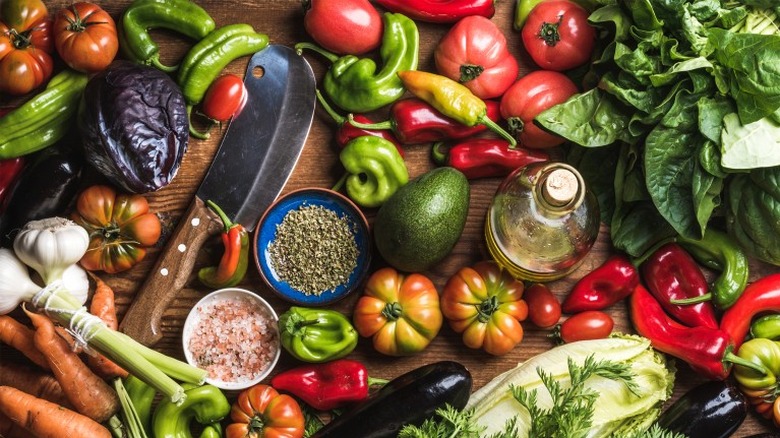 We all know how important it is to make sure we're getting enough veggies in our diets, so whether you are vegetarian, vegan, or a meat lover, we can all benefit from adding more healthy meat-free meals into our dinner rotation. There's even a whole "Meatless Monday" movement, and it's not uncommon to see friends and family sharing their newest Meatless Monday creation with everyone on social media.
I have been mostly vegetarian for the last 15 years. For a long time, it felt like the general population thought a vegetarian meal was nothing more than a base of pasta with sauce and cheese or a small side salad with no meat. Even when I was looking at colleges many years ago, I remember my mom asking our tour guide what kind of vegetarian options were offered in the cafeteria, to which she got the response, "I mean, there's salad." We giggled and the tour carried on.
All this to say, meat-free meals have come a long way. I'm excited to share with you some amazing ways to go meat-free that are sure to please (and surprise) even the biggest meat eaters in your life!
Pizza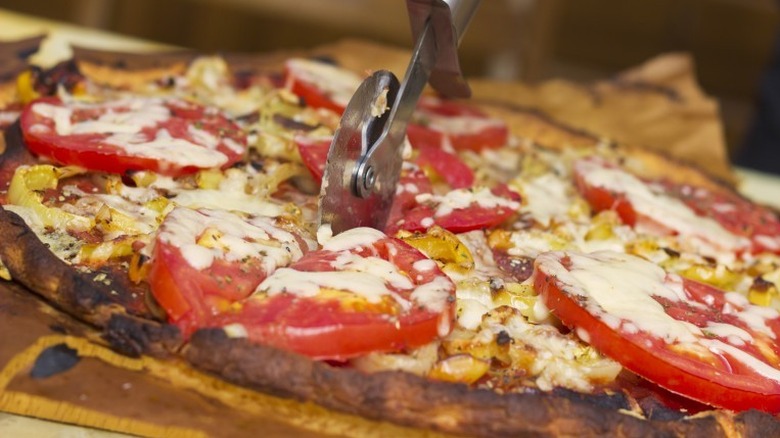 It's pretty safe to say that everyone loves pizza! When going out or ordering in, it's easy enough to top the pie with your favorite veggies and hold the meat, but it's also really fun to make pizza at home. And there are tons of delicious and unique ways you can approach it. For a dairy-free and gluten-free option, you can make eggplant pizzas, using sliced eggplant as the base, add a little sauce and some veggies and then sprinkle on nutritional yeast for a cheesy flavor. Another great at-home pizza option, would be this autumn harvest pizza with butternut squash!
Stuffed peppers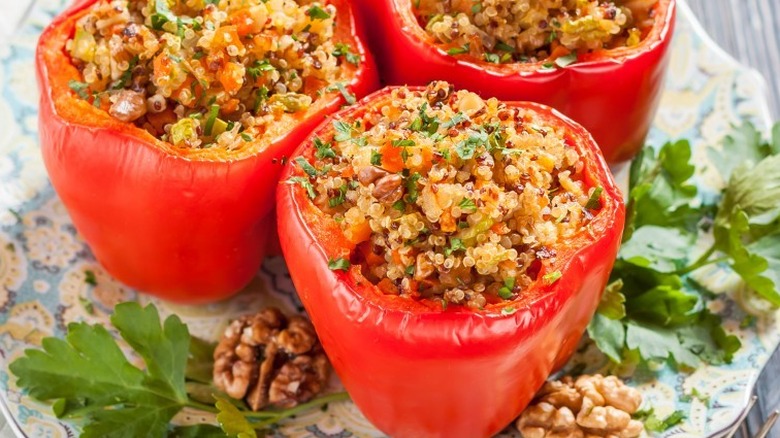 Growing up, I remember my parents often making stuffed peppers. They were great for feeding a big crowd or ensuring that our family had leftovers for another night's dinner. Our peppers were always stuffed with rice and ground beef, but for a meatless option, I'm definitely eyeing Moroccan Stuffed Peppers with quinoa, chickpeas, and pine nuts!
Mac & Cheese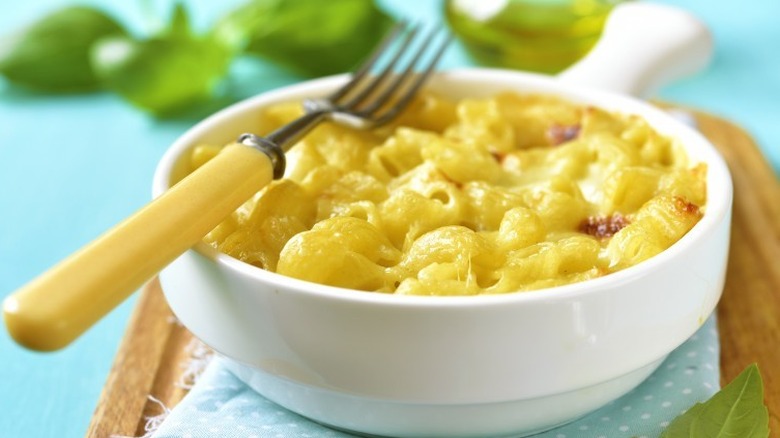 Mac and Cheese is another favorite and complete comfort food for the whole family. I love how this vegan mac and cheese recipe uses butternut squash noodles for some extra healthy carbs and flavor. You could always stir some peas, broccoli or cauliflower into the sauce for some extra flavor and veggie-packed nutrients!
Curry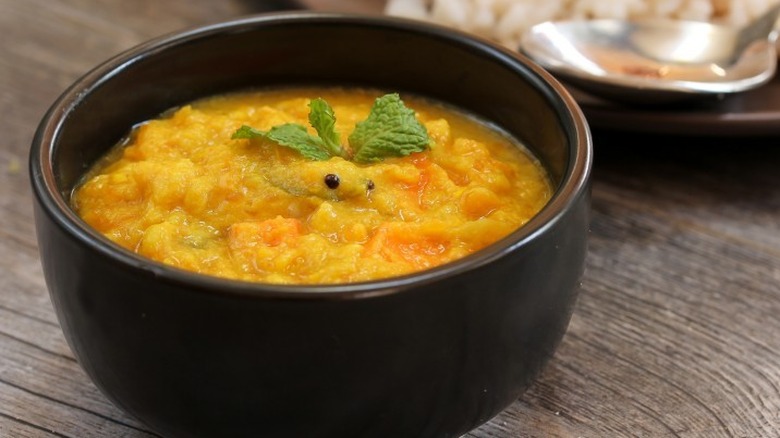 It's a common misconception that meatless meals equal flavorless meals, but I'm going to be the first person to stand up and prove that theory to be incorrect! Sometimes, it just takes getting a little creative with spices, especially when making dishes that we aren't used to cooking — like curries for example.
One of my favorite restaurants has a butternut squash coconut curry, which I have to get every fall season when it shows back up on the menu. When cooking at home, this vegan coconut curry and this lentil and mushroom curry both look absolutely amazing. You can put them over sweet potato noodles, wild rice or another starch or grain of your choosing!
Pasta and "Meatballs"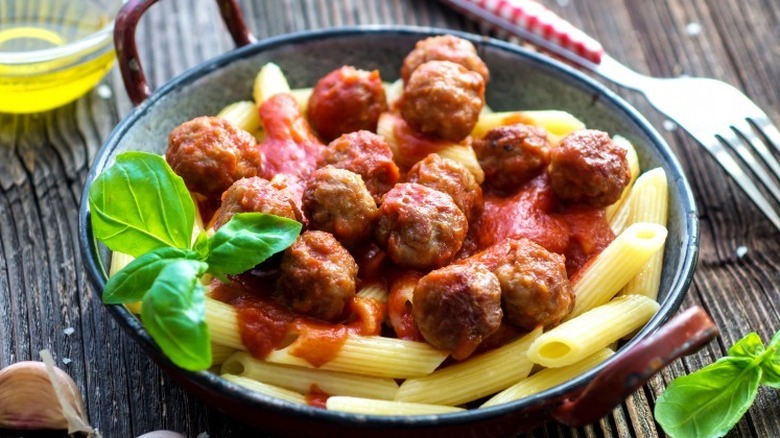 While I don't always want my only Meatless Monday option to be plain pasta with sauce and cheese, that doesn't mean all pasta dishes are off limits. That said, I do think it's important to make sure the dish is flavorful and filling. I'm eyeing this creamy tomato penne pasta topped with some mushroom and black bean "meatballs." With a glass of wine on the side, of course.
Veggie Stir Fry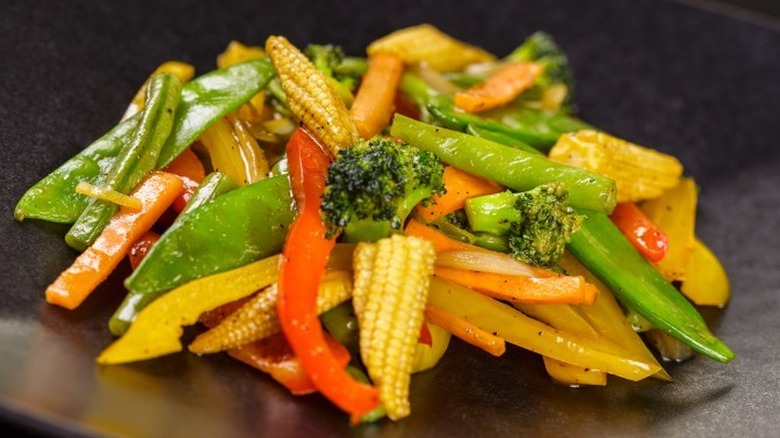 I find stir fry dishes to always be a win when it comes to making a delicious, healthy, and quick dinner after a long day at work — like this vegetable noodle stir fry. My favorite thing is to take mushrooms, carrots, celery, peppers, onions and any other veggies I may have on hand and toss it into a pan (or wok) with garlic, salt, pepper and coconut aminos or soy sauce for a quick dinner. When the veggies are soft, but still have a nice crunch, I put them over cauliflower or white rice.
Tacos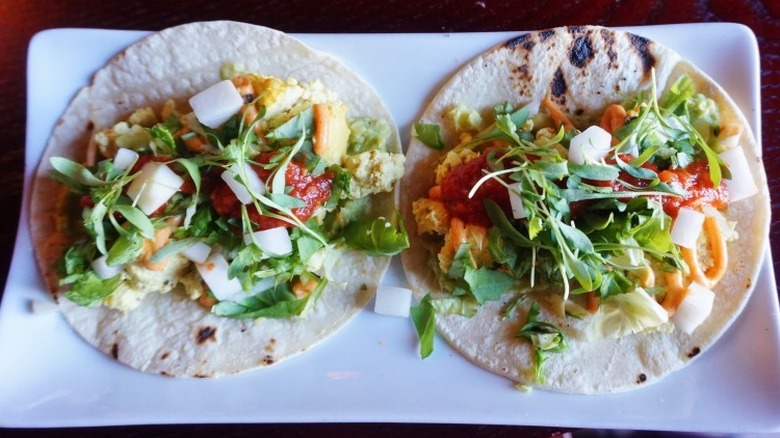 While Meatless Monday is a thing, so is Taco Tuesday, so if you want to find a way to sneak in an extra meatless meal in the week, you can always add in everyone's favorite tacos. These vegan pinto bean tacos with tomato, corn and avocado would be perfect. If you aren't dairy-free, you can add a dollop of greek yogurt and shredded cheese for additional protein. If you're looking for even more veggie action, I'd suggest sautéing some peppers and onions to add in as well!
Chili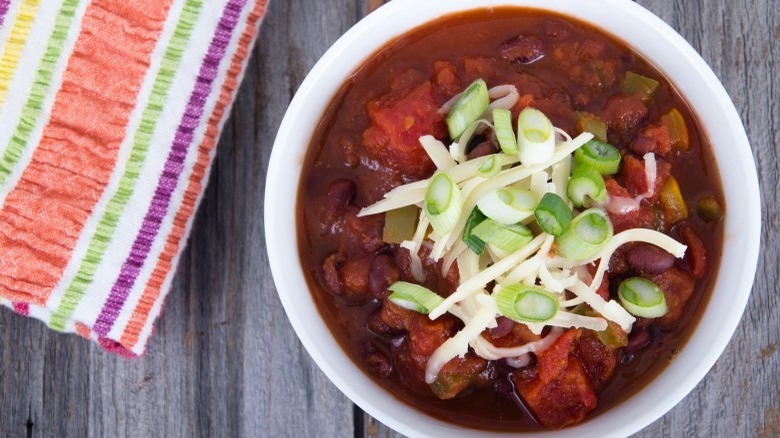 During those cold winter months, most of us like to make a big pot of chili to keep us warm and comfortable. Just because you're adding more meatless recipes into your life, doesn't mean the chili has to go. I love this hearty harvest chili or this BBQ crock pot lentil chili — both are equally delicious, filling and good for the soul!
Burgers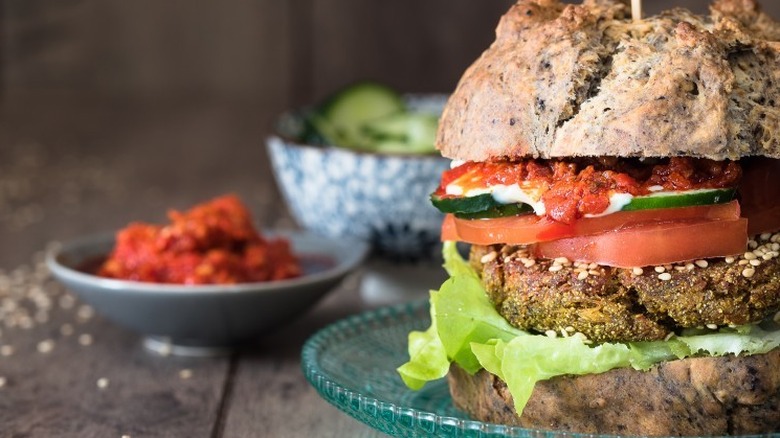 I will admit, when it comes to veggie burgers, I'm about as picky as they come. Aside from wanting to ensure there aren't any crazy ingredients, I also want them to taste good, of course. I have had many nasty veggie burgers in my day and, while the market is definitely picking up their game, I learned that some of my favorite veggie burgers were the ones that I made myself, at home in my kitchen.
The base of most meatless burgers is beans, so if you know there's a particular bean you like (or don't), you're sure to find a burger that suits your taste buds. These chickpea and brown rice burgers are a classic and can be topped with your favorite burger or toppings. If spicy is more your style, you may want to try these chipotle black bean burgers. As for me, I'm going to dive head first into these tropical veggie burgers with pineapple and avocado!
The options are endless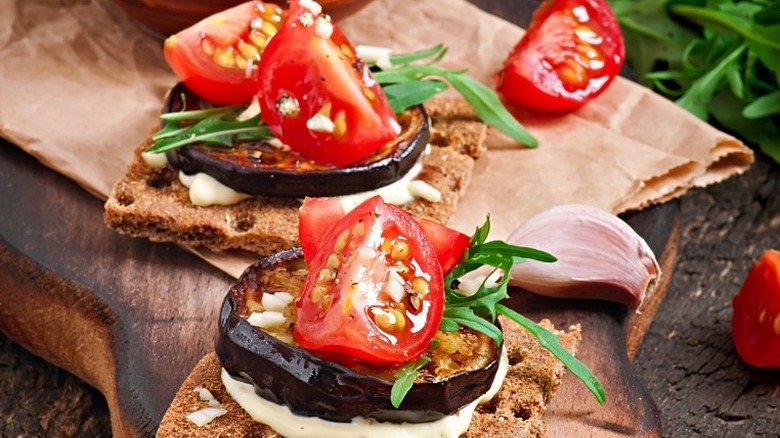 When Monday rolls around again, I hope you'll feel less intimidated and more empowered by all of the Meatless Monday options that await you. I promise the meat-loving people in your family, won't even miss it and will be begging for another meat-free dinner tomorrow. As for me, I'm hungry after all this talk about food, so if you need me, I'll be in the kitchen making a delicious and meat-free meal!