Amanda Seyfried's Bold Outfit At The Oscars Has People Talking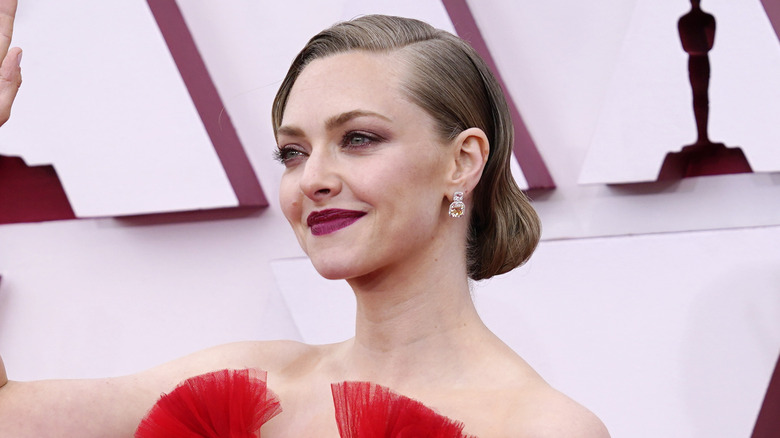 Pool/Getty Images
Amanda Seyfried, famous for her roles in now-classics like "Mean Girls" and "Mama Mia!", has earned an Academy Award nomination for Best Supporting Actress for her role in "Mank" (via Vanity Fair). Indie Wire says Seyfried delivered a "career high" level performance by playing real-life person Marion Davies in a biopic about "Citizen Kane" screenwriter Herman J. Mankiewicz. She said of director David Fincher's perfectionism on set, "There's a level of insecurity and intimidation I always carry with me; that's how I'm built. But as scary as it was, it felt really safe. He knew where we were going, and how to get what we needed, to get out of me what I needed to bring."
Apparently, that's very true, considering both Seyfried and her co-star Gary Oldman, who plays Mankiewicz, earned Oscar nods this year. And speaking of perfection, it seems Seyfried's performance on the Oscars red carpet is earning equally glowing reviews.   
Twitter loves Seyfried's fiery frock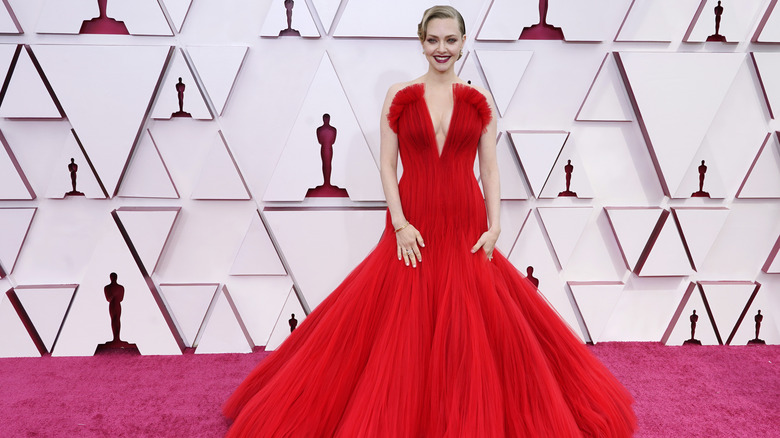 Pool/Getty Images
Twitter was all aflutter when Seyfried appeared on the Oscars pre-show on ABC. She matched the red carpet beautifully, and Variety Tweeted, "Amanda Seyfried brought the heat to the Oscars red carpet in a cherry-red gown complete with a matching lip." Fans responded to the frilly, scarlet frock saying things like, "ICON!!!" Other Twitter users replied, "she looks absolutely stunning, definitely one of the best dressed tonight," and "Gorgeous from head to toe..best dress so far." Still more fans spilled their enthusiasm for Seyfried's classy look, tweeting, "She understood the assignment!" and "This is my favorite so far. All of it."
Now that the awards are underway, time will tell whether Seyfried will walk away with the Oscar for what critics seem to agree is the performance of her career thus far. But either way, it's clear she is a winner of fans' hearts and fashion critics alike tonight.