How To Get Smoother Skin By Using A Facial Razor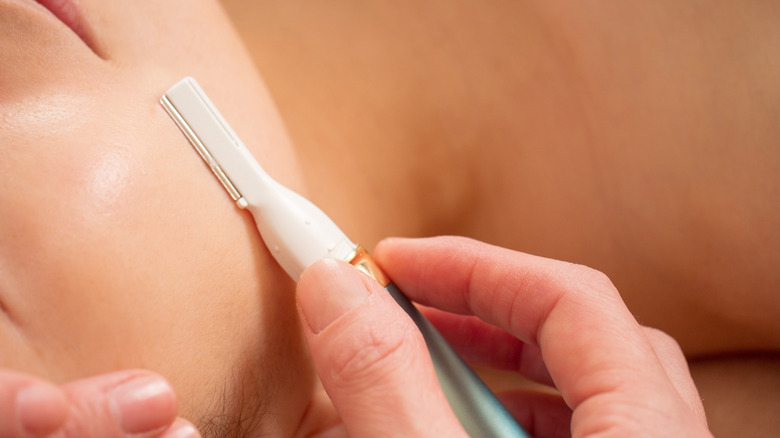 Shutterstock
Women have experimented with various beauty regimens pretty much since the beginning of time, using natural resources — such as plants, milk, honey, vegetables, and fruits — for at-home beauty treatments (via Almanac). You can make DIY facials using items that you find in the kitchen or the garden. You can even create hair masks and cosmetics, such as blushes and lip stains, if you like. Plus, natural ingredients are great for the skin, as they typically contain no chemicals.
Most women want to have glowing and radiant skin. Now and then, a new beauty trend comes along, such as shaving the face with a facial razor to achieve smoother skin. Although it might sound crazy, the trick actually works! Even celebrity facialist Kate Somerville is a fan. She counts Jessica Alba and Debra Messing among her A-list clientele. "I hate to say this, but personally, I get hairs above my upper lip and have forever," Somerville told The New York Times. She also shared that she's not a fan of waxing as she has sensitive skin, so she resorted to shaving. "Initially, I did it because of the hair, but then I noticed that it was a great exfoliant and that my makeup went on a lot better."
Somerville also revealed that Hollywood icons Marilyn Monroe and the gorgeous Elizabeth Taylor swore by the beauty hack. No wonder they always appeared to have perfect skin — and no, it wasn't just the makeup.
How to shave the face to get smoother skin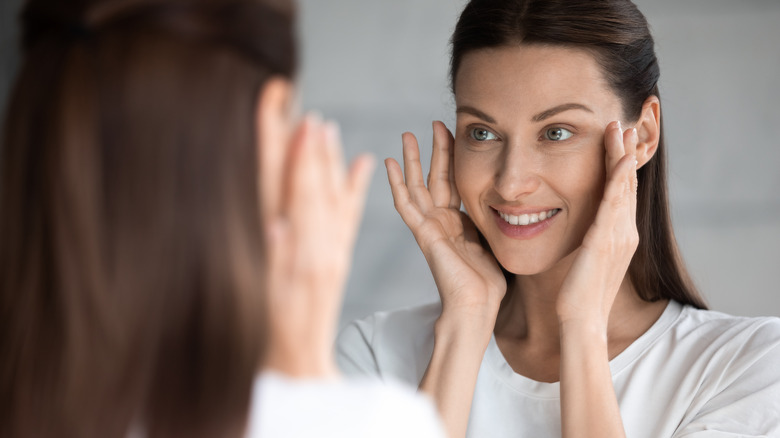 Shutterstock
Shaving the face with a facial razor has been a beauty secret for a lot of women who have perfect-looking skin. Michelle Money, a former contestant on "The Bachelor," revealed to the world how she shaves her face using a razor on YouTube. She described the sharp-edged cutting instrument as her "best friend" and "the best exfoliator." Money told her viewers that she shaves her face at least once a week. "Men don't like [facial hair]. Get rid of it," she said in the video.
As for the process, she likes to shave with a clean face. Although for people with dry skin, she suggested using a moisturizer. The reality star begins at the hairline, at the upper part of her ear. She holds her locks away from her face while shaving in a downward motion. Money then wipes off the facial hair with a tissue and carries on with her business. She also noted that some parts of the face were particularly hard to shave, like the chin and the neck, so she advised viewers to make smaller strokes instead. Money then gave a word of caution to not shave the brows using the facial razor. After the shaving session, she told viewers to wipe off the excess using a toner and follow up with a moisturizer.
Is shaving the face the same as dermaplaning?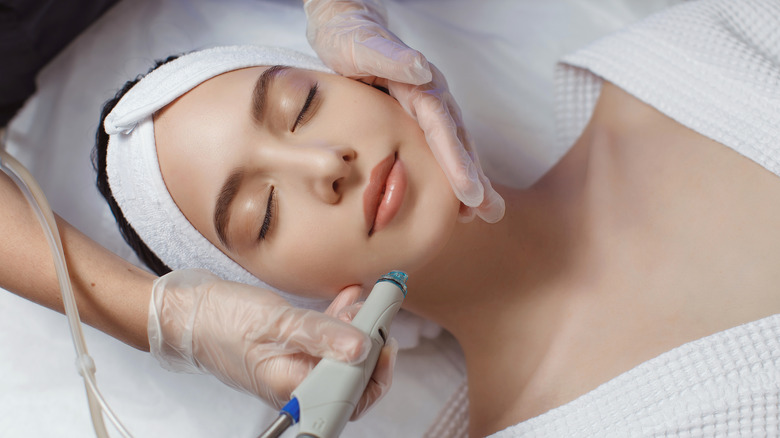 Shutterstock
Some women who shave their faces to get smoother skin swear by the technique. It gets rid of vellus hair, better known as peach fuzz. Dermaplaning applies a similar concept, but it has more benefits than just removing facial hair. Shaving the face can be done weekly, while dermaplaning should be done only every three to four weeks (via Refinery29). You can get the exfoliant treatment from certified estheticians at reputable skincare clinics, and the process can remove deep dead skin cells that normal shaving cannot. Unlike buying a razor at the local drugstore for a few bucks, dermaplaning costs around $100, according to author and cosmetics entrepreneur Zoë Foster Blake. The beauty guru took to her Instagram page and posted a picture of her flawless face after the treatment.
The two beauty techniques provide amazing results, and neither will make the hair grow back thicker. If you don't want to spend a lot of money, then go for the cheaper alternative. Not only will you save a hundred bucks, but you'll also get a feeling of satisfaction from removing those tiny hairs.