Edible Flowers You Need To Try For Better Gut Health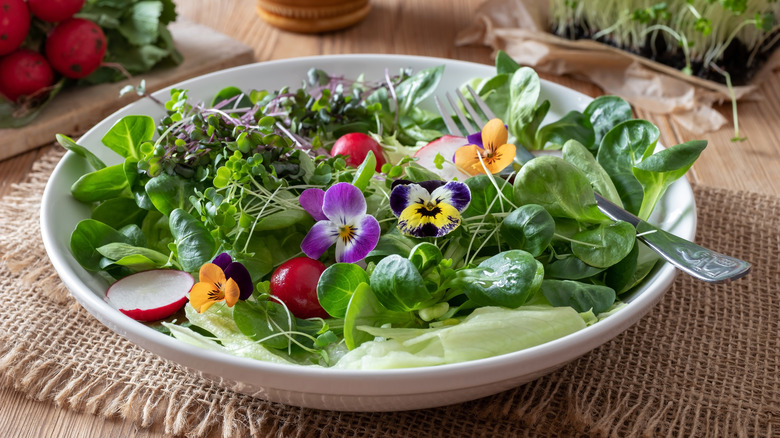 Shutterstock
Probiotics, kombucha, and aloe vera juice are just a few of the products now touted as gut-healthy. But, now, we can add edible flowers to the list of gut-healthy additions that may soothe inflammation and improve digestion.
If the thought of ingesting flowers seems far-fetched, just wait until you hear about their potentially beneficial properties. Nutritionist Ginger Hultin, M.S., RDN tells Mindbodygreen, "Flowers that you can eat—like nasturtiums, hibiscus, lavender, and dandelions, among others—often have some therapeutic benefit. They contain vitamins, minerals, and are a source of fiber."
Just like eating fruits and vegetables, eating flowers can supply your system with the naturally-occurring nutrients it needs to function at its best. Of course, ensure that the flowers you're looking to eat are grown without harmful chemicals such as pesticides and in a safe way, but don't write off their anti-inflammatory properties either. Molly Knudsen, M.S., RDN explains, "They boast beneficial plant-derived compounds, like phytonutrients, that have antioxidant and anti-inflammatory properties."
If you're looking to up your nutrient game, flowers may be a worthy addition to your plate.
You can drink flower essences too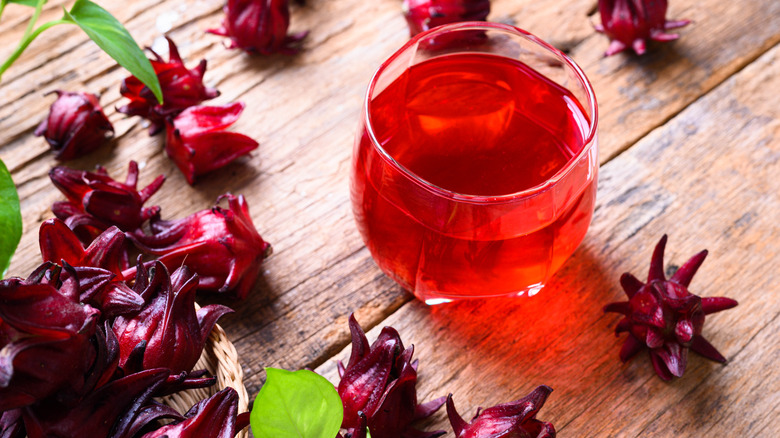 Shutterstock
If you've ever had a hibiscus tea, you'll know that the healing benefits of flowers don't have to come from your plate. Healthline explains that many cultures have added floral stems to various beverages, sauces, and other food items — creating traditions that have spanned the test of time. From fancy restaurants to home kitchens, floral culinary additions don't have to be difficult to work with, either. 
The outlet lists nasturtium as a classic flower-food addition that contains tons of flavonoids and anti-inflammatory compounds which can impact your gut. Loaded with various vitamins and minerals, these flowers can serve as salad additions or even ingredients in your favorite dressing or pasta sauce. Fennel also offers a digestive aid because it soothes the muscles in the digestive tract with its high levels of fiber, Mindbodygreen reports. Add fennel or fennel seeds to your salad or try a tea to reap the healing benefits.
Calendula, chamomile, and dandelion are other classic options that tout the same nourishing, anti-inflammatory benefits that can soothe even the most upset of stomachs. Whether you eat them or get them from your tea, the health benefits of flowers can supply your system with the nutrients it needs to digest properly and run efficiently.