Why Fans Think The Crown Is Having Trouble Casting This Character
Fans of "The Crown" can't wait for their next fix of the Netflix show, but it may take a while if rumors of casting woes are true. An insider told The Sun that the show is having trouble casting the role of Prince Andrew for the show's upcoming fifth season, saying, "Prince Andrew is one of the most unpopular members of the royal family and wannabe stars aren't exactly queuing up to play him. It's not the sexiest role and is unlikely to set a Hollywood career alight."
The role may not be the most desirable, but the source noted that playing Prince Andrew "might work for a real scene-stealer character artist."
The role is currently listed on casting website Spotlight, which some see as a sign that there is a lack of interest in the role, but a spokesperson for The Crown has denied this, saying that "it is normal practice for productions to advertise in Spotlight."
Prince Andrew is not the most popular royal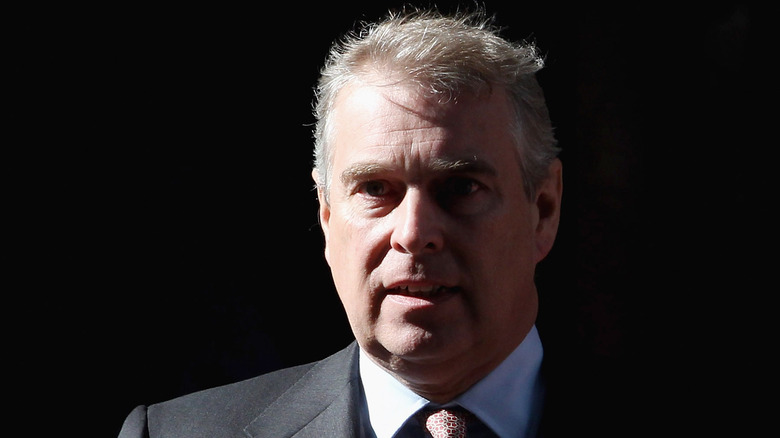 Dan Kitwood/Getty Images
Prince Andrew has been embroiled in scandal for the last couple of years due to his association with convicted sex offender Jeffrey Epstein, a relationship that led to him bowing out of the spotlight last year, noted The New York Times. While the royal has claimed he was "not that close" to Epstein (via The Guardian), they did travel in the same circles and were known to attend parties together.
In a statement released by Buckingham Palace in 2020 (via Town & Country), Prince Andrew claimed he didn't "see, witness or suspect any behavior of the sort that subsequently led to [Epstein's] arrest and conviction." He added, "I deplore the exploitation of any human being and would not condone, participate in, or encourage any such behavior."
Nevertheless, the scandal greatly damaged Prince Andrew's popularity, and he has kept a low profile lately. Tom Byrne, who played a younger version of Prince Andrew in The Crown, said that he was careful not to let the current perception of the royal affect his performance. "People are going to apply their own judgments to the character and person anyway, that's not my job," he told Bustle. "So, I thought I'd play him without my own judgment, because that's the best way to serve the character."