The Heartbreaking Death Of Betty White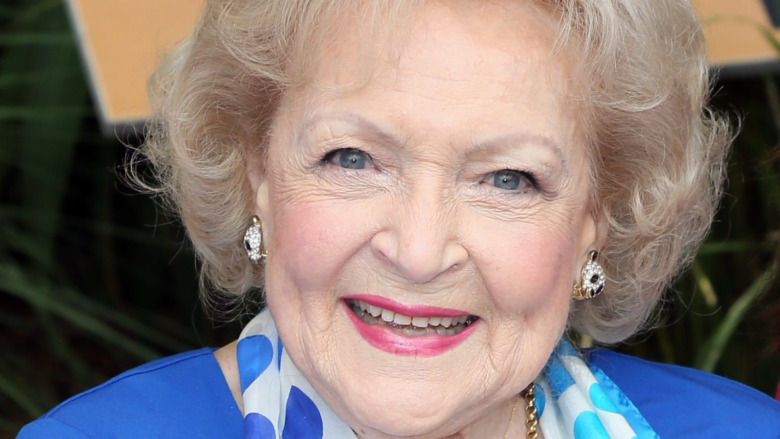 David Livingston/Getty Images
In 2018, Mary Tyler Moore described her friend Betty White as someone who was  "... just so innately funny. So full and rich in everything she did. She had so much energy inside her..." (via YouTube). Today, that energy was stilled when TMZ announced the death of legendary actress Betty White at age 99. The television legend died on Friday morning in her home, law enforcement told TMZ.
White was just weeks from celebrating her 100th birthday, which would have been on January 17, 2021. Already, accolades and well wishes are pouring in from fans on social media. "Betty White passing away hurts. May our Golden Girl rest in eternal peace," one fan tweeted. "Betty White is one of those people that we all felt like we knew personally. Probably only the second time I've ever shed a tear upon learning a celeb I never knew passed away," said another. 
Betty White didn't want to be an actress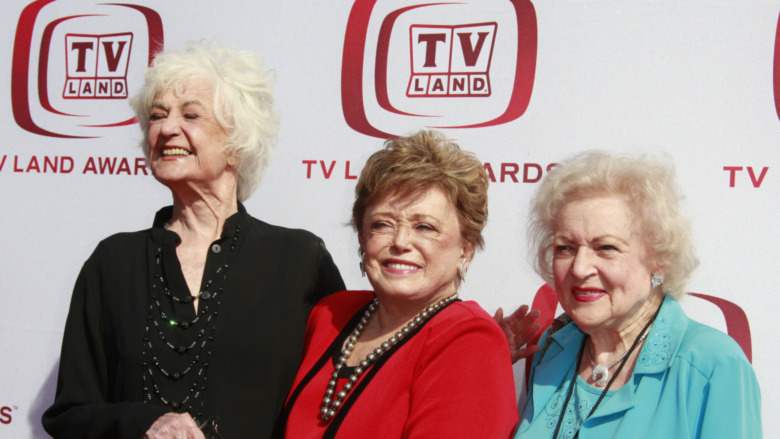 Shutterstock
Betty White was born Betty Marion White in 1922 in Oak Park, Illinois. She grew up in Los Angeles, and graduated from Beverly Hills High School as a member of the class of 1939 (via CNN). By her own admission, her heart didn't originally belong to Hollywood — in fact, she says she had wanted to be a park ranger, or a zookeeper. Her only problem? "...back then, girls were not allowed to become forest rangers," she complained (via ABC).
White appears to have settled by choosing to go into radio, and then to television. Once in enertainment, she became part of a successful evening variety show, before she was asked to turn what was a sketch into a half hour show (via Britannica). White was originally reluctant but she relented, and with that, her first sitcom, "Life with Elizabeth" was born. Decades notes that the series was cancelled after 65 episodes not because it wasn't popular, but because producers were worried the show would not be profitable when it went into syndication. 
When the show wrapped up, White moved on to star in another sitcom "Date with the Angels," before she began appearing on game shows hosted by Allen Ludden. The two had an instant connection and were married in 1963. He was the actress' third and last husband, and they stayed together until he passed away in 1981 (via Medium). 
White was an actress and an animal lover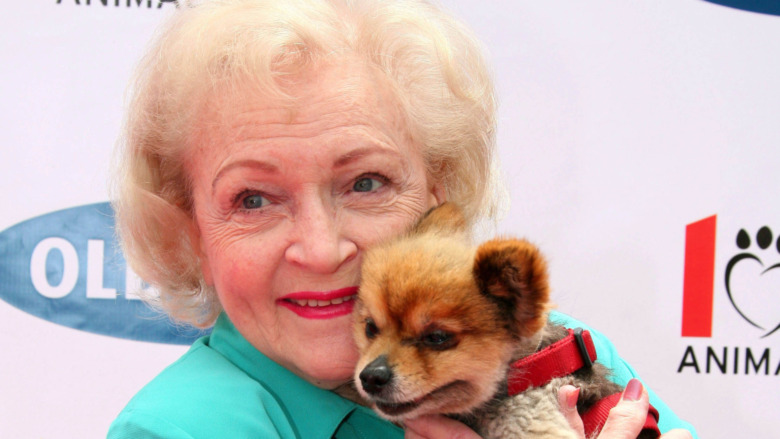 Shutterstock
Betty White was introduced to a new generation of audiences in 1973, when she appeared as Sue Ann Nivens on "The Mary Tyler Moore Show." The role that brought her three Emmy Award nominations. She remained a TV fixture throughout the 1970s, thanks to "The Betty White Show" and "The Love Boat," as well as "Mama's Family" (via Britannica). The versatile actress was rediscovered anew in the 1980s when she appeared in "The Golden Girls," as the adorably naive Rose Nylund. 
Those of us who know Betty White today probably know her best for her hilarious depiction from a 2010 Snicker's commercial, of a miserable football player who undergoes a transformation after consuming the candy bar (via YouTube). 
While she is best remembered for her work as an actress, White would rather we remember her for something else — her love of animals and her passion for animal-related charities (via Biography). During her lifetime, the actress supported an eye-watering list of non-profit groups including the American Humane Society, Farm Sanctuary, the Morris Animal Foundation, PAWS/LA, and the spcaLA (via Look to the Stars). Of her love for animals she once told Parade that: "I think it started when I was in the womb. My parents loved animals. When I was born, they had a cat, and I think if the cat hadn't liked me they may have taken me back!"
Betty White will be sorely missed.