Here's How Many Tiaras Queen Elizabeth Actually Owns
Wpa Pool/Getty Images
Queen Elizabeth II, who turned 95 on April 21, has been seen donning many exquisite jewels over the years. In particular, she has worn some gorgeous tiaras, which have been in the royal family for years, have been worn by other notable royalties, and have become iconic.
Women's Wear Daily writes that some of these accessories include the Queen Mary's Fringe Tiara that the queen wore to her wedding with Prince Philip, the Girls of Great Britain and Ireland Tiara that was given to Queen Mary as a wedding gift in 1898, then to the queen as a wedding gift in 1947, the State Diadem that has been in the family since 1821, and the Lover's Knot Tiara, which was seen on Princess Diana in 1989 and the Duchess of Cambridge in 2018.
Each piece is a true work of art, and some may be wondering just how many of these pieces of artwork Queen Elizabeth owns.
Queen Elizabeth has been seen in an array of tiaras, including one worth $6 to $12 million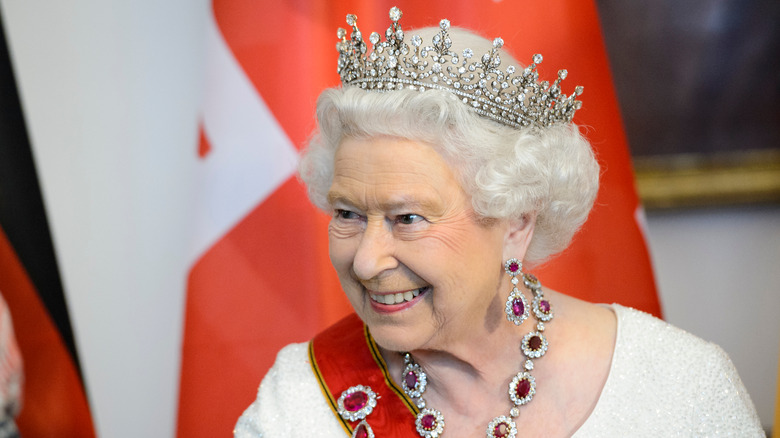 Pool/Getty Images
Showbiz Cheat Sheet reports that the exact number of tiaras owned by Queen Elizabeth II is not known, but it is probably somewhere around four dozen. And when it comes to the price of these tiaras, an example of the most expensive one is given: The Greville Emerald Kokoshnik Tiara.
It was created in 1919 for Queen Mary's friend, who was named Margaret Greville, and it was given to the Queen Mother. In 2018, Princess Eugenie, Queen Elizabeth's granddaughter, wore this pricey piece on her wedding day. It is estimated that at an auction, this tiara would go for £5 to 10 million, or $6 to $12 million USD.
The Girls of Great Britain and Ireland Tiara, which was mentioned above, also seems to be a fan favorite. In a poll by The Court Jeweller, nearly 40% of the responses went to this accessory when asked about Queen Elizabeth's best crown.