What Happens If You Leave Purple Shampoo In Your Hair For Too Long?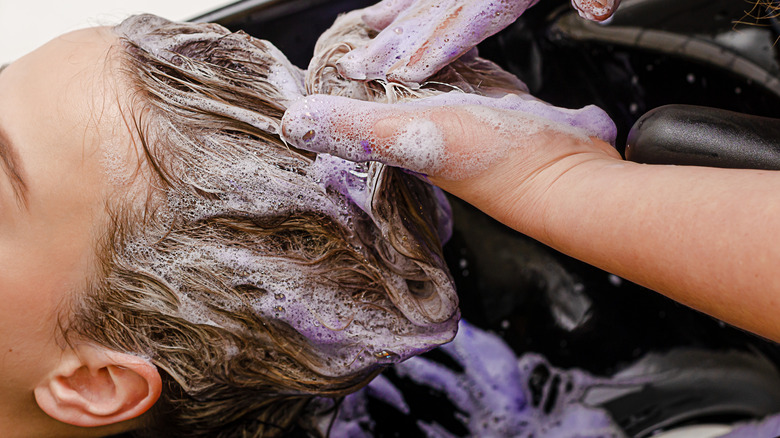 Shutterstock
Maintaining blonde hair takes a lot of work and dedication, especially for bottle blondes. Thankfully, there are numerous products on the market today intended for caring for all shades of blonde hair. Purple shampoo is one of them and has been a life-saver for blondes for years. For those who don't know, the hair product combats brassiness in blonde hair. Over time, blonde hair turns into a brassy color, as it is more porous than other hair colors (via Refinery29). In the color wheel, the color opposite to yellow is purple, meaning the dark shade will neutralize the unwanted warm tones. At its core, that is how purple shampoo works.
"So, when using purple pigment on color-treated brassy or yellow tones, it color-corrects your hair's hue, restoring it to its former natural or neutral brightness with cooler tones," according to professional hair colorist Richy Kandasamy (via Vogue). When washing hair, he recommends letting the product sit on the hair for a maximum of four minutes depending on the level of brassiness. He also noted that cool water works best for rinsing, as it helps seal the color.
Despite recommendations by hair experts, however, some people like to experiment with their locks, such as using purple shampoo for more than the intended time. But it is often not recommended, especially when the hair already went through a lot of damage. Purple shampoo seems like the best solution for maintaining blonde hair, but overusing it can cause problems that may be hard to reverse.
Leaving purple shampoo on for too long can make the hair turn purple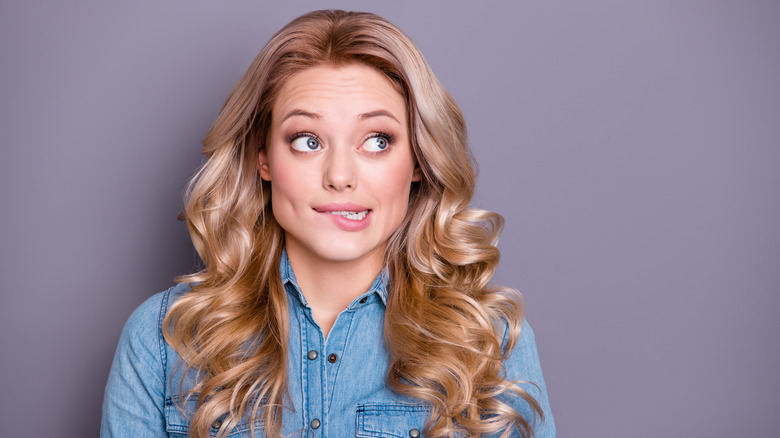 Shutterstock
Purple shampoo has a very rich color, and for some brands, the color stains the hands. That said, the possibility of the dark hue staining light hair is very possible. Richy Kandasamy, a professional hair colorist, recommends using a purple shampoo once a week at the most depending on need. But leaving the purple pigment on hair too long can leave some lilac hues. "If you start to notice too much or an overload of purple tone in your hair, put the purple shampoo down," Kandasamy told Vogue. To reverse the color, the hair expert advises using a clarifying shampoo. He also suggests to "alternate using it with color-safe shampoos — or mix them together for less violet deposit."
Some people are not satisfied with the results, but they also do not want to spend a lot of money at the salon. So they opt to experiment with their tresses. While that is perfectly fine, there are times that the outcomes are just too extreme and irreversible. For blondes, especially with platinum hair, overusing purple shampoo can lead to severe staining. Obviously, shampooing the hair too much can also lead to more damage. Better to stick to the recommended time frame to prevent future hair dilemmas. If you do not like how your hair looks, and you already did a lot to it, a visit to the salon is your best choice.
Purple shampoo can dry out your hair if used too often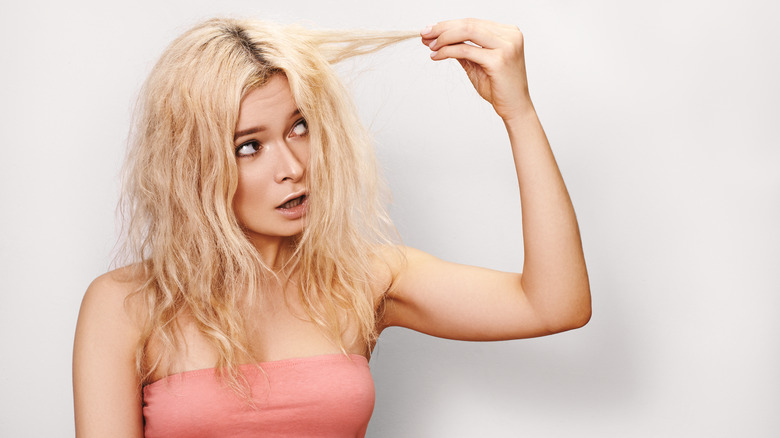 Shutterstock
In 2019, a popular TikTok challenge made the rounds online where users of the social media app applied purple shampoo to their hair and left it for as long as 24 hours. Blondes and brunettes alike did the "purple shampoo challenge," with most of the posts receiving thousands of likes (via Metro). While there's nothing wrong with using purple shampoo to combat brassy tones, consumers still need to be wary of its possible damaging effects when overused. Moreover, the pigmented product does not work on all hair colors.
"If there is no yellow in the hair and the hair is creamy and light blonde already, then the shampoo will deposit purple, and you will be able to see it in the hair," Katie Allan, a colorist and the owner of the MAYFIVE Hair Salon in London, told the outlet. She also noted that the shampoo is not for daily use, "as it is a maintenance product for those with blonde/grey hair." Overuse of the product can lead blond hair to look dull and lose its brightness. The shampoo is already strong enough and using it every single day — or for long periods of time — can cause extreme dryness.