The Real Difference Between Ombré And Balayage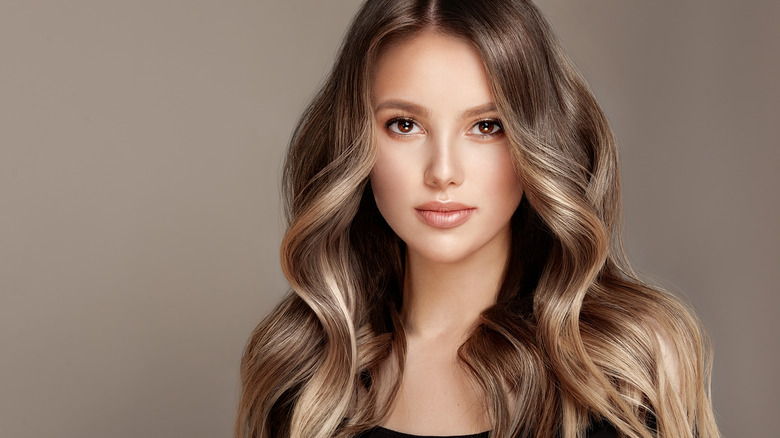 Shutterstock
Just like changing wardrobes, many people like to change up their hair styles. Why? More like, why not? You know what they say — change is constant. Beauty mogul Kylie Jenner is known for her ever-changing hairstyles. One day, she's flaunting her dark locks, the next day, she's blonde. "I've just had this addiction to changing my hair. It makes me feel like a new person," explains the reality star on her website. "I love feeling different, and I love leaving the house knowing that nobody has ever seen me this way" (via Teen Vogue). 
If you're looking for a little inspiration for your next trip to the salon, there are several fabulous hair trends to follow in 2021. While styles come and go like seasons, ombré and balayage are among the favorite color trends that are perfect for any time of year. Both flattering, and youthful, the most difficult decision in choosing between the two stems from not really knowing the differences between them.  Some people who don't have in-depth knowledge about the coloring processes might think they are the same. But no, they are not (via Redken).
What is ombré hair?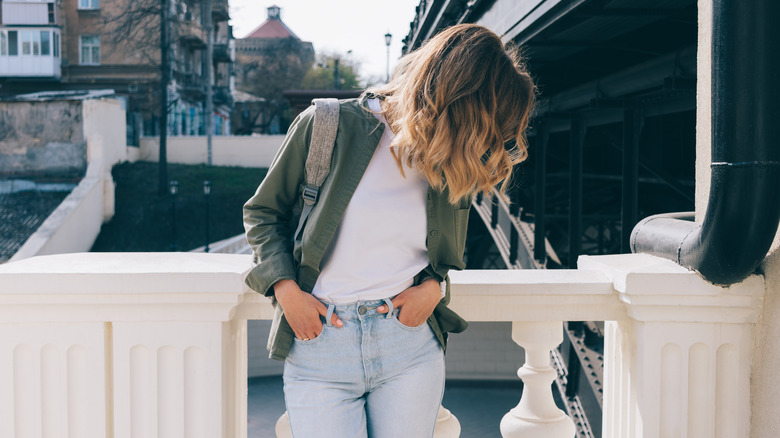 Shutterstock
The word ombré is French, and it means "shaded," or as Redken notes, "color that is shaded or graduated in tone." The roots of the hair are dark, while it gradually turns lighter toward the ends. Usually, the tips are in various shades of blonde or light brown, depending on the preference. The hair technique "is typically done with lightener being placed horizontally with full saturation of the section and then blended upward to diffuse the line," says Twylla Jane, Redken's Haircolor Educator.
"Ombré was created when the 2008 recession was here because money was tight everywhere and the one thing people could cut back on was getting their hair colored all the time," Jafra Bryant, a celebrity colorist based in Los Angeles, told Byrdie. According to Bryant, the color technique can last a long time, depending on the amount of root color showing, and the type of highlights. On average, Bryant notes that an ombré style can last between four and six months which is low maintenance compared to many other dye jobs or highlights which require a touch-up every few weeks.
According to StyleCraze, ombré hair at salons can cost around $100 to $250. Of course, the rates will depend on hair length, thickness, and the amount of highlights. The brands of products used can also impact the price. Not to mention, additional treatments like bleaching and hair care can affect the total amount. Although, the maintenance can still be cheaper than full hair color.
What is balayage?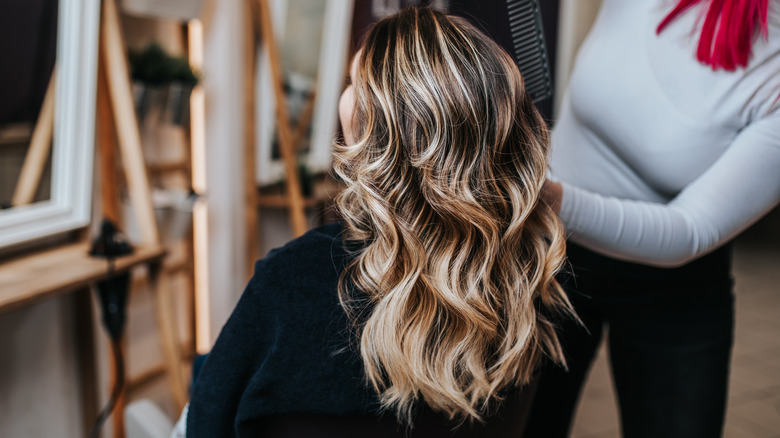 Shutterstock
Balayage is a French word that means "paint" or "sweep." The hairstyle is a highlighting technique, but unlike the normal process, balayage does not require foils. Instead a colorist uses a free-hand-painting process that creates a natural-looking dark to light effect. The colorist selects groups of strands across the hair and applies the dye using a brush, starting somewhere in the roots down to the tips. "Think undone, cool surfer girl hair," says Olivia Cassanova, a colorist at IGK Salon SOHO in New York (via Byrdie).  Laura Rugetti owner of BeautyCan salon in LA., explained to Byrdie, "Balayage is hand-painted to look like the sun naturally highlighted your hair without foils." However, the lightening process can depend on the hair type and preference. With women with dark blonde to light brown hair, the painting process will suffice. Meanwhile, for clients with dark tresses, colorists may opt to use foils for lifting. Then again, it depends on how light you want the highlights to look.
Balayage hair can last up to four months, but "that can easily go up to six months since there is a seamless grow out," says Lisa Satorn, a hairstylist at Nine Zero One Salon in California (via Byrdie). For pricing, balayage can cost as low as $50 to $200, according to StyleCraze. Keep in mind that the length of your hair, coverage of highlights, and other treatments can affect the total amount. Also, note that each salon offers different prices since each colorist has different estimates and degrees of experience.